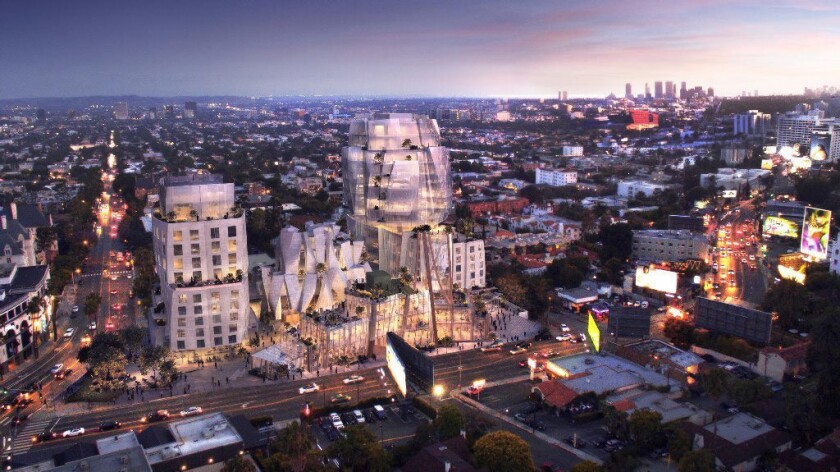 A group that sued over plans for a Frank Gehry-designed complex in Hollywood said Wednesday that it has reached a settlement with the developer, removing a major obstacle to the 229-unit project.
Fix the City, which regularly weighs in on L.A. planning issues, dropped its objections to the 8150 Sunset development in exchange for reimbursement of its legal and expert fees and a handful of investments by the developer, Townscape Partners.
Townscape will contribute $4,000 to a fire station in Hollywood and ensure that defibrillators are placed in each of the project's retail spaces. In addition, the developer must work to install pedestrian safety traffic signals — a kind that would have lights embedded in the sidewalk — next to the project at Sunset and Crescent Heights boulevards.
If those signals are not installed, the developer would need to donate $50,000 to a nonprofit group, Friends of West Los Angeles, to pay for public safety initiatives, the agreement says.
Townscape still needs to obtain the city's permission to eliminate an eastbound right-turn lane that currently exists at Sunset and Crescent Heights — a process that can take a minimum of six to nine months.
Fix the City had sued over that issue, saying the developer had failed to obtain proper city approval for the lane closure. California's 2nd District Court of Appeal agreed, ruling in March that the city needed to conduct a hearing on the change in street alignment.
Under the state Streets and Highways Code, the city must present evidence showing that a street is unnecessary for public use before "vacating" it. Fix the City previously argued that because that stretch of Sunset is so heavily used, the city could not make the necessary findings.
On Wednesday, a representative of Fix the City said his group will no longer oppose the lane closure. "For us, the legal point was made and won," said Mike Eveloff, who serves on the group's board.
A Townscape representative declined to discuss the settlement but indicated the company has had preliminary talks with city officials on the street vacation.
Eveloff would not disclose how much Townscape will pay in legal and expert fees, saying both sides chose to keep the figure confidential. He said the settlement addresses some of the public safety issues surrounding the project.
The 8150 Sunset project, which sits on the L.A.-West Hollywood border and includes 65,000 square feet of commercial space, was approved by the City Council in 2016. The development had been a source of major controversy, with historic preservationists suing to stop Townscape from demolishing a 1960s bank building on the site.
That structure, which has a zigzag roof and other midcentury features, is considered a strong example of Googie design.
Townscape prevailed in court on that issue this year.
Twitter: @DavidZahniser
---