iPads for L.A. Unified could now cost $770 each, a 14% increase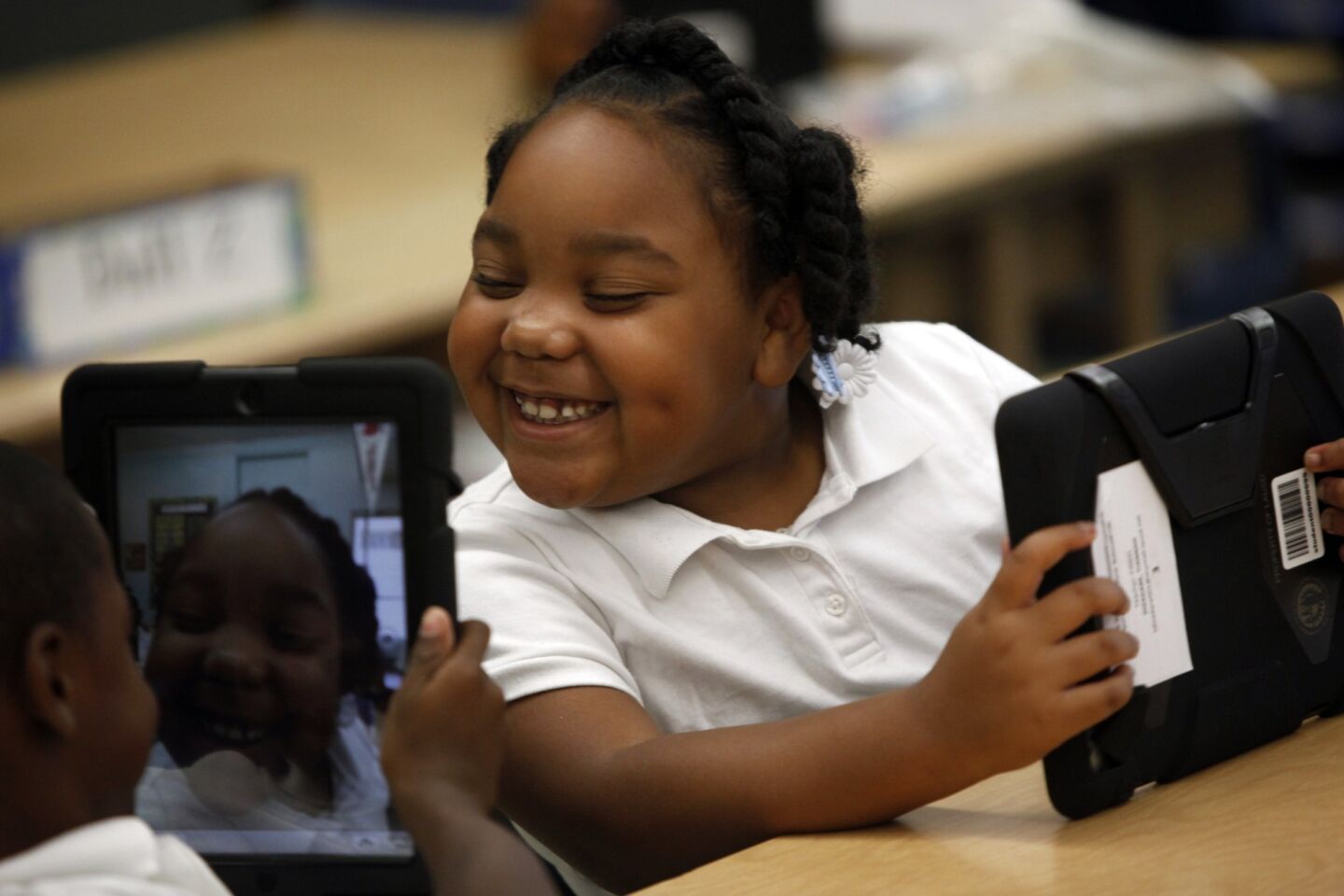 Tiannah Dizadare smiles as she works with classmate Avery Sheppard as they explore their new LAUSD-provided iPads.
(Bob Chamberlin / Los Angeles Times)
King Shelton, left, and Zylan Giles work with their new iPads at Broadacres Avenue Elementary School in Carson.
(Bob Chamberlin / Los Angeles Times)
Jadah Manning, left, and Zaryah Robinson explore a new iPad in Karen Finkel's class at Broadacres Avenue Elementary School.
(Bob Chamberlin / Los Angeles Times)
Muhammad Nassar Jr. takes a picture of himself as Karen Finkel's class explores the possibilities of their new LAUSD-provided iPads at Broadacres Elementary.
(Bob Chamberlin / Los Angeles Times)
Beautiful Morris smiles as she works on her new iPad, provided by the Los Angeles Unified School District.
(Bob Chamberlin / Los Angeles Times)
The L.A. Unified School District will have to purchase nearly 520,000 iPads in order to avoid spending nearly $100 more apiece for the tablets, a new school district budget shows.
The newly disclosed price of $770, a 14% increase per iPad, appeared in a revised budget released in advance of a public meeting Tuesday on the $1-billion project. The potential sticker shock can be avoided, but only after the district has spent at least $400 million for the devices.
Officials did not answer questions Monday about how much the district would then spend on the remaining tablets.
The earlier cost estimate for each iPad "preceded the actual procurement process," the district said Monday in response to questions from The Times. "The negotiated discount [to $678] does not go into effect until the district has reached the $400-million spending threshold."
The structure of the deal raises the stakes for what L.A. schools Supt. John Deasy recently referred to as a "pilot test." If the district pulls out of the deal, or buys fewer tablets from Apple Inc., the iPads become considerably more expensive.
The new spending plan for the first part of the project delays some costs and shifts others.
The goal is to provide iPads to every teacher and student, so officials remain optimistic about achieving the discount, even though start-up problems emerged immediately this fall. More than 300 students deleted security filters, allowing them to browse the Internet freely and prompting officials to suspend use of iPads at three campuses.
Parents also have expressed confusion about their responsibility for the devices. And officials have yet to purchase mechanical keyboards that will be necessary to use the iPads on new standardized tests.
The iPad project is funded almost entirely with school-construction bonds, a strategy that has attracted some criticism.
The price per device, higher than retail, includes a protective case, a limited three-year warranty, technical assistance and training, and one Apple TV setup per 20 students. The cost also includes curriculum from Pearson Education Inc. that is still being developed.
Overall, "we are right where we want to be," according to a written copy of the budget presentation.
ALSO:
LAX dry-ice bombs: Second suspect due in court Tuesday
Glendale instructor pleads not guilty to sexually assaulting minor
Death toll in Fontana crash rises to three, including 2-year-old girl
Twitter: @HowardBlume
The stories shaping California
Get up to speed with our Essential California newsletter, sent six days a week.
You may occasionally receive promotional content from the Los Angeles Times.