John Coleman, Weather Channel co-founder who doubted climate science, dies at 83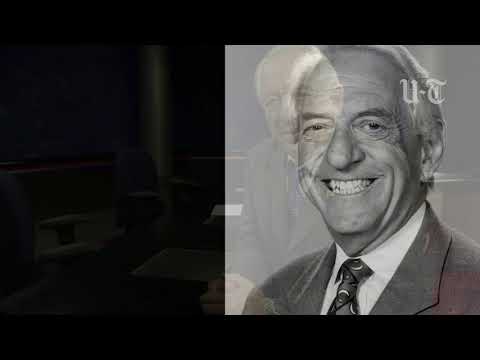 John Coleman, a longtime San Diego weather man and founder of the Weather Channel, died Saturday night in Las Vegas, according to a a tweet from local reporter Jason Austell. He was 83.
Reporting from San Diego —
John Coleman, who co-founded the Weather Channel and was the original meteorologist on ABC's "Good Morning America" before stoking anger by insisting global warming was a hoax, has died at age 83.
Coleman died Saturday at his home in Las Vegas, according to KUSI-TV, where he served as a forecaster from 1994 to 2014, when he retired.
His 2014 retirement capped a 60-year career during which he became a favorite in San Diego as the dancing, prancing weatherman who would sing out the letter "U" in KUSI-TV's call letters.
"Like a strike of lightening, a clap of thunder and a ray of sunshine, legendary weatherman John Coleman was an exciting, powerful and humorous force in the lives of so many," KUSI evening anchor Sandra Maas said Sunday on Twitter.
"There's a new dancer in heaven."
Alex Tardy, a forecaster at the National Weather Service in Rancho Bernardo, said: "This is a big loss for the weather community. He brought a lot of energy and color and enthusiasm to forecasting. My kids loved watching him on TV."
Tardy also said Coleman never tried to push his skepticism about climate change being man-made.
"We had good talks," Tardy said. "I enjoyed it."
KUSI forecaster Dave Scott said in an on-air tribute Sunday, "There is simply no one like John Coleman."
The tribute showed Coleman dancing to James Brown music during one forecast and kicking up his left leg and yelling "breeeeze" in another, when windy weather was the topic of the day. He also was shown delivering his gleeful "K-UUUUUU-S-I" call-out.
Linda Newell, one of the station's viewers, wrote on Facebook on Sunday: "Dear John Coleman, you made me smile for years. I am originally from Chicago and I grew up watching you forecast the sun and the snow.
"I was happily surprised when I moved to the San Diego area and found you were 'my' weatherman again on KUSI News. You made so many of us happy, may you rest in peace and thank you."
Coleman was born on Oct. 15, 1934, in Alpine, Texas, a small town southeast of El Paso. Coleman attended the University of Illinois at Urbana-Champaign in the 1950s and got deeply involved with radio.
In a classic showbiz story, Coleman ended up filling in one day when the weatherman for the college station didn't show up for work. It was 1953 and, before long, he was tapped to do the weather by Champaign's WCIA-TV.
Coleman worked his way up the TV ranks and in the mid-'70s moved on to "Good Morning America," which became a powerhouse with its hosts Joan Lunden and David Hartman.
About seven years later, Coleman proposed the creation of a 24-hour-a-day national weather network, which some broadcasters thought was ludicrous. But the idea led to the creation of the Weather Channel, and for a while Coleman served as the network's president, CEO and as a meteorologist.
Coleman got the Weather Channel — or TWC — up and going in 1981. But he left after about a year due to internal friction. His visionary work at the Weather Channel wasn't immediately clear as it languished as a little visited cable station. In time, though, it evolved into a place where millions of Americans turn first to track hurricanes in Florida, blizzards in the Midwest and Santa Ana winds in California, among other phenomena.
From there, he went on to do the weather in New York and Chicago, then landed at KUSI in San Diego in 1994, when he was 60.
His career, though, was not without controversy, which he courted by telling people global warming was a "scam" and a "hoax."
Coleman was so convinced of his beliefs that he eventually dropped out of the American Meteorological Society, which had named him AMS Broadcast Meteorologist of the Year in 1983.
"John was a passionate man. He owned his beliefs," said Scott, who worked with Coleman for 20 years. "He stood by what he thought to be true."
Coleman is survived by his wife, Linda; a son, Scott; a daughter, Susan Keim; and two brothers, Richard and Philip.
gary.robbins@sduniontribune.com
Sign up for Essential California for news, features and recommendations from the L.A. Times and beyond in your inbox six days a week.
You may occasionally receive promotional content from the Los Angeles Times.