L.A. wary of adding money to legal defense fund for migrants and refugees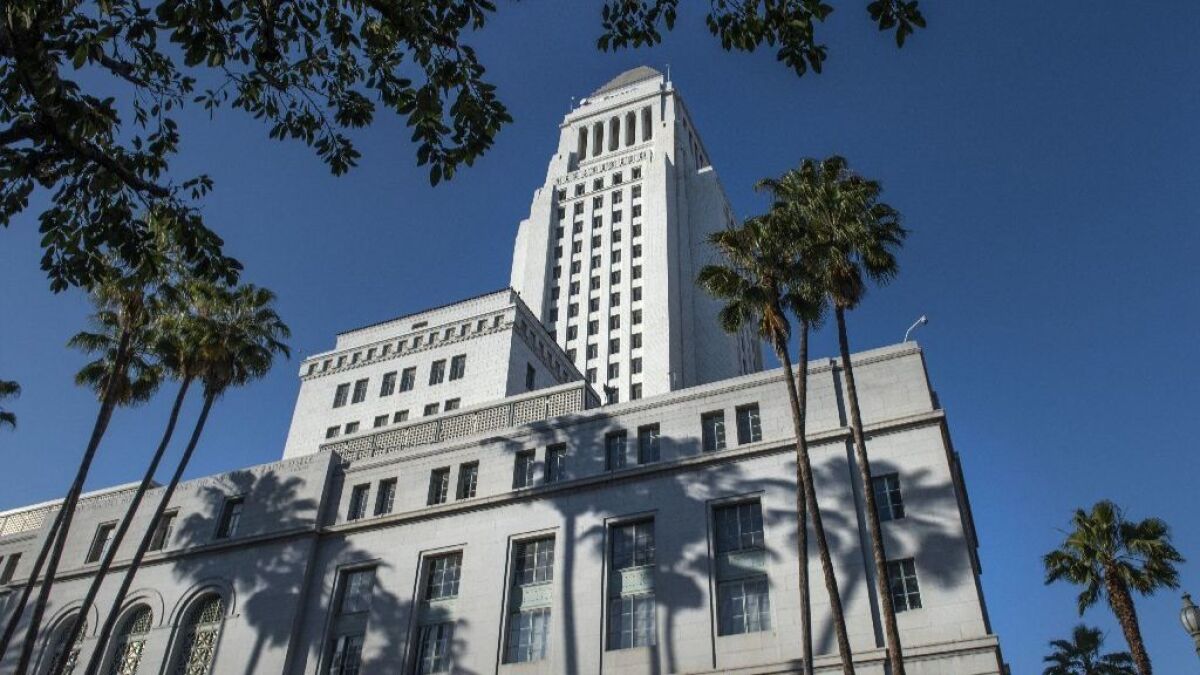 Activists and attorneys urged Los Angeles city officials Thursday to renew funding for a legal defense program for migrants.
The L.A. Justice Fund, a city- and county-backed program that was launched after President Trump took office, pays for attorneys for individuals and families who are detained or at risk for deportation.
Los Angeles had set aside $2 million and the county committed $3 million for the fund in 2017, to be spent over several years, and private philanthropic groups also gave money. But budget leaders have declined to put new money toward it.
Overall, the fund has granted $7.4 million to help with legal representation and counsel, according to the website of the California Community Foundation, a philanthropic organization that disburses the money. In the year since the program launched, 19 people had been released from custody and 223 cases were handled, the foundation said in September.
So far, city and county officials have resisted renewing the L.A. Justice Fund money in the upcoming budget year, as officials evaluate the program and its effectiveness.
"From the outset, the L.A. Justice Fund was developed and implemented as a two-year pilot program with a one-time county expenditure," said L.A. County spokeswoman Rachel Estrada.
Jay Cortez, a spokesman for City Councilman Gil Cedillo, said Thursday that the city is still awaiting data about the program. Cedillo also wrote a letter on May 3 to Councilman Paul Krekorian, who heads the budget committee, expressing his support for the program.
Los Angeles Mayor Eric Garcetti said last month that there is enough city money in the L.A. Justice Fund to last until October. The goal, he said, was for the fund to raise $10 million, but private groups haven't raised their share. He also questioned how much each case is costing the Justice Fund compared with similar programs.
"It was like looking at $20,000 per case, versus the state program, which is about $5,000 per case," Garcetti said. "With a report back, with those questions answered, we will look at continuing that, but that won't be until after October."
On Thursday, Garcetti spokeswoman Andrea Garcia said the mayor plans to work with California Community Foundation and others to "evaluate the impact of this program and develop a long-term strategy to support this vital work and keep immigrant families together."
The foundation didn't provide answers about the program to The Times as of late Thursday.
Earlier in the day, frustrated immigrant advocates came to City Hall for a budget hearing to rally for new funding, arguing that not supporting it is tantamount to abandoning L.A.'s immigrant community.
Attorney Jossiel Moreira said the Justice Fund helps pay for his work providing legal representation for child immigrants and refugees who have come to the U.S. alone. Those youths aren't guaranteed attorneys in court, he said, citing a study that found unaccompanied children without representation are more than four times more likely to receive a removal order.
"We must work together to guarantee that no child goes to immigration court alone," Moreira said.
Mariana Magaña, a policy advocate with Coalition for Humane Immigrant Rights of Los Angeles, said her group's attorneys are often the "last resource" for families about to be split up.
"As a city who welcomes immigrants from all over the world, the City of Angels has an obligation to live up to its values and step up in a time when needed the most," Magaña said.
The proposed budget now goes to the City Council for a vote.
Twitter: @dakotacdsmith
The stories shaping California
Get up to speed with our Essential California newsletter, sent six days a week.
You may occasionally receive promotional content from the Los Angeles Times.