L.A. Zoo's new hippo calf surprises staff; mother was on birth control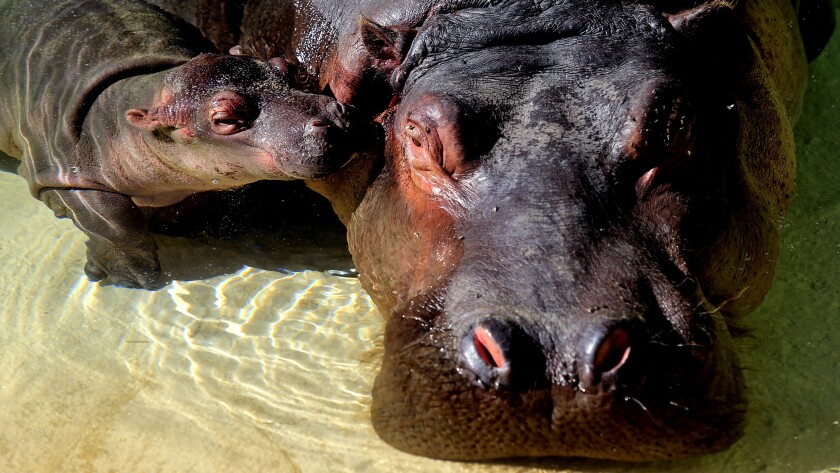 The L.A. Zoo welcomed a surprise addition to its hippo habitat Friday, but fans will have to wait a bit to find out the sex of the baby.
In an effort to maintain the all-important mother-child bond, the zoo's staff hasn't gotten close enough to determine the calf's sex.
The newborn, which has not been named, is the first hippopotamus calf at the zoo in 26 years and was a "happy surprise," especially because the 10-year-old mother, Mara, was on birth control, officials said.
The zoo had some advanced warning when she started to put on weight, but the staff was unable to do a pregnancy test. Even so, the staff's guess of a November birth wasn't far off.
Mara went into labor at 1 p.m. Friday for two hours before giving birth to the calf on dry land. Zoo visitors who happened by the exhibit were able to witness her birth.
Mara and her companion, Adhama, "had an immediate connection" after they were introduced as a pair last year, according to the L.A. Zoo.
For breaking news throughout California, follow @VeronicaRochaLA. She can be reached at veronica.rocha@latimes.com.
---
The perils of parenting through a pandemic
What's going on with school? What do kids need? Get 8 to 3, a newsletter dedicated to the questions that keep California families up at night.
You may occasionally receive promotional content from the Los Angeles Times.