Labor groups want L.A. city attorney to file complaint on bank deals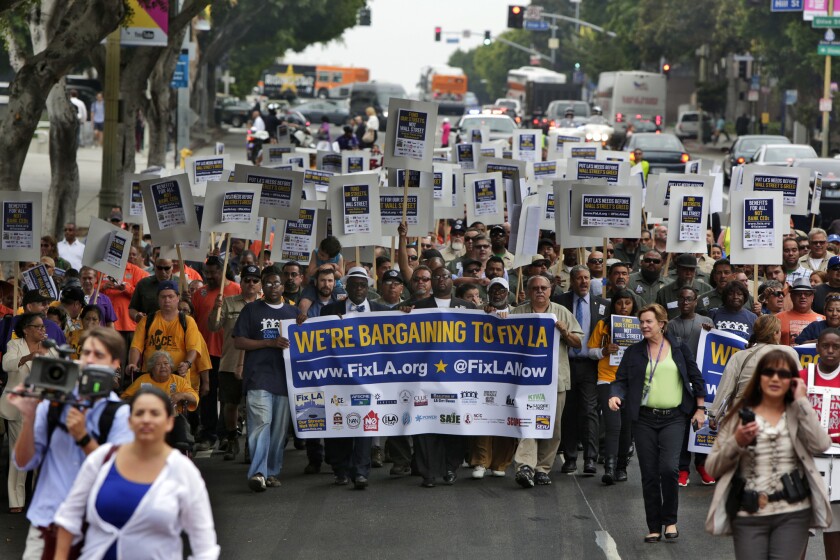 Labor unions and their allies in the Fix LA Coalition are urging Los Angeles City Atty. Mike Feuer to pursue a regulatory complaint over borrowing deals they argue are costing the city.
Eight years ago, the city entered into an interest rate swap deal with Bank of New York Mellon and Dexia for a wastewater system revenue bond, intending to take advantage of low interest rates.
But when the economy crashed, rates dropped even lower -- leaving the city paying more than the market rate. Earlier this year, the City Council voted to try to renegotiate the deals, making it the biggest city in the country to pursue such action.
Now Fix LA is pressing for city officials to file a complaint with the Financial Industry Regulatory Authority, the largest independent securities regulator in the U.S., arguing that underwriters for the bond deal violated the principle of "fair dealing."
"There is significant reason to believe that the complexity of the potential risks incurred by Los Angeles in entering into these deals was not accurately or completely explained," union leaders and community groups in the coalition wrote in a Monday letter to Feuer.
The letter warned that if Feuer tarries in taking action, the city could lose the chance to act, because the federal authority set time limits for making such complaints.
It is unclear exactly when time would run out: Fix LA research policy analyst Lisa Cody said the deadline hinges on when city officials could have realized "that the deal possibly was not what was sold to you" -- in this case, likely during the 2008 crash.
Feuer spokesman Rob Wilcox said Monday that city lawyers are analyzing the issue. Bank of New York Mellon and Dexia declined to comment.
Cody said a complaint would target the bond underwriters, not the two banks themselves. The companies she named could not be immediately reached late Monday or declined comment.
Fix LA has estimated that the city paid more than $104 million in debt service on the deals and could pay more than $65 million in addition by 2028.
City budget officials argue that the deals did save the city money -- though not as much as officials originally expected. Any money saved by renegotiating could be spent on only wastewater projects associated with the deals, City Administrative Officer Miguel Santana has said.
Budget officials have also warned that getting out of the deals would cost nearly $25 million in termination fees. Cody argued that if the city won its claim, it might be able to avoid that $25 million termination fee or get money back from the deal.
Times staff writer Soumya Karlamangla contributed to this report.
Follow @latimesemily for what's happening at Los Angeles City Hall
---
Life is stressful. Our weekly mental wellness newsletter can help.
You may occasionally receive promotional content from the Los Angeles Times.