Southern California heads into wet weekend, with snow expected in the mountains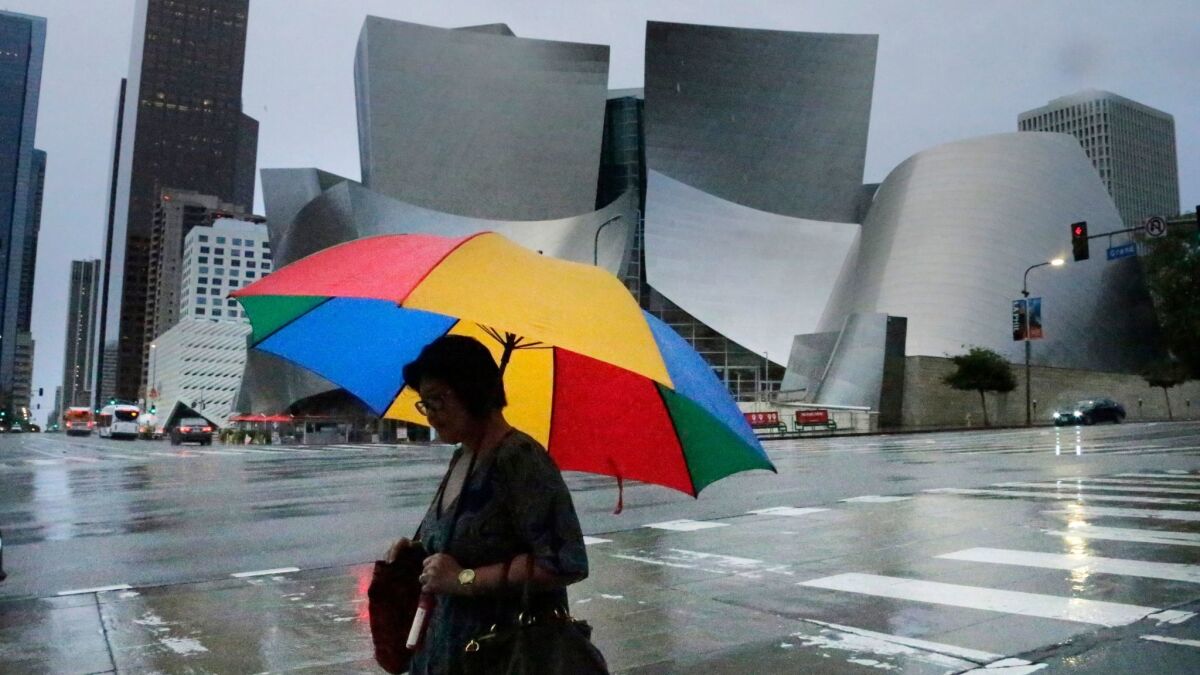 Southern California's wet winter will continue Friday and into Saturday, as storms move through the region carrying rain, thunder and up to two inches of snow in the mountains, according to weather officials.
The rain that fell across Los Angeles County on Friday will taper off by the afternoon, except for scattered showers in some areas, said National Weather Service forecaster Ryan Kittell. The storm should bring up to 0.7 inch of rain across the region.
A second storm bearing down from the north on Saturday afternoon will bring rain and a slight chance of thunderstorms to L.A., and some snowfall in mountainous regions to the north and east.
The Grapevine on Interstate 5 and the Cajon Pass on Interstate 15 could both see up to two inches of snow and ice, which could cause "significant travel delays" for travelers heading to Las Vegas and into Los Angeles for Near Year's Eve, a weather service alert said. The agency urged drivers to leave early and travel through the passes before the storm begins in earnest.
"Hopefully people will be out before the night begins," Kittell said. "If they're still on the road at night on New Year's Eve, there may be some bad driving conditions."
Parts of the Antelope Valley could see a dusting of snow, Kittell said, which happens once every year or two.
Friday morning's soggy commute saw the usual road congestion and collisions.
A fatal crash occurred at 5:48 a.m. Friday in Diamond Bar at the 60 Freeway ramp to the southbound 57 Freeway. One person was killed in the accident, which blocked the carpool lane for more than two hours, according to the California Highway Patrol.
Just after 7 a.m., a big rig struck a concrete pillar on the ramp from the 60 Freeway to the northbound 605 Freeway in Avocado Heights, forcing officials to close the ramp, said CHP public information officer Juan Galvan.
And at 9 a.m., three southbound lanes of the 5 Freeway in Santa Clarita were blocked due to a collision south of Gavin Canyon involving a jackknifed big rig, officials said.
So far this month, the Los Angeles area has received nearly four inches of rain, nearly double the historical average for December.
Some areas of L.A. saw more than two inches of rain last week, which contributed to nightmarish conditions at Los Angeles International Airport. Bad weather, crowded airspace, security scares and construction caused some flights to be delayed or rerouted.
The wetter winter has been a welcome change for a region hit by five years of severe drought.
Gentle, moderate levels of rain over several months pulled 15% of the state — all in the north — out of the drought, according to the weather service and the U.S. Drought Report. The rain has helped recharge reservoirs that feed the two massive systems that move water from the northern Sierra to the state's cities and farmlands.
For more transportation news, follow @laura_nelson on Twitter.
ALSO
Driver who died when her car plunged from bridge onto 110 Freeway is identified
Authorities searching for L.A. couple who disappeared on trip to Big Sur
Tip from Uber driver helps 16-year-old girl escape sex trafficking, police say
---
The stories shaping California
Get up to speed with our Essential California newsletter, sent six days a week.
You may occasionally receive promotional content from the Los Angeles Times.