Westside theater and restaurant patrons may have been exposed to measles, officials say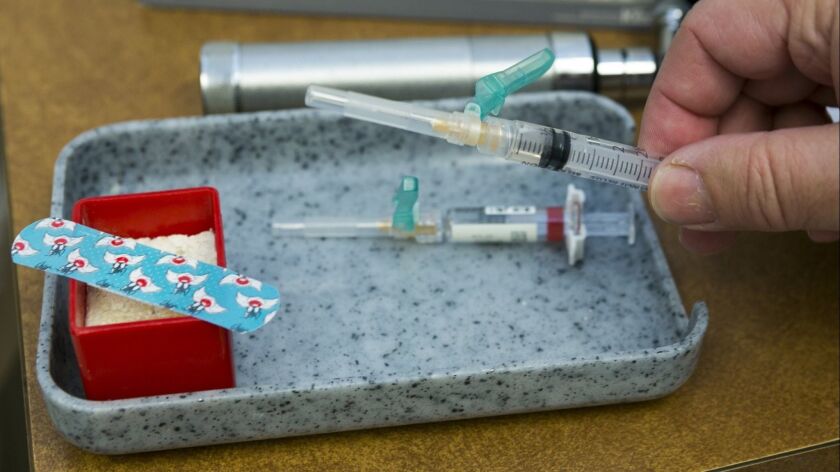 Two people with measles who visited a Brentwood restaurant and a Westwood theater earlier this month may have exposed others to the contagious disease, Los Angeles County health officials warned this weekend.
Both patients traveled abroad and became sick shortly after returning to Los Angeles, public health officials said. Although both patients were likely exposed to the disease in countries where the disease is more prevalent, the two cases are not linked, they said.
Ten residents of Los Angeles County have contracted measles this year, nine of whom were adults, according to state health officials. Eight visitors to the area have also had measles. The majority of patients had not been vaccinated against the disease.
Anyone who visited the Geffen Playhouse in Westwood on June 7 between 8 and 11 p.m, or Toscana in Brentwood on June 8 between 7 and 11 p.m., may have been exposed to measles, officials warned.
"It gets spread, by air and by direct contact, even before you know you have it," said L.A. County health officer Dr. Muntu Davis in a statement.
Visitors to the restaurant or the theater during the times identified should review their vaccination history and carefully monitor themselves for measles symptoms, health officials said.
Symptoms include a fever, a cough, a runny nose, red eyes and a rash that typically appears between 10 and 21 days after exposure. People with measles become infectious four days before symptoms begin.
Health officials urged pregnant women, people with infants, patients with weakened immune systems and anyone who has not been vaccinated against the disease to contact their doctors immediately if they were at either location during the times identified.
Anyone who believes they have contracted measles should contact their health provider by phone before going in so measures can be taken to prevent the spread of the disease to anyone else in the waiting room, officials said.
Measles, spread by sneezing and coughing, is one of the most contagious diseases in the world. The virus can linger in the air and infect other people for up to two hours after a sick person has left a room.
A single case of measles can lead to hundreds more. About 90% of people who have not been immunized become ill one to three weeks after being exposed to the disease.
There have been 53 cases of measles reported across California this year, according to the state Department of Public Health.
The measles outbreak began in Los Angeles County this year after a resident visited Vietnam and contracted the disease, officials said. That person then spread measles to three other people.
In April, in one of the largest quarantine orders in California history, health officials told more than 1,000 students and staff members at UCLA and Cal State L.A. who might have been exposed to measles to stay home.
Every person who is diagnosed with measles in the United States contracts it abroad or from someone who contracted it abroad, officials said. The majority of people who contract measles are not vaccinated against the disease.
Health officials have urged residents who have not received the measles-mumps-rubella vaccine to talk to their doctors about the vaccine. Davis said the vaccine is a "very effective measure to protect yourself and to prevent the unintentional spread of this potentially serious infection to others."
For more transportation news, follow @laura_nelson on Twitter.
---
The stories shaping California
Get up to speed with our Essential California newsletter, sent six days a week.
You may occasionally receive promotional content from the Los Angeles Times.