L.A.'s ban on new murals could be lifted by City Council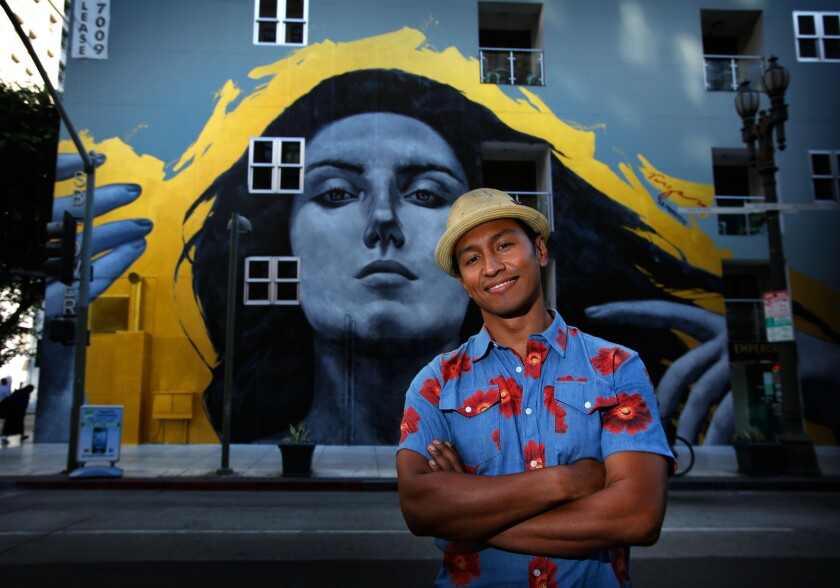 Downtown artist Robert Vargas will be closely watching a vote Tuesday by the Los Angeles City Council that could end a 10-year-old ban on public murals.
Murals are regulated under the city's sign laws. But new murals have been banned since 2003, when the City Council began challenging sign companies' efforts to categorize commercial advertising as art murals.
Vargas has painted large works on public spaces both before and after the ban. Since its imposition, he has painted two large public artworks, one in Boyle Heights and another downtown, even though he knew the city could have them painted over.
He took the chance, he said, to "bring together communities."
"When I'm working, people are being more social with each other, commenting on it, taking pictures,'' Vargas said.
His most recent work, "Our Lady of DTLA," is a four-story portrait of a young woman at the corner of 6th and Spring streets downtown. It has become a focal point on bustling Spring Street.
"It was a happening,'' Vargas said of its creation over a four-week period. "It created a dialogue.''
The proposed ordinance generated considerable debate as it worked its way through committee hearings. City Hall officials and neighborhood activists support the idea of public murals but disagree on how best to tailor a law that allows some communities to "opt out" of allowing them.
The council's Planning and Land Use Management committee voted three weeks ago to forward the ordinance to the full council without a recommendation.
City officials have said murals created without permits during the moratorium will be grandfathered in under the proposed law's provisions.
Vargas hopes an ordinance gets approved soon. He's got another mural planned for downtown's Spring Street.
"I feel that Los Angeles is undergoing its creative Golden Age,'' he said, "not only in the visual arts but in music, in fashion, in design. It's creating this synergy that's truly unique to this city."
ALSO:
Bay Area limo fire that killed 5 'accidental'; no charges to be filed
Dick Van Dyke 'fine' after rescue from his burning car on 101 Freeway
James DiMaggio left life insurance to Hannah Anderson's grandmother
Twitter: @csaillant2 | Google+
catherine.saillant@latimes.com
---
The stories shaping California
Get up to speed with our Essential California newsletter, sent six days a week.
You may occasionally receive promotional content from the Los Angeles Times.