L.A. councilman wants city to boycott companies with NRA ties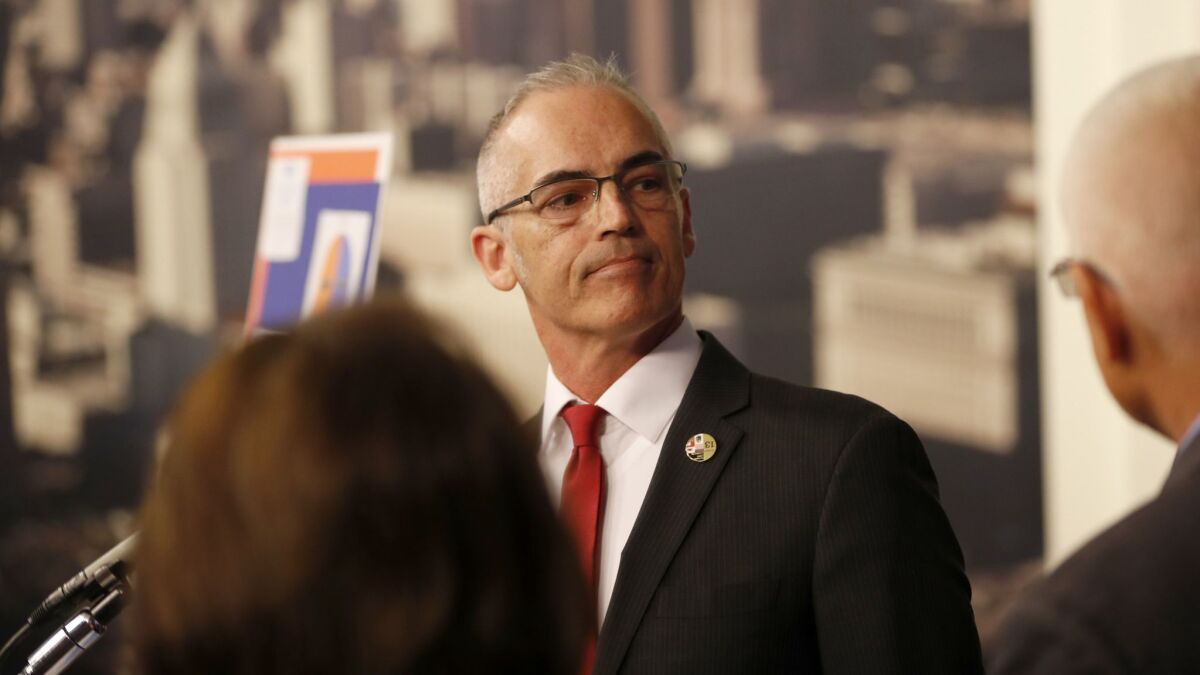 A Los Angeles lawmaker wants the city to cut ties with companies that are linked to the National Rifle Assn., saying that its opposition to "common sense gun safety laws" is at odds with the city.
City Councilman Mitch O'Farrell introduced a proposal Wednesday asking city staffers to provide a list of all businesses and groups that have a "formal relationship" with the NRA and lay out options for boycotting them.
"It's important that we send a message as a city with an annual budget approaching $9 billion," O'Farrell said, invoking mass shootings in Newtown, Conn.; Orlando, Fla.; Las Vegas; and Parkland, Fla.; as well as gun violence that happens regularly across the country.
"It's time to speak with one voice and call attention to the assault weapon epidemic," the councilman said.
The NRA did not immediately respond Wednesday to a request for comment. Last month, the group issued a statement denouncing "a shameful display of political and civic cowardice" from corporations that severed ties with the NRA after the shooting at Marjory Stoneman Douglas High School in Parkland.
"The law-abiding members of the NRA had nothing at all to do with the failure of that school's security preparedness, the failure of America's mental health system, the failure of the National Instant Check System or the cruel failures of both federal and local law enforcement," the group said.
The California Rifle & Pistol Assn., which is affiliated with the NRA but has its own board, is "proud to be fighting for the right to choose to own a firearm for sport or self-defense, and we refuse to be stigmatized or demonized by this campaign of shame," its president, Chuck Michel, said Wednesday.
O'Farrell said he also had asked the City Council to hold off on approving an agreement between FedEx and the Harbor Department to operate a warehouse and office space. FedEx has faced pressure from gun control advocates to stop providing discounted shipping for members of the NRA.
"We have a choice — and they have a choice," O'Farrell said, arguing that FedEx could follow the path of other companies such as Delta Air Lines that have ended such discounts or other ties. "They could join in this sensible movement to discourage the proliferation of guns."
The council postponed voting Wednesday on the FedEx agreement, which city officials say could generate up to $155,000 for the port.
A FedEx spokeswoman said the company was looking into the city decision Wednesday.
In a statement last month, FedEx said its corporate stand on gun policies was not in line with the NRA — it "opposes assault rifles being in the hands of civilians" — and stressed that the group is one of hundreds of organizations whose members get such discounts.
"FedEx has never set or changed rates for any of our millions of customers around the world in response to their politics, beliefs or positions," it said in that statement.
Twitter: @AlpertReyes
---
UPDATES:
4:35 p.m.: This article was updated with a response from FedEx.
This article was originally published at 1:35 p.m.
The stories shaping California
Get up to speed with our Essential California newsletter, sent six days a week.
You may occasionally receive promotional content from the Los Angeles Times.