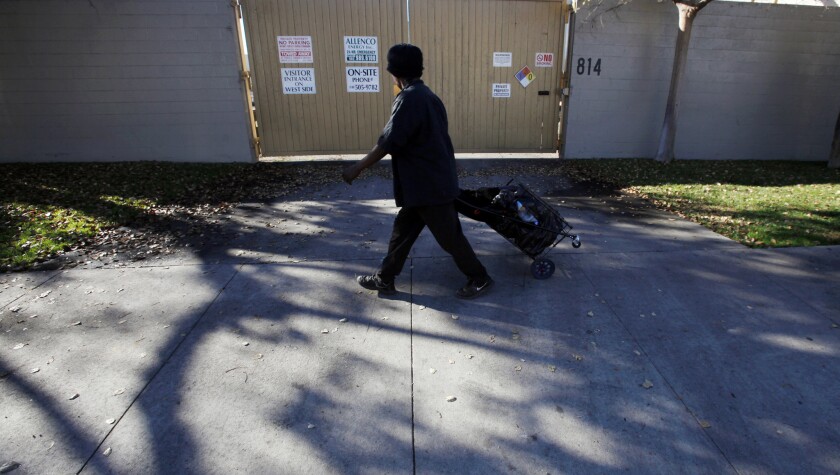 Los Angeles City Councilman Gil Cedillo is pursuing an unusual plan that could thwart the reopening of a South L.A. oil drilling site that suspended operations after a public outcry over nosebleeds and other health problems reported by neighbors.
Cedillo, who represents the area near the Allenco Energy Inc. site, wants the city to use a rarely exercised power under its municipal code to cancel "oil drilling districts" where drilling is allowed.
In a proposal Tuesday, he called on city staffers to identify "inactive" drilling districts in the part of Los Angeles he represents, which stretches from Highland Park to Pico-Union, and report on the steps to terminate them.
"We want to protect our environment and protect our residents," Cedillo said. "And we want to be guided by the facts."
Cedillo did not specifically name Allenco in his proposal, but said in an interview that the plan would affect the 23rd Street site.
If the drilling districts that include Allenco were terminated, "they wouldn't be able to operate — because there would be no drilling district for them to operate in," Cedillo spokesman Fredy Ceja said.
Allenco did not immediately respond to an emailed request for comment Tuesday. A person who answered the phone at Allenco offices, who declined to provide his full name, said the company had no comment.
The proposal was applauded by environmental and community activists who have called for the city to halt all drilling near homes and schools.
"After experiencing the harmful health impacts when the Allenco site was open ... our neighborhood would be grateful to see the site permanently shut down," Nancy Halpern Ibrahim, executive director of Esperanza Community Housing, said in an email.
Before the drilling site shut down, neighbors had long complained of nosebleeds, dizziness and other health problems. After federal and local investigations were launched and environmental officials were sickened by fumes while visiting the site, the company agreed to suspend operations at the urging of then-Sen. Barbara Boxer (D-Calif.).
City Atty. Mike Feuer then sued the company and secured a court order that requires Allenco to follow stringent regulations if it wants to resume drilling. The company was also ordered to pay $1.25 million in penalties. It had already spent more than $1 million on other penalties and improvements to fix leaks, improve equipment and comply with state and federal laws.
"This has been, by far, the worst site in the city, as far as compliance issues and violations," city petroleum administrator Uduak-Joe Ntuk said earlier this month.
Fearful that drilling could restart soon, community activists have called on the Roman Catholic Archdiocese of Los Angeles, which owns the site, to terminate the Allenco lease and shut it down permanently. The Los Angeles County Department of Public Health has also urged the archdiocese to reexamine the lease, saying the oil site had a "deleterious effect" on community health.
The archdiocese emphasized in a recent statement that it does not operate the drilling facility, but was working with city officials and Allenco to "explore possible alternative uses for the site."
If an oil drilling district were terminated, a new one could subsequently be created through a city ordinance, which would need to be approved by the City Council, Ntuk said.
Twitter: @AlpertReyes
---
UPDATES:
4:55 p.m.: This article was updated with a comment from Nancy Halpern Ibrahim.
This article was originally published at 12:55 p.m.
---