When children formed a swastika with their bodies, it sparked a conversation on hate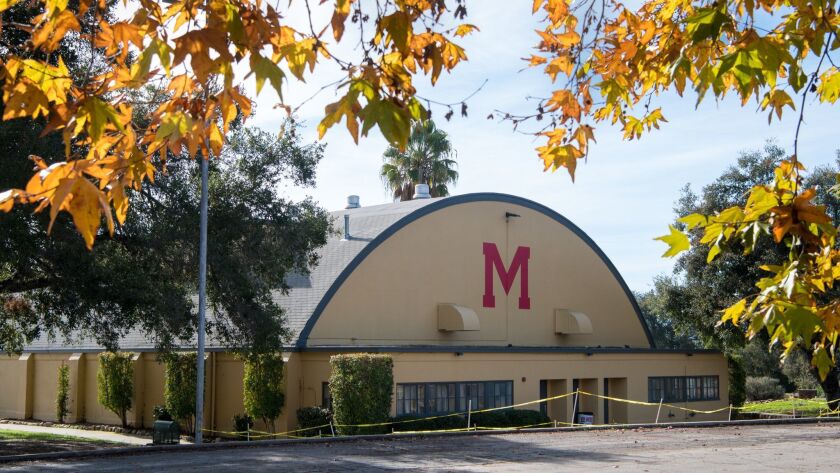 Reporting from Ojai. Calif. —
A black man stood to face his neighbors, choking up as he recounted how, every day, some person or another crossed the street when they saw him coming. In Ojai, a pretty place he calls home, people routinely ignore him.
A woman's voice wavered as she shared the text that her son, whose father is Jewish, recently received: "I heard your entire family was flammable." To make sure the point was clear, she said, there had been a follow-up message. "You get the reference. World War II."
It was a swastika that had brought these Ojai residents together, one formed in December by Matilija Junior High School students on the soccer field. Media coverage prompted outrage in the town, leading to the community forum held earlier this month by the Ojai Unified School District.
Authorities say few hate incidents are reported in this liberal valley town known as a haven for spiritual seekers, health enthusiasts and celebrities — a place with wine-tasting rooms and art galleries along the main drag, where a banner recently touted the Martin Luther King Jr. Day celebration.
Still, said Sgt. Shane Matthews of the Ventura County Sheriff's Department, "it's very possible things go on that we're not aware of."
In 1994, a black student at Matilija did report being threatened by a group of white girls who had scrawled epithets across her locker. And in 2017, two Nordhoff High School baseball players who used their jerseys to spell out a racial slur were removed from the team.
Mayor Johnny Johnston acknowledged there had been a few race-based incidents, and said Ojai grappled with issues like any other town did. But, he said, people seem to pay closer attention because of Ojai's progressive reputation.
"The juxtaposition … makes it a good example of no place [being] free of these things," said Johnston, who has lived in the town almost 50 years. "I think Ojai in general is better than most places I've been, but we're far from being perfect."
Dawn Shook of the Ojai Valley Board of Realtors, who settled here 40 years ago to raise her family, said that "everyone here mainly gets along. And so something like [the swastika incident] was pretty horrifying to a lot of residents."
A town of about 8,000 people, Ojai is more than 80% white, according to the latest U.S. Census Bureau estimates. There are only a few dozen black residents. In Ventura County as a whole, the black population stands at about 2%.
In fact, when an article about the swastika ran in The Times, one black woman said people contacted her and her children — erroneously assuming she was the resident who had been anonymously quoted.
Like many others at the Matilija forum, she asked not to be named. She said people gave her children the "side eye" after the article ran, and that as recently as last year her husband was targeted with racial slurs while out jogging.
"This is something that's been going on for a very, very long time. Yes, even in Ojai," she said. "This is not the 1990s. This is not 10 years ago. This is last year and the year before."
More than 200 people — including rabbis, community leaders and children — streamed into the school auditorium for the forum, taking seats facing a stage adorned with American and California flags. Spanish translation was available through headphones.
"This is an issue that's far beyond just a single incident that happened on one of our school campuses," District Supt. Andy Cantwell said.
The controversy came to light before winter break, when a parent shared with school administrators transcripts from a group chat that included racist, sexually inappropriate and threatening commentary. Included was a photo of nine students who had lain down on the soccer field in the shape of a swastika. Police didn't find an active threat, and the action was not determined to be a crime.
The school district, however, has announced plans to require all Matilija students to engage in social and emotional learning curriculum in response to the incident.
"As a Jewish person, I was very sad to see this happen. But as a teacher I see it as a teachable moment," Lanny Kaufer, a substitute in the district, said during the three-hour meeting. Kaufer's father was living in Vienna when he fled the Nazis in 1938.
"I think it's great that this came out in the open," he said. "I think it's been a long time coming."
For some, the event resembled therapy, a way to work though incidents that have troubled them for years.
One black man rose to his feet, nervous as he took the microphone. He had gone to Matilija in the seventh and eighth grades, he said, but had been kicked out over failing grades. What people didn't know, he said, was that skinheads had attacked him on a daily basis.
Amid gasps throughout the auditorium, he pressed on, pausing at times to find the words. As recently as several months ago, he said, he got into a fight with adults based solely on his skin color.
"Those weren't kids," he said. "It's a bigger problem than you think."
After he spoke, he seemed resigned: "If there's a place on Earth where there's no racism, then let me know and I'll move there. … You would just hope in this day and age people would be a little more tolerant."
Cyndi Silverman, the Anti-Defamation League's director for the Santa Barbara and Tri-Counties region, said there had been a 94% increase in hate incidents across the country in grades K to 12. In the area she oversees, there were 21 anti-Semitic incidents in 2018, up from five in 2016.
"This is like the place of all love and I should be here to spread love," she told those gathered for the forum. "But I'm here to tell you we're going to help you fight hate."
Ojai City Manager Steve McClary, who along with the mayor and a councilman was in the auditorium, said hearing residents' stories of dealing with bias in his town was "very sobering."
"I think for those of us who haven't experienced that, it's very easy to forget what some people go through," he said. "Unfortunately, it often takes something negative like this … to be reminded …we all deserve respect."
As the meeting came to a close and residents filtered out into the chilly night, many thanked one of the black residents for sharing his story. Others embraced him.
"If I'm out there and I see anything happening to you, I'm on your side," an older white woman told him.
All he needed, he said with a smile, was for her to say hello.
Times staff writer Ryan Menezes contributed to this report.
Twitter: @Brittny_Mejia
---
The stories shaping California
Get up to speed with our Essential California newsletter, sent six days a week.
You may occasionally receive promotional content from the Los Angeles Times.