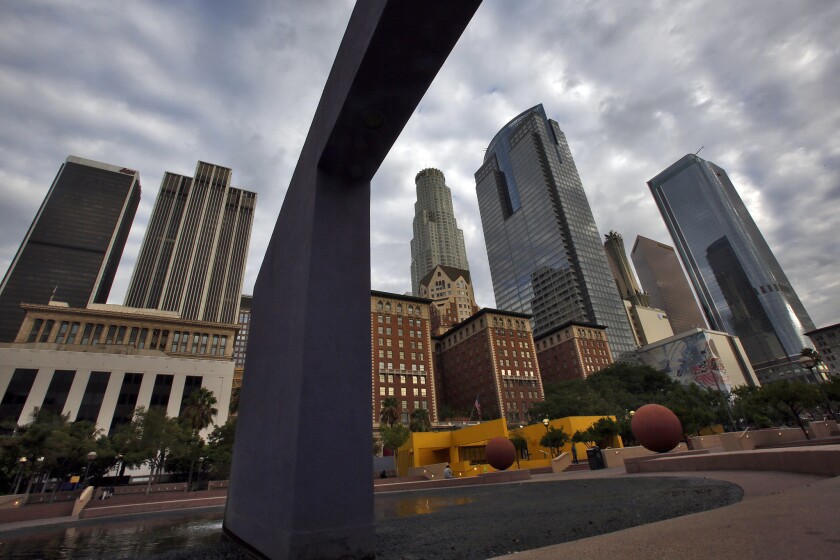 Pershing Square, one of Los Angeles' oldest parks, may be getting a makeover.
Councilman Jose Huizar on Tuesday named 20 business representatives, property owners, and architectural and design experts to a task force to seek money and legislation to redesign the benighted square in the heart of downtown.
Task force members include Brian Glodney of Gensler architects; Melani Smith of Melendrez Design Partners; and Gail Goldberg, the city of Los Angeles' former director of planning. At a news conference, Gensler architects presented a conceptual redesign of the square they prepared for the city on a voluntary basis.
Becky Dennison of Community Action Network protested that low-income and homeless people, the major users of the park since a 1994 redesign that was widely considered a failure, were shut out of the task force.
The membership "is entirely slanted toward the business and development community without any voice ... for low-income people who have historically used the park for decades." Huizar's office was not immediately available to respond.
Other members include Carol Schatz of the Central City Assn.; Blair Besten of the Historic Downtown Business Improvement District; Peklar Pilavjian of St. Vincent's Jewelry Center; and Karen Hathaway of the L.A. Athletic Club.
ALSO:
LAPD searching for Eastside stabbing victim
Seal Beach puts freeze on e-cigarette stores
Rim fire 20 % contained, but 4,500 structures threatened
Twitter: @geholland
---