'Pokemon Go' leads players to California facility housing sex offenders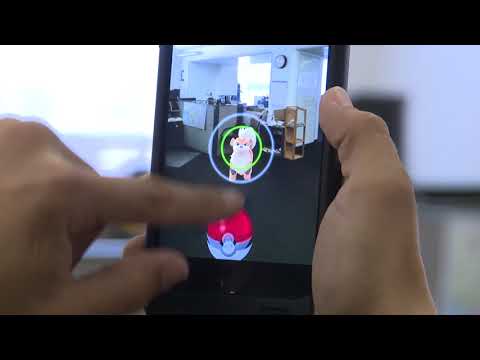 With the success of "Pokemon Go," we set out to discover if any of the little monsters were hiding within the walls of our own L.A. Times newsroom.
Dan De Vaul isn't up to speed with much of the new technology out there. So when he learned Tuesday that his Central California sober-living facility, which houses released sex offenders, was a designated stop in the latest "Pokemon Go" smartphone game craze, he said he wanted no part of it.
"I have no idea what Pokemon is," said De Vaul, founder of the Sunny Acres facility. "I have no idea who put the stop – if it was sabotage – because we don't want kids showing up here."
De Vaul learned about the stop when a KSBY-TV news crew visited the property, noting that the scavenger hunt led to the facility's outdoor sign.
According to "Pokemon Go" developer Niantic Inc, "Pokestops" and "gyms" that appear in the game are "special points of interest found throughout the world." At Pokestops, players collect virtual loot. Players can capture gyms for their team or battle other teams in the augmented-reality GPS-based game.
Some gaming blogs have suggested that Niantic's old "Ingress" augmented-reality game was integrated into the new Pokemon game, which could explain why some old sites are appearing as Pokestops. In a letter to NPR, Barbara J. King, an emeritus professor of anthropology at the College of William and Mary, said the old version once placed locations in Nazi concentration camps. Last year, Google apologized for the mistake.
So far, no "Go" players have visited De Vaul's 72-acre ranch on the outskirts of San Luis Obispo, and he is hoping they won't come, he said.
Situated near the famous Madonna Inn off Highway 101 Sunny Acres' clean and sober-living facility is housed in an old farm on the sprawling private property. The farm houses 35 people, including 10 low-risk sex offenders who have registered with the San Luis Obispo Sheriff's Office. Other residents include the homeless and people struggling with mental illness and drug and alcohol addiction.
De Vaul, 72, said he doesn't want children visiting his property because that'll expose the offenders to the possibility of being sent back to prison for violating conditions of their parole or probation. Several of his residents, he said, have no place to go and would be transients if he didn't allow them to stay at the facility.
De Vaul said he has been battling with San Luis Obispo County for 20 years and doesn't want any more trouble.
In 2009, De Vaul was ordered to serve 90 days in jail and pay a $1,000 fine after a judge declared his facility unsanitary and unsafe because the illegal stucco barracks posed a fire danger to his clients.
For years, county code enforcement officials attempted to get De Vaul to fix the property. Neighbors complained about the mounting piles of car tires and vehicles on his property.
Some of the vehicles, he said, are still on the property, which also has a thrift store, strawberry stand, pumpkin patch and Christmas tree farm.
The property has two entrances, which are mostly open, because of his various businesses.
Closing the gates to keep out "Pokemon Go" players would deprive him of income, he said.
"I don't know what to do," he said.
For breaking news in California, follow VeronicaRochaLA on Twitter.
ALSO
Amid crime worries, police explain how to play 'Pokemon Go' safely
Orange County reaches settlement with sexual assault victims in Bustamante case
Sign up for Essential California for news, features and recommendations from the L.A. Times and beyond in your inbox six days a week.
You may occasionally receive promotional content from the Los Angeles Times.