Judge reinstates port truckers fired in labor dispute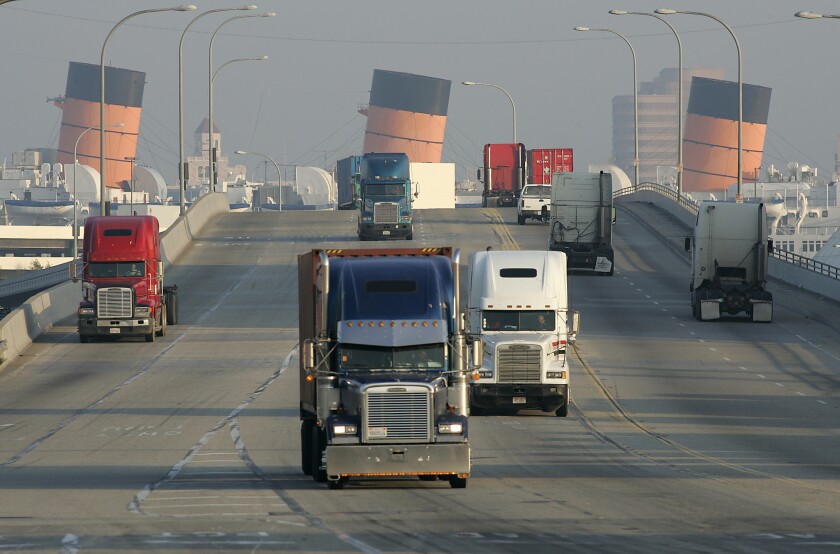 A federal judge on Tuesday reinstated two Los Angeles Harbor-area truck drivers, who said they were illegally fired during a labor dispute with their employer, Green Fleet Systems in Carson.
U.S. District Judge Philip S. Gutierrez ordered the company to reinstate Amilcar Cardona and Mateos Mares pending the outcome of a National Labor Relations Board case that has accused Green Fleet of more than 50 labor law violations.
In the NLRB matter, Cardona and Mares allege that the firm retaliated against them for union activity, filing claims for lost wages and asserting that they were regular employees, not independent contractors as the company has claimed. Independent contractors are not covered by federal labor laws.
"This decision lets us return to work and continue to fight for justice and a union contract," Mares said.
Gutierrez reinstated the drivers, saying that it was likely they would prevail at the NLRB hearing and there would be irreparable harm to both men if they were not returned to work.
"This sends a message throughout the Port of Los Angeles and the shipping industry that misclassified drivers are in fact employees," said Julie Gutman Dickinson, the attorney for the truckers and the Teamsters Union port division.
The judge also issued a cease and desist order to prevent Green Fleet from threatening to fire union supporters, making threatening remarks, creating an impression of surveillance, limiting employees' access to company property and interrogating employees about their union activity.
Those allegations form the basis of the pending NLRB action, which contends that Green Fleet set out to destroy the lawful union-organizing efforts of its drivers.
Thomas A. Lenz, the company's attorney, said he is reviewing Gutierrez's decision and cannot comment at this time.
In earlier statements, the company denied the NLRB's allegations, contending that it has complied with all federal labor laws and that most of the firm's drivers do not support the Teamsters "heavy-handed" organizing techniques.
Follow @LADeadline16 for transportation news.
---
The stories shaping California
Get up to speed with our Essential California newsletter, sent six days a week.
You may occasionally receive promotional content from the Los Angeles Times.