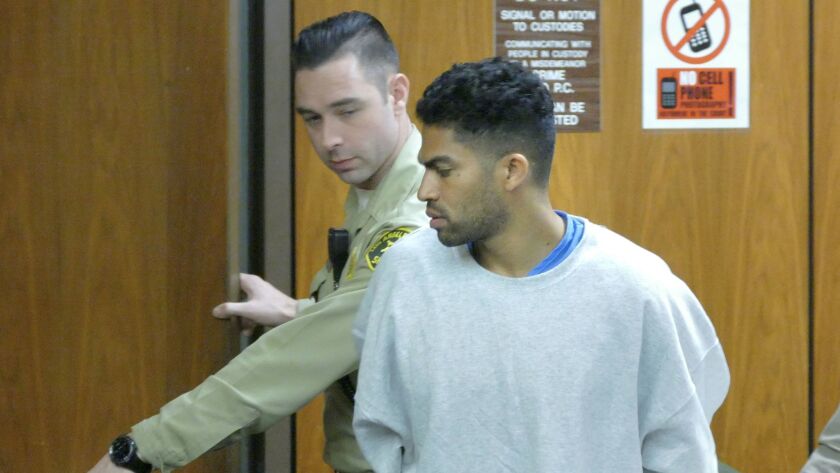 A man was charged on Thursday with killing a nurse and former reality show contestant with a hammer, then burying her body at his family's home in Lennox.
Jackie Jerome Rogers, 34, is charged with one count of murder in the death of Lisa Marie Naegle, who went missing Sunday after a birthday party, according to the Los Angeles County district attorney's office.
If convicted, Rogers could face 26 years to life in state prison.
Prosecutors allege that Rogers bludgeoned Naegle to death with a hammer on Sunday.
Rogers later gave investigators information that led them to believe Naegle had been slain, according to police.
When detectives went to his family's home in the 5000 block of West 106th Street on Tuesday, they found Naegle's body in a shallow grave.
Rogers, a nursing student of Naegle's at West Los Angeles College, is being held in lieu of $2-million bail.
Naegle, who appeared on the E! reality show "Bridalplasty," went missing after attending a party at the Alpine Village restaurant in Torrance on Saturday night. She called her husband about 2:30 a.m. Sunday and said she would be grabbing food on her way home.
She never made it home and didn't show up to teach nursing classes that day.
Naegle was reported missing Monday after her family spoke with Rogers and noticed inconsistencies in his story.
Her sister, Danielle Naegle-Kaimona, told KABC-TV news that her family had obtained surveillance video that showed Naegle entering Rogers' black SUV after the party.
The family also had photographs of the pair at the party and security camera images of them at a gas station, the TV station reported.
When they confronted Rogers seeking information about Naegle's whereabouts, he denied having left with her or taking her home, Naegle-Kaimona said.
Rogers later admitted to police that he changed his story because he and Naegle, who was married, were having an affair, Naegle-Kaimona told KABC.
For breaking news in California, follow @VeronicaRochaLA on Twitter.
ALSO
Wrestling star Chyna died from mix of alcohol and drugs, autopsy report finds
Truck plows through Thousand Oaks home, killing holiday guest
Holiday nightmare: More than 200 flights canceled or delayed at jam-packed LAX
---