County workers to start enforcing public hours along Orange County homeless encampment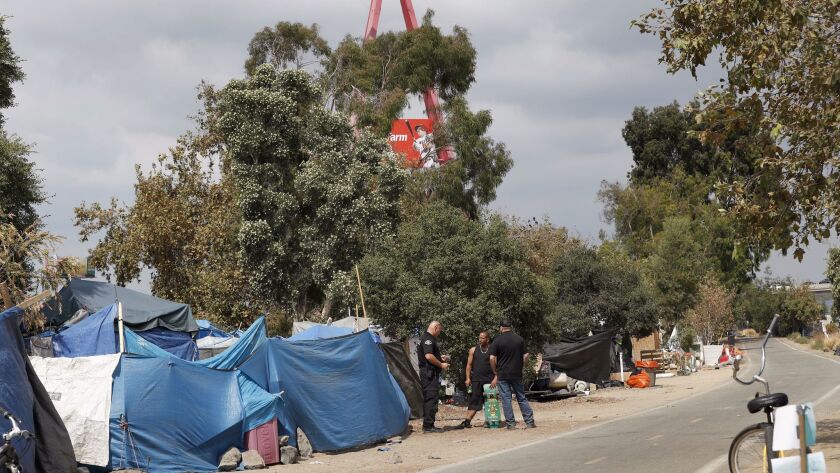 Starting on Friday, Orange County workers will actively enforce public hours along the Santa Ana River Trail, where a homeless population has swelled, causing residents to complain about crime.
County crews years ago posted signs for public hours up and down the entire trail along the Santa Ana River flood control channel. But officials say that access has been "inconsistently enforced."
The public hours include: Nov. 1-Feb. 28 from 7 a.m. to 6 p.m. and March 1-Oct. 31 from 7 a.m. to 9 p.m. Violators may be cited for trespassing under state law, officials said.
"The enforcement will enable the county to ensure the safety and security of the recreational users of the trail, while simultaneously protecting the integrity of the flood control channel for its intended purpose," said Khalid Bazmi, chief engineer of the Orange County Flood Control District, in a memo to the county Board of Supervisors.
In a push for compliance, workers on Monday also put up more signs in prominent locations, informing the public about hours of operation. Later this year, they will install pedestrian gates at entrances to the trail, a project expected to be finished by mid-2018.
Once installed, the areas between the gates will be patrolled by law enforcement during public hours and the gates will be locked at closing time.
The river trail stretches across four cities: Anaheim, Fountain Valley, Orange and Santa Ana. While agencies fight over jurisdiction and monitor a fluctuating homeless population — at times estimated at about 400 — the Orange County Sheriff's Department last month started launching increased outreach efforts and patrols.
Since then, sheriff's deputies have logged 180 arrests and more than 1,000 recorded contacts with homeless individuals in a push to reduce drug activity and property crimes.
The arrests involved crimes ranging from robbery and sex offenses to domestic violence or violations of parole or probation. From the 1,093 contacts made by members of the sheriff's Homeless Outreach Team, 910 people refused help, according to officials.
"The criminal element that remains exploits other individuals" who are "experiencing homelessness, victimizes nearby residents, and threatens recreational users of the riverbed trail," Undersheriff Don Barnes said in a statement.
Twitter: @newsterrier
---
Life is stressful. Our weekly mental wellness newsletter can help.
You may occasionally receive promotional content from the Los Angeles Times.