Judge calls into question how L.A. handles parking ticket challenges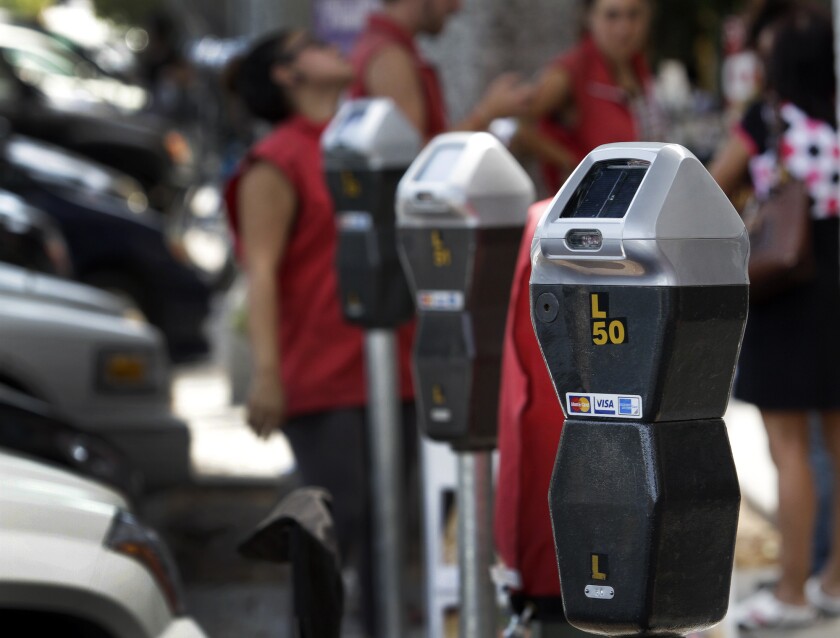 A Los Angeles Superior Court judge has called into question the way L.A. handles parking tickets, saying city employees should review challenges to tickets instead of outsourcing the task to a private company.
City workers issue parking tickets, but Los Angeles hires Xerox to process the citations. Xerox, in turn, uses a subcontractor -- PRWT Services -- to review challenges to the tickets. That initial review is the first step for drivers who want to contest their tickets.
The arrangement was challenged in a lawsuit filed by Cody Weiss, whose request for a review and reconsideration of a parking ticket was rejected. Weiss claimed he was wrongly cited for remaining in a space for more than two hours, when he had moved his car during that period.
His attorney Caleb Marker said Thursday that Xerox and its subcontractor had an "inherent conflict of interest" between judging challenges and processing paperwork for each case. In the legal complaint, Marker alleged that PRWT workers had roughly three minutes to review each ticket challenge because employees were required to process "20 pieces of correspondence per hour," including initial reviews of ticket challenges.
In a legal brief, the city said that although it did not conduct "day-to-day training" of those workers, it exercised oversight and monitored phone calls between people challenging their tickets and the PRWT workers, "with city staff sitting side by side with [them] and plugged into the calls."
In a tentative decision, Judge James Chalfant did not address Weiss' claim that he was wrongly ticketed. Rather, citing state law, he found that the city improperly passed off ticket reviews to Xerox and its subcontractor.
The city must "conduct the initial review, and it may not delegate that task to its processing agency, Xerox," the tentative decision stated.
Marker said the tentative ruling means "the city is going to have to change the way it does business." He said Xerox can still handle some parts of parking ticket processing, but the city itself must review challenges to parking citations.
It wasn't immediately clear how the city would respond. Rob Wilcox, a spokesman for City Atty. Mike Feuer, said the office was still reviewing the tentative ruling. Department of Transportation officials also said they were reviewing the matter.
Xerox representatives did not offer an immediate comment. The judge's tentative decision noted that an earlier ruling found the initial review by Xerox and PRWT was "otherwise adequate."
In its legal brief, the city of Los Angeles argued that Weiss had provided no supporting evidence to back up his claim that he hadn't left his vehicle in the spot for longer than two hours.
The city also said Weiss could have contested the ticket further, after the initial review, by proceeding to a city administrative hearing. Weiss paid the ticket after being turned down for initial review, according to his attorney. Marker said he later decided to sue after learning the city was contracting out the first step of the appeal process.
Some critics of the parking ticket system welcomed the judge's decision. "If people are denied the first time, they sort of assume they're going to be denied the next time. ... A lot of people just capitulate and pay the fine," said Steven Vincent, founder of the Parking Freedom Initiative, which is seeking to cap many parking fines and enact other reforms to the ticketing system. "People feel this current system just isn't giving them a fair shake.
"The whole process needs to be given a really thorough look," Vincent said.
Follow @latimesemily for what's happening at Los Angeles City Hall
---
The perils of parenting through a pandemic
What's going on with school? What do kids need? Get 8 to 3, a newsletter dedicated to the questions that keep California families up at night.
You may occasionally receive promotional content from the Los Angeles Times.