San Francisco State University bans hoverboards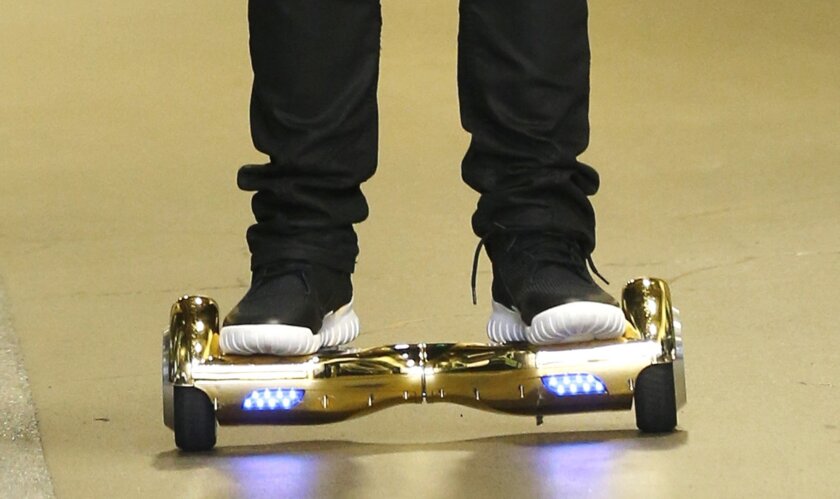 Any San Francisco State University students who thought they'd look cool commuting to class on a new hoverboard might want to consider hoofing it.
The university recently announced that it was imposing a hoverboard ban, and that violators now faced a $58 fine, a citation or confiscation of the device, according to university spokesman Jonathan Morales.
"The university takes the safety of all students, faculty, staff and visitors very seriously," he said. "This step was taken in light of the ongoing safety and fire hazard concern with these devices and to maintain a safe campus community."
See more of our top stories on Facebook >>
Morales said warnings would be issued first, with stiffer penalties to follow.
The ban was issued more than a week before the U.S. Consumer Product Safety Commission issued a letter Thursday to all hoverboard manufacturers, importers and retailers, asking them to comply with safety standards.
Increasingly, public safety agencies nationwide have reported fires linked to the devices. The commission reports that overheating batteries have sparked at least 52 fires and caused more than $2 million in property damage.
In Los Angeles, the dangers associated with hoverboard fires prompted Metrolink to ban the devices from all of its trains. Other groups have also made moves to ban the devices.
In December, Delta, United, American and British Airways prohibited passengers from packing hoverboards on their planes.
Now the commission has requested that all lithium ion battery products used in hoverboards must meet test requirements. Any hoverboards that do not meet safety standards will be considered defective.
"Self-balancing scooters that do not meet these voluntary safety standards pose an unreasonable risk of fire to consumers," Acting Director Robert J. Howell of the Office of Compliance and Field Operations said in the letter.
Students are prohibited from using the self-balancing scooters on all walkways, pathways, pedestrian ramps, patios, stairs and any gathering areas with foot traffic only.
Along with issuing warnings, university police will hand out copies of the school's policy to all offenders. Morales said the warning period is part of an educational campaign to make sure all students, possibly even some professors, are aware hoverboards are no longer welcome on campus.
The hoverboard joins a growing list of transportation devices that are already banned on campus. Devices already forbidden on campus grounds include bicycles, skates, scooters, skateboards, roller skates, in-line skates and other similar wheeled devices.
For breaking news in California, follow VeronicaRochaLA
ALSO
L.A. city attorney sues to stop Speed Weed from delivering marijuana
Feds strike back at Apple, say firm misleads in public battle over terrorist's iPhone
Predator may been targeting college-age Asian women near UC Berkeley, police say
---
The stories shaping California
Get up to speed with our Essential California newsletter, sent six days a week.
You may occasionally receive promotional content from the Los Angeles Times.