34 cities and counties urge a federal judge to block Trump's 'sanctuary cities' executive order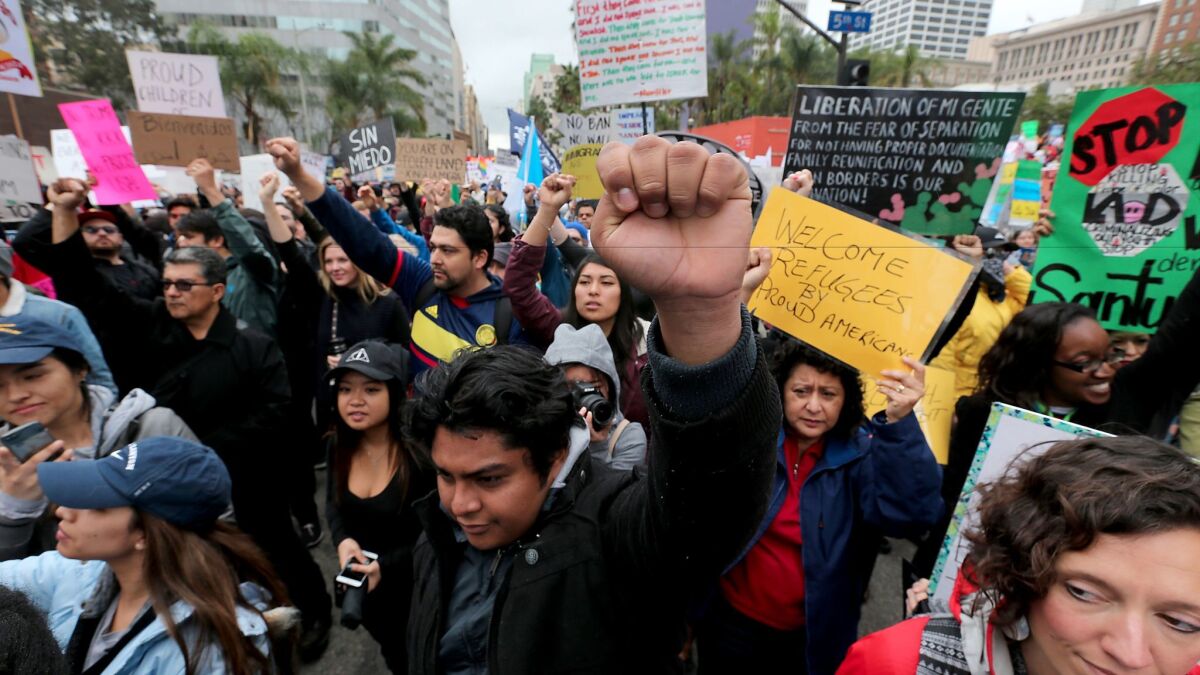 Los Angeles, West Hollywood and Santa Monica are among the 34 cities and counties arguing that President Trump's threat to withhold federal funds from "sanctuary jurisdictions" is unconstitutional.
In an amicus brief supporting Santa Clara County's lawsuit against Trump, they are urging a federal judge to issue a nationwide injunction on Trump's January executive order, which would punish localities that refuse to help federal immigration enforcement.
The order is vague, does not provide due process and violates the 10th Amendment by taking power away from local agencies, they argue in the brief, filed Wednesday.
The cities and counties in the amicus brief "all have very different policies about how they use their own local police force — the extent to which they cooperate with federal … law enforcement," said Dean Harvey, an attorney at Lieff, Cabraser, Heimann & Bernstein who filed the brief. "What they all agree on is that this executive order is unconstitutional."
More than 400 jurisdictions across the country have some sort of sanctuary policy, though there isn't widespread agreement on what the term means.
Los Angeles officials have pledged not to help federal law enforcement deport Los Angeles residents.
"Los Angeles is proud to join jurisdictions across our nation in opposing this unlawful executive order," Los Angeles City Atty. Mike Feuer said in a statement. "All our residents benefit from policies that promote public safety by encouraging cooperation between our immigrant communities and law enforcement."
There are fears that residents won't seek healthcare or report crimes if they're afraid of deportation, which could pose public health and safety risks to others in the community, said Santa Monica spokeswoman Constance Farrell.
"The Santa Monica Police Department … will leave federal matters to the federal government," she said.
Other municipalities that signed on to the brief include Los Angeles County, Santa Ana, Oakland, Chicago, Manhattan Beach and Salinas.
The city of San Francisco has also sued the federal government to block the order.
---
The stories shaping California
Get up to speed with our Essential California newsletter, sent six days a week.
You may occasionally receive promotional content from the Los Angeles Times.