In Santa Monica, a new frontier in earthquake safety could soon begin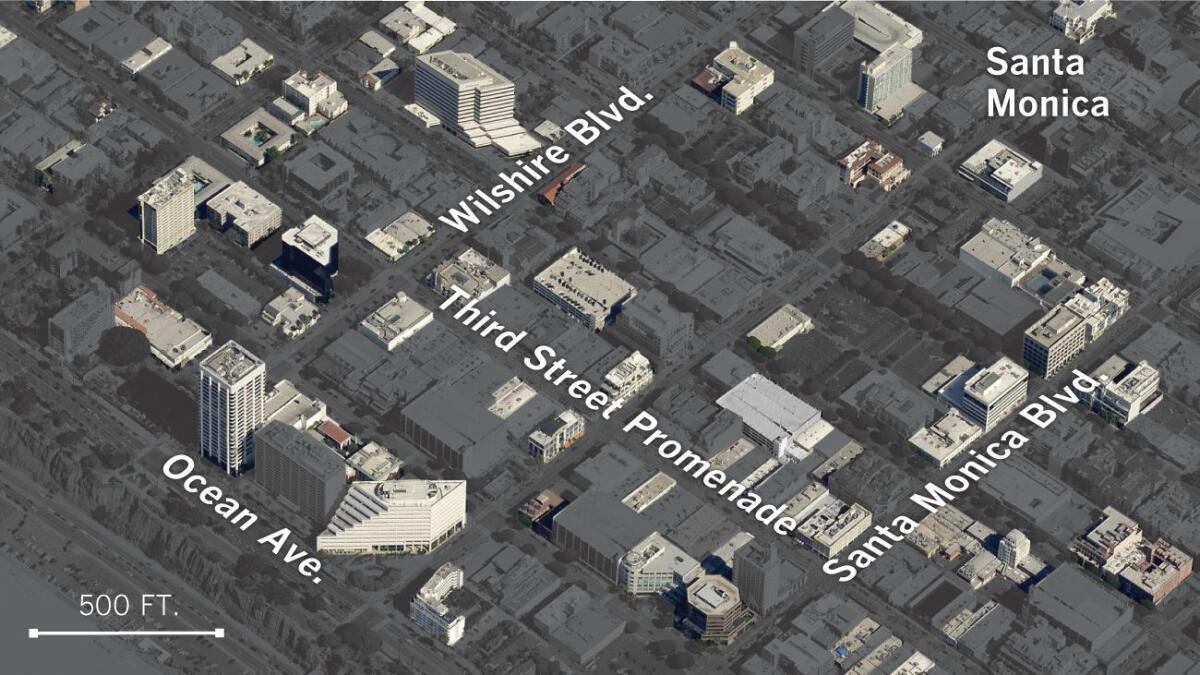 Santa Monica is now poised to enter a new frontier in earthquake safety that could have implications for other cities looking at seismic retrofitting.
The City Council on Tuesday tentatively approved the nation's most extensive seismic retrofitting effort, which could require safety improvements to as many as 2,000 earthquake-vulnerable buildings.
The vote was unanimous.
Santa Monica's safety rules would go beyond what Los Angeles has done by requiring not only wood-frame apartments and concrete buildings to be retrofitted, but also steel-frame structures.
The ordinance would require the owners of more than 2,000 buildings identified by the city to conduct a seismic evaluation, and, if needed, have the buildings retrofitted.
For the ordinance to be approved, the City Council will need to pass the law a second time in the next month. If the measure receives that affirmation, the proposal will become law 30 days later.
In an interview before Tuesday's council vote, seismologist Lucy Jones said it was remarkable to see how the political winds have changed for elected officials to enthusiastically support strengthening buildings.
"It's great for Santa Monica — they're going to have safer buildings. It is also hopefully the start of a wave," said Jones, who is working with the Southern California Assn. of Governments to educate local governments about seismic retrofits.
"There are dozens of cities curious at looking at this," she said. "People are starting to recognize how necessary this is."
Check if your building is on Santa Monica's earthquake study list
Hover over the dots to see the address and the suspected type of building. Plug in a full address — such as 123 Spring Street, Santa Monica, CA — to zoom in on this map. Under a proposed law, structures listed would be required to undergo a seismic evaluation and a retrofit if necessary.
Other cities are also looking to strengthen their seismic safety laws. West Hollywood and Beverly Hills are both considering mandatory retrofit laws, and elected leaders are now casting the issue as not one of cost, but of public safety.
"When somebody walks into a building in the city of Beverly Hills, no matter when they're there, I want them to feel totally safe," Councilwoman Nancy Krasne said at a meeting last year. "I think everyone needs to feel safe when they go to sleep."
The city of Los Angeles passed its own tough earthquake retrofit law in 2015, which could require as many as 15,000 buildings to be retrofitted. Los Angeles officials have already identified about 13,500 wood-frame buildings with a suspected weak first floor that officials suspect need repairs. The city has not yet released its list of suspected concrete buildings that would need an evaluation.
As L.A. Mayor Eric Garcetti took up the issue of seismic safety, structural engineers and seismologists recommended that the city focus first on wooden apartments and concrete buildings as the top priority, said Carl Marziali, a spokesman for the mayor.
As for whether steel buildings should be required to be evaluated and retrofitted in Los Angeles, Marziali said in an email that "the approach to resilience continues to evolve, and the mayor's resilience team will continue to study best practices and a range of building types, including steel moment frame buildings, for potential retrofits."
Santa Monica is at a particular risk of earthquakes. The Santa Monica fault runs through the northern half of the city. Santa Monica was also hard-hit by the Northridge quake, which badly damaged several landmark buildings, including the St. Monica Catholic Church, and caused the loss of 1,500 apartments, or about 5% of the city's total stock.
Santa Monica recently released its list of possibly vulnerable buildings, the result of a three-year process to identify them.
Of the roughly 2,000 buildings, about 1,700 of them are suspected to be wooden apartment buildings with carports on the ground story and held up by flimsy columns that might snap in an earthquake. Known as soft-story buildings, one such complex collapsed in the 1994 Northridge earthquake, killing 16 people on the ground floor in the predawn darkness.
About 150 are suspected vulnerable brick buildings, also known as unreinforced masonry, in which bricks can come spilling out of walls, striking occupants and passersby and triggering the collapse of the roof. This type of building construction has generally been outlawed in California since the 1933 Long Beach earthquake. Some possibly vulnerable brick buildings are located along the popular Third Street Promenade of shops.
The tallest buildings on the list are steel and concrete buildings. About 80 were identified as steel buildings, with the tallest a 13-story condominium and two 12-story office buildings.
About 60 suspected brittle concrete buildings were listed, holding residences, hotel rooms and office space. The tallest is a 21-story building on the western edge of Wilshire Boulevard overlooking the Pacific Ocean.
So-called non-ductile concrete buildings lack enough steel reinforcing bars in the columns, and shaking can cause them to disintegrate. Fifty-two people died in the collapse of several concrete buildings in the 1971 Sylmar earthquake.
Officials also found about 30 possibly vulnerable concrete tilt-up buildings.
The law would not require retrofits of single-family homes.
Santa Monica's proposed law gives owners of steel buildings the most time to retrofit once an order is given to evaluate the structure — 20 years. Brittle concrete buildings will have a deadline of 10 years; wooden apartment buildings, six years; tilt-ups, three years; and brick buildings, two years.
The vote by the City Council comes more than three years after The Times reported that Santa Monica had quietly stopped enforcing its earthquake safety regulations. Santa Monica had actually passed laws in the 1990s requiring retrofits of these buildings. But the mandatory retrofit effort quietly faded in the early 2000s, amid the departure of key staff. By 2013, the city could not find its old list of possibly vulnerable buildings.
Former city officials were stunned when told of the missing list, and the city's elected leaders vowed to take up the issue.
Santa Monica building officer Ron Takiguchi pledged that the city was serious this time about enforcing a sweeping earthquake safety law. "It's the right thing to do," he said.
To read the article in Spanish, click here
raoul.ranoa@latimes.com | @ranoa
jon.schleuss@latimes.com | @gaufre
ALSO
The obscure financial instrument that could save your life from a quake
L.A. releases addresses of 13,500 apartments and condos likely to need earthquake retrofitting
Sign up for Essential California for news, features and recommendations from the L.A. Times and beyond in your inbox six days a week.
You may occasionally receive promotional content from the Los Angeles Times.