Skid row residents ask for independent probe of fatal police shooting
Charly Leundeu Keunang, in a 2014 family photo, was set on returning to his native Cameroon after getting out of prison, family spokesman David Singui said.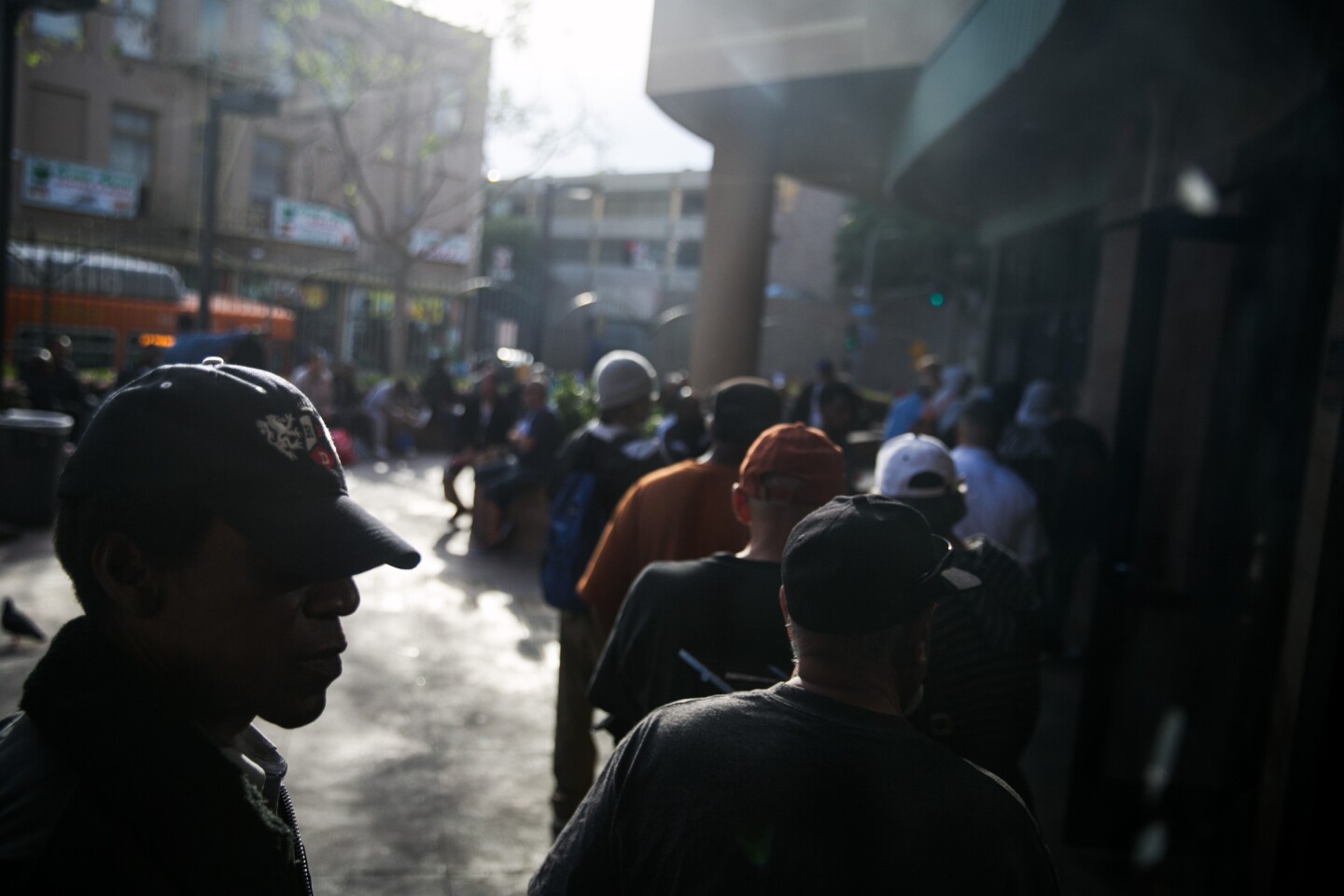 Homeless men line up outside the Los Angeles Mission seeking shelter. Charly Leundeu Keunang's death underscored how skid row remains a minefield for police and homeless people.
(Marcus Yam / Los Angeles Times)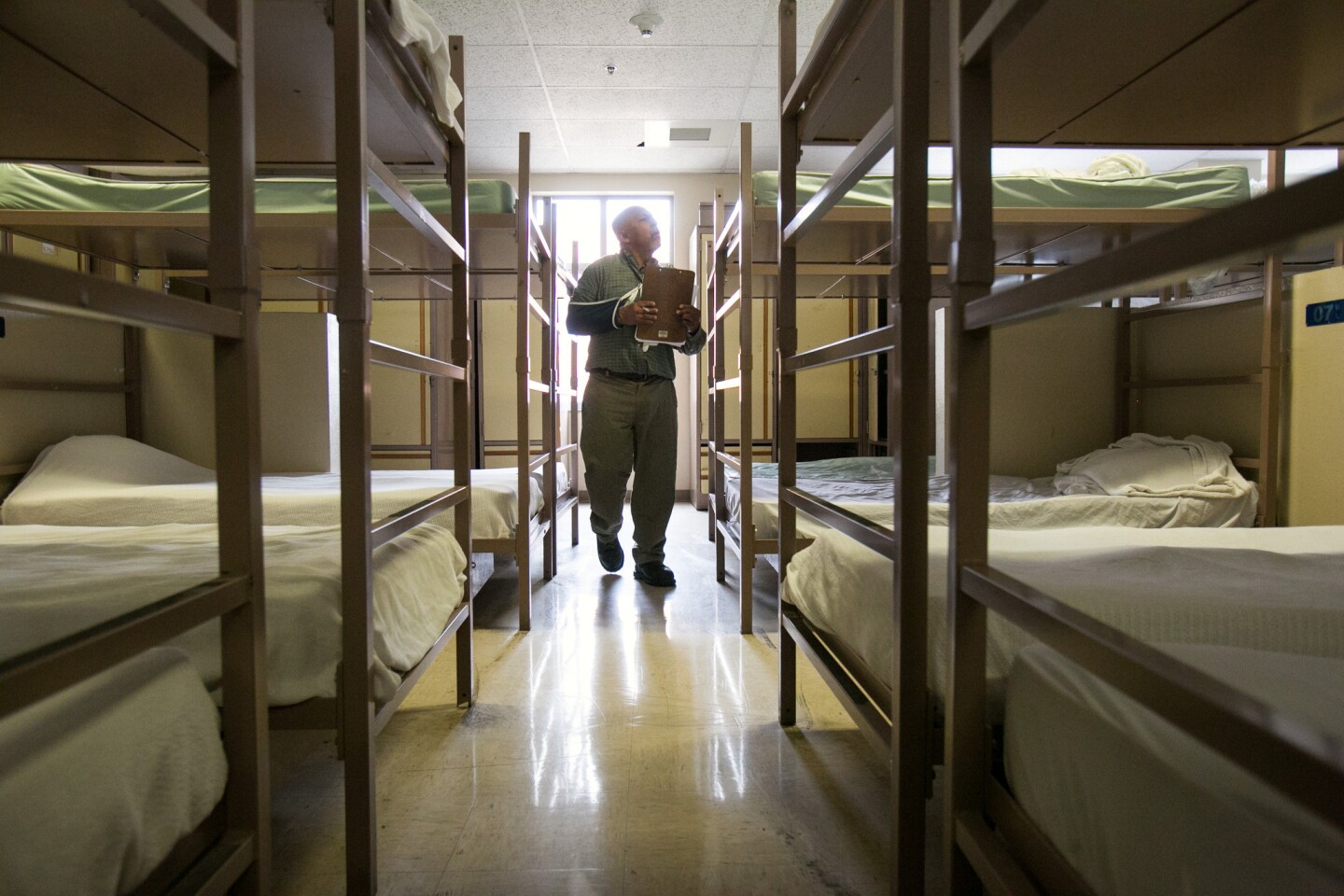 A volunteer counts the number of sheets and blankets at the Los Angeles Mission where the Charly Leundeu Keunang stayed briefly.
(Marcus Yam / Los Angeles Times)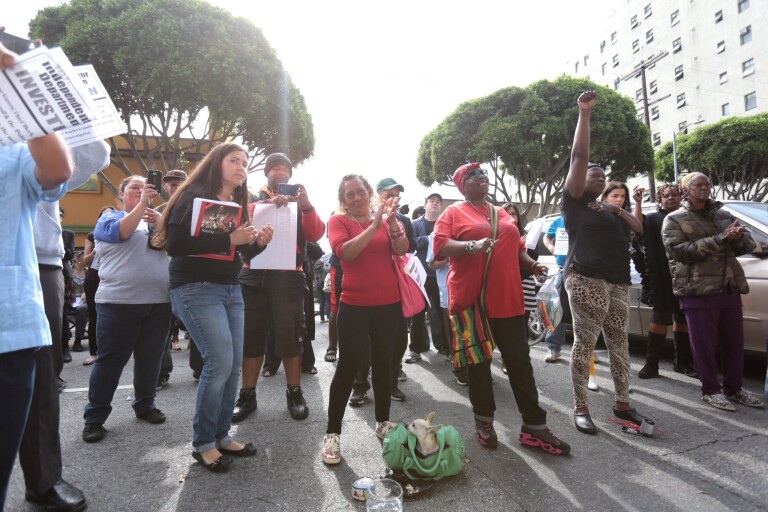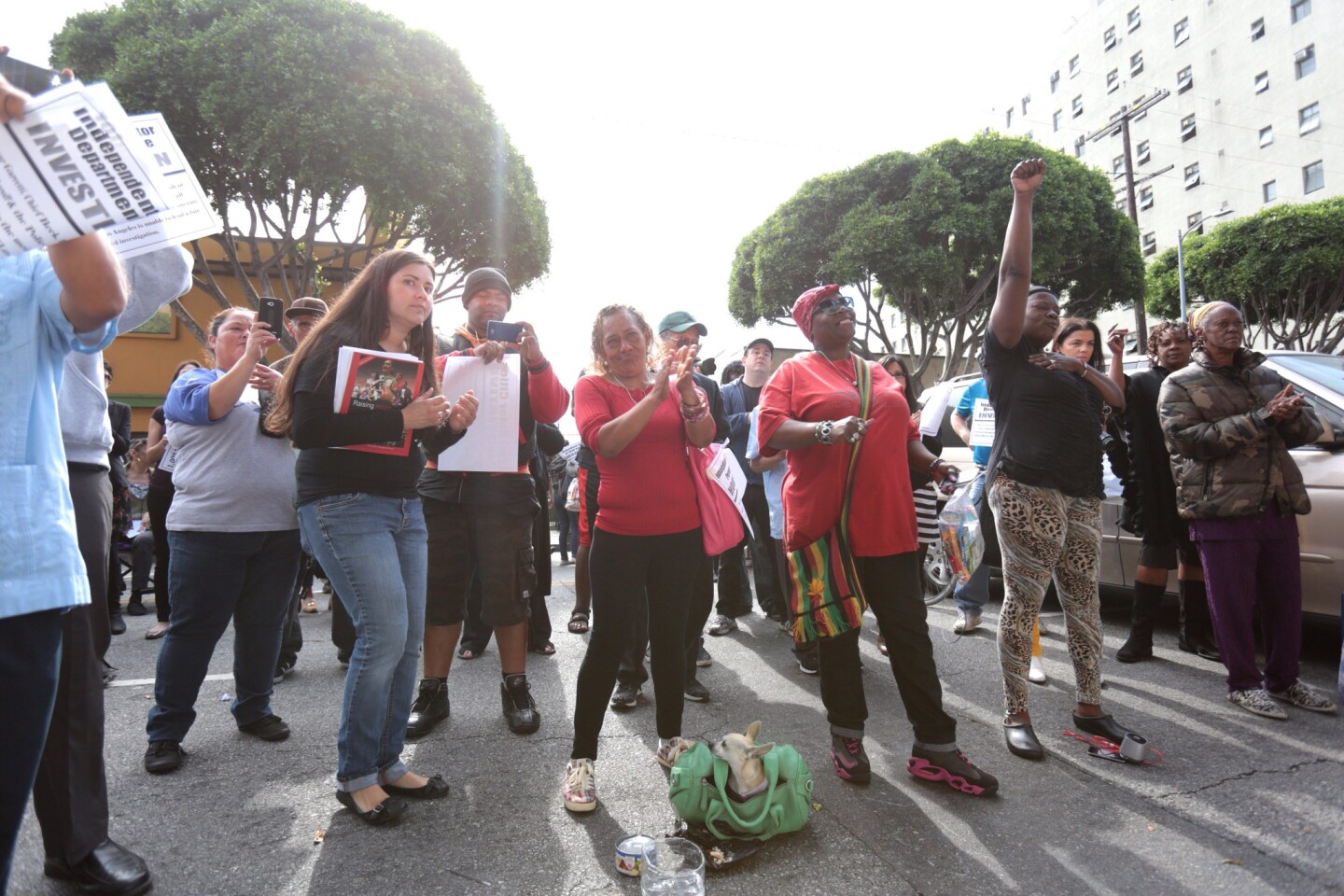 People gather at skid row in downtown L.A. at a public memorial for Charley Leundeu Keunang, a homeless man shot and killed on March 1 during a struggle with LAPD officers.
(Marcus Yam / Los Angeles Times)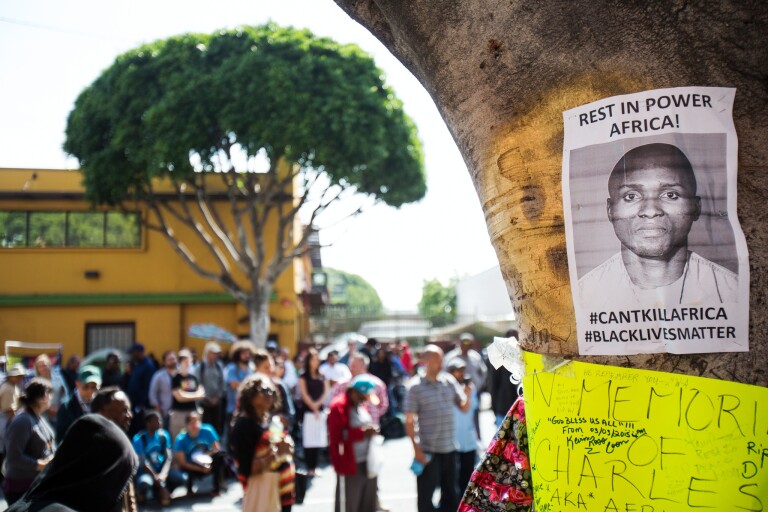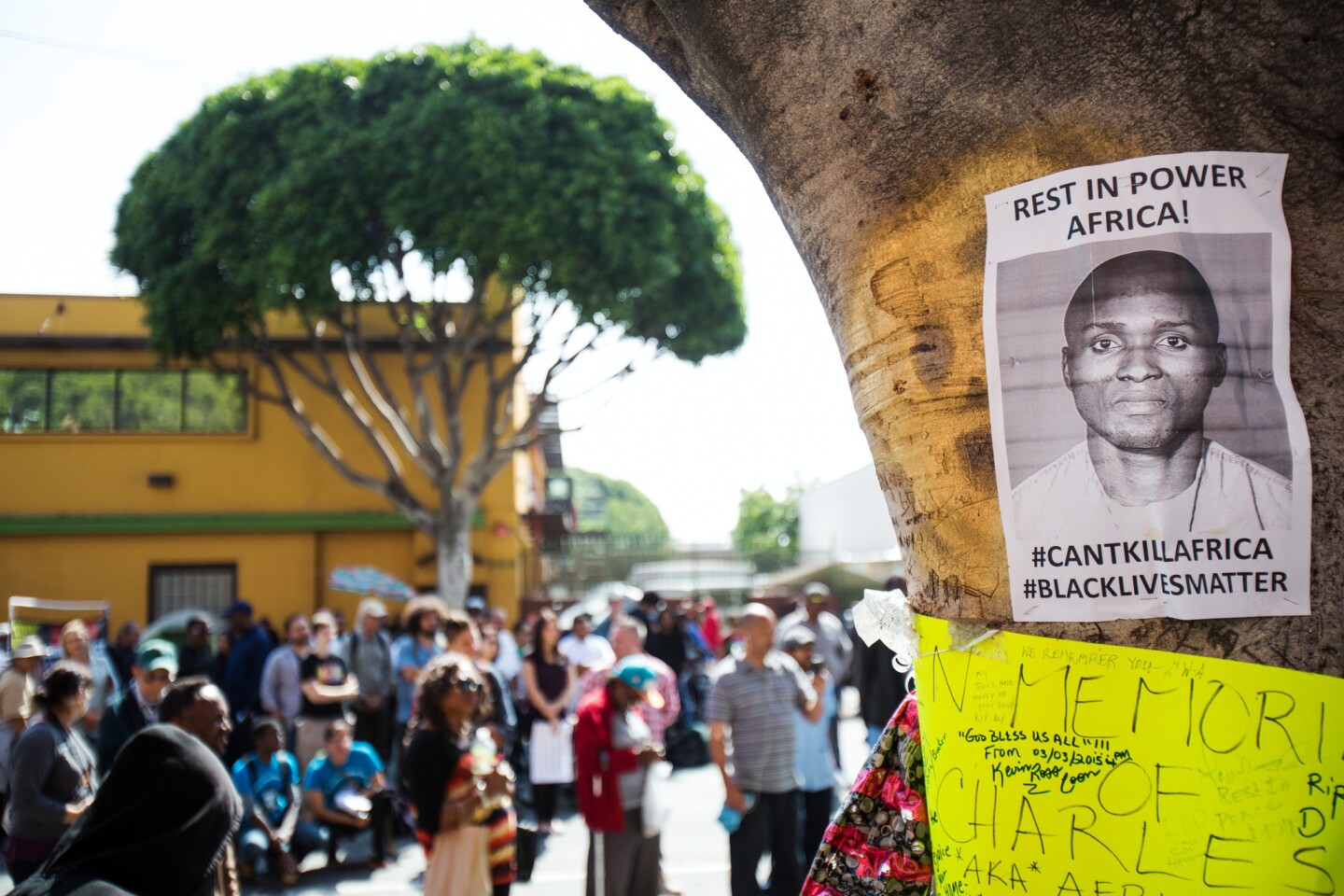 About 100 skid row activists and friends gather at the shooting site on San Pedro Street to remember Keunang, who was known on the street as "Africa" or "Cameroon."
(Marcus Yam / Los Angeles Times)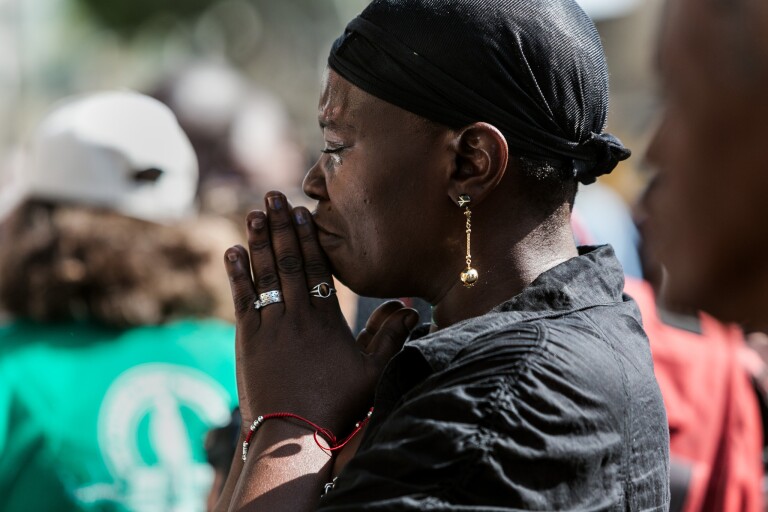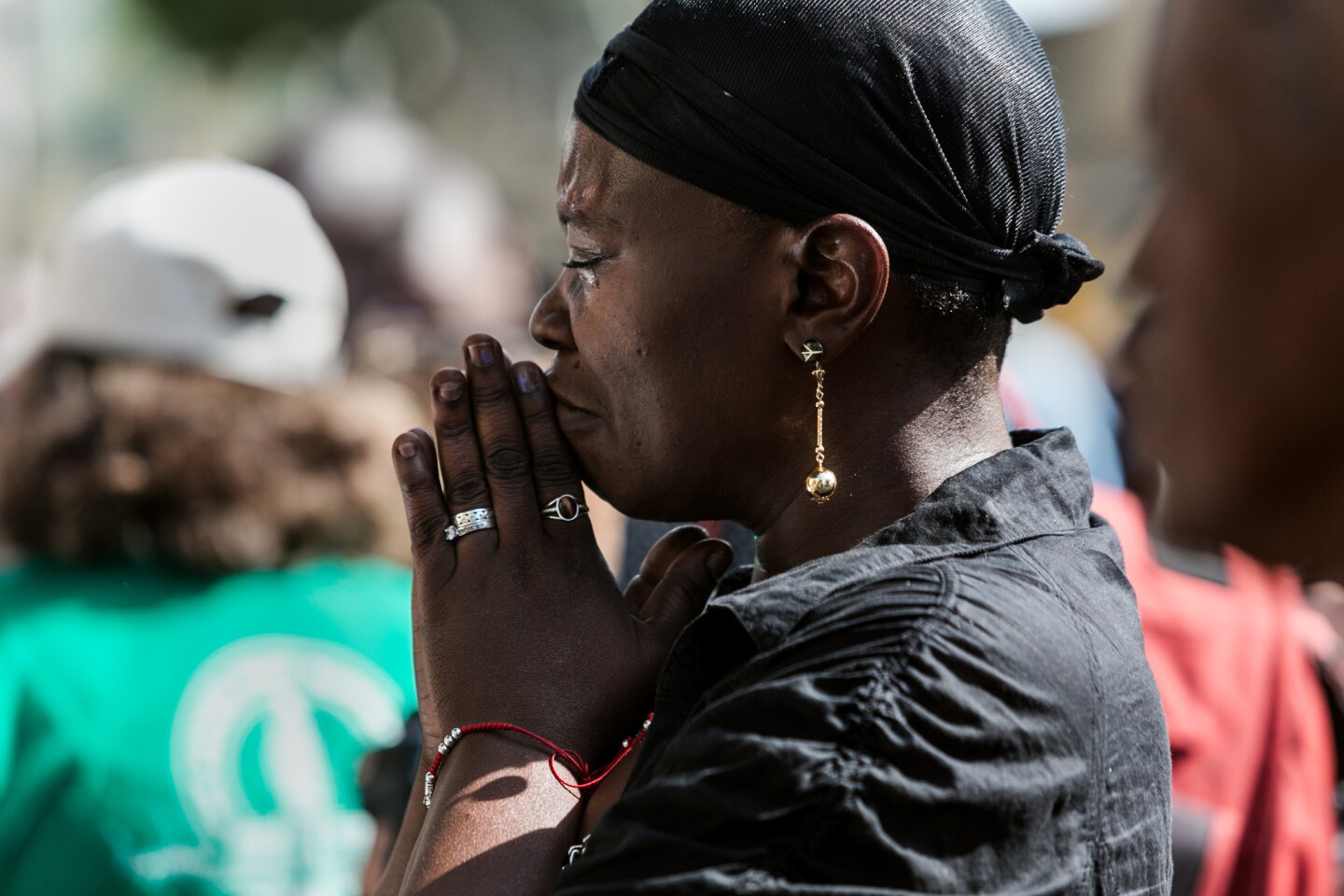 A woman weeps during the service. Keunang's family announced they plan to bring legal action for his death.
(Marcus Yam / Los Angeles Times)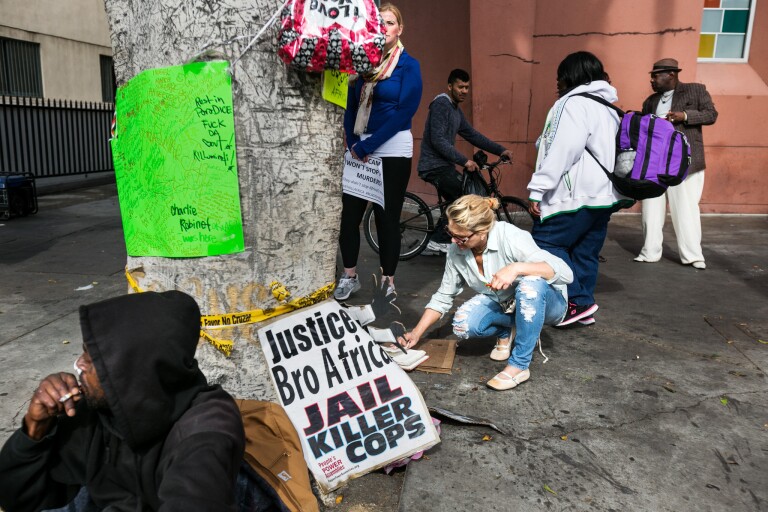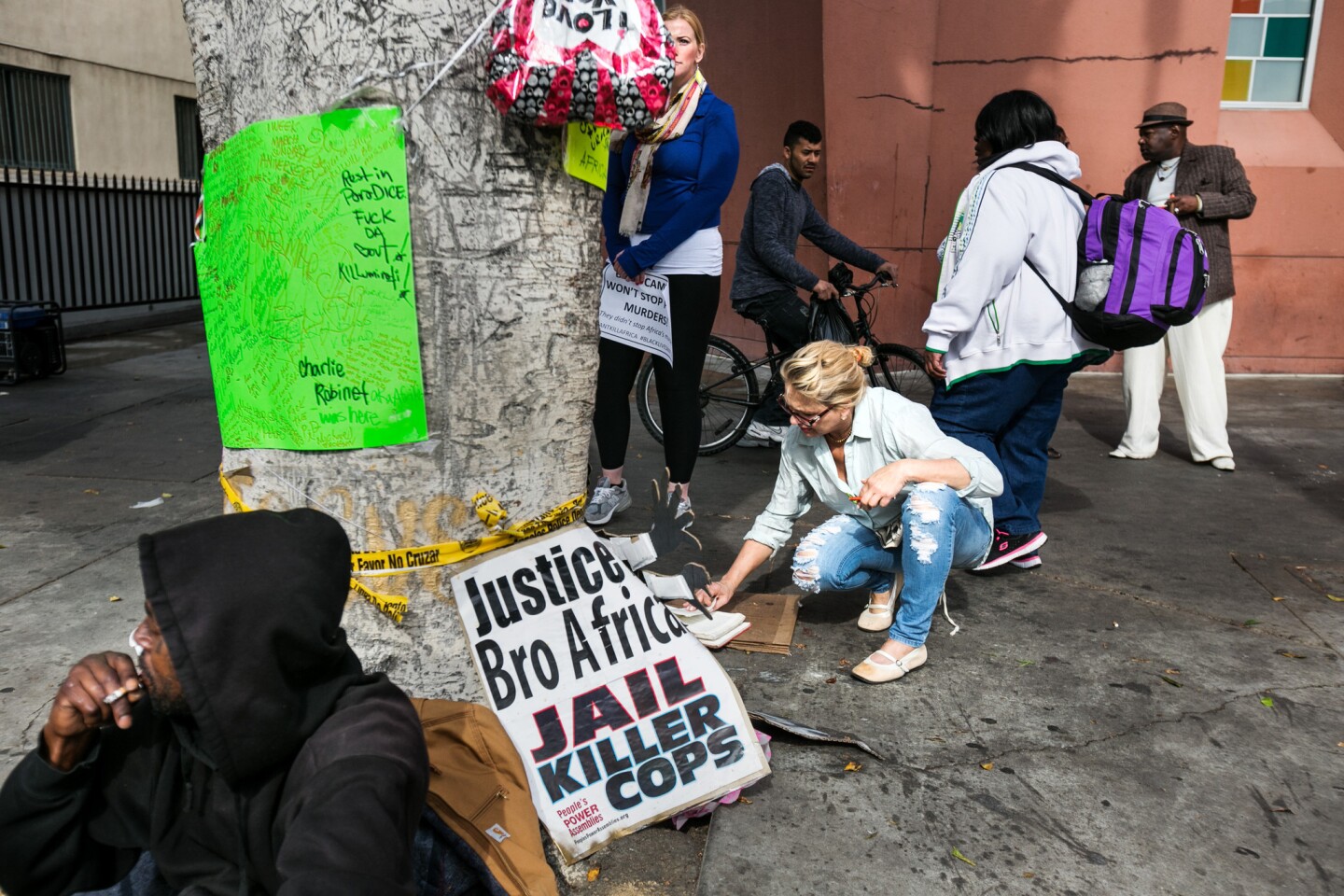 A small crowd lingers around the memorial for Charley Leundeu Keunang on skid row.
(Marcus Yam / Los Angeles Times)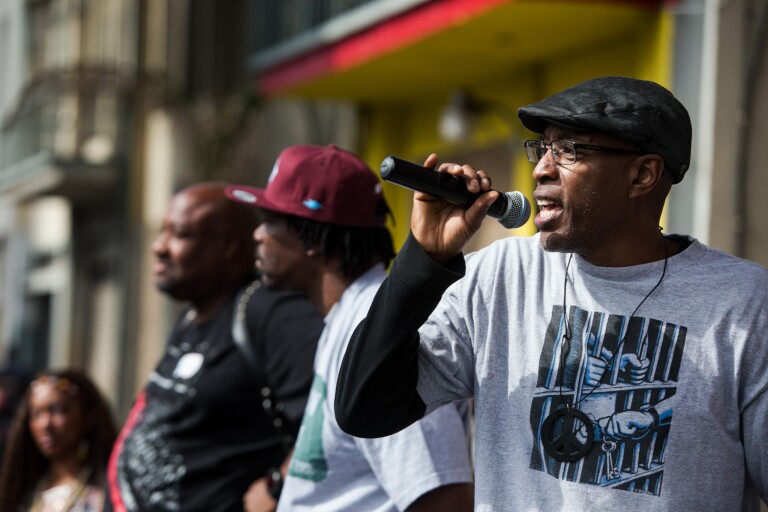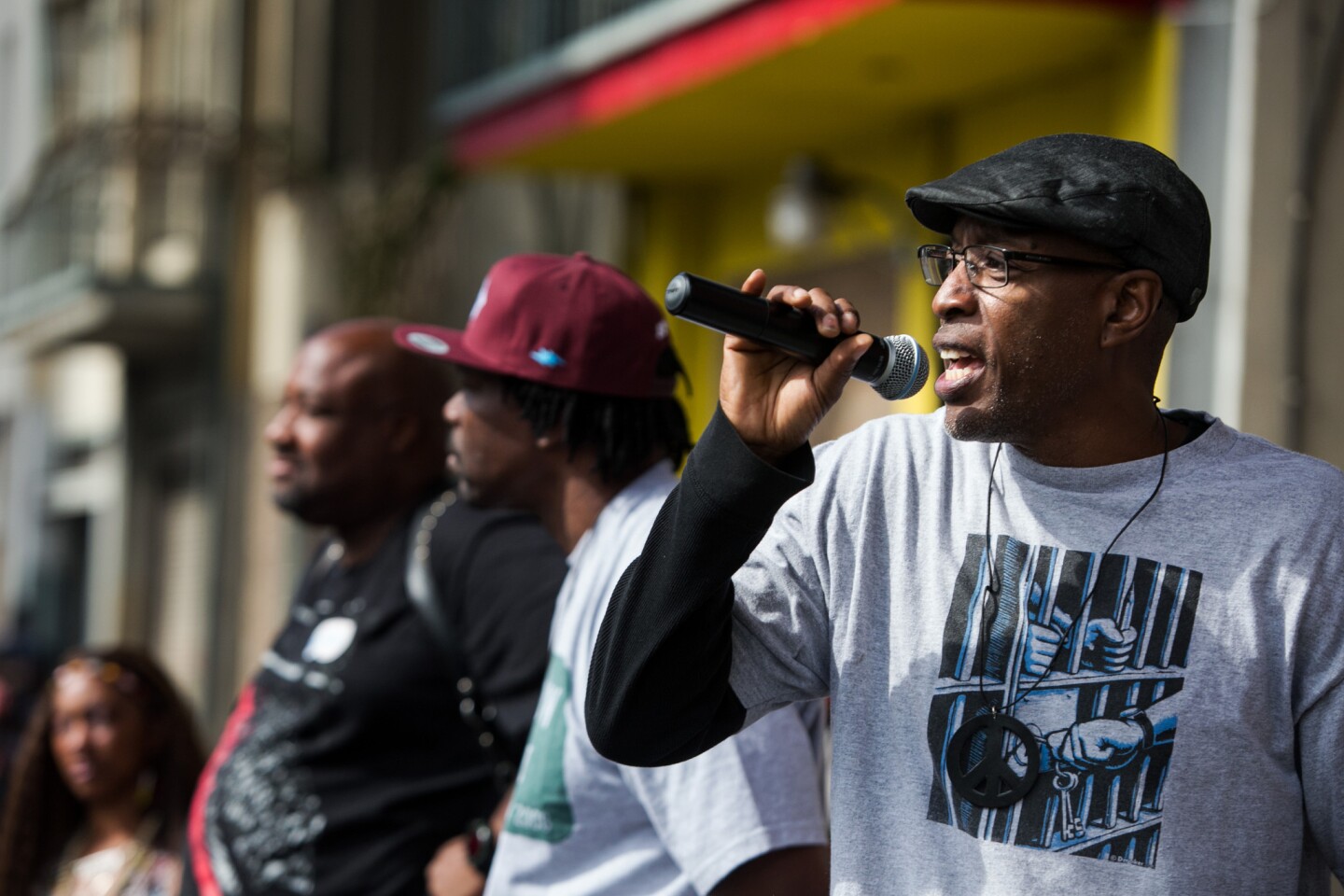 Pete White, of the Los Angeles Community Action Network, speaks to the crowd during the memorial.
(Marcus Yam / Los Angeles Times)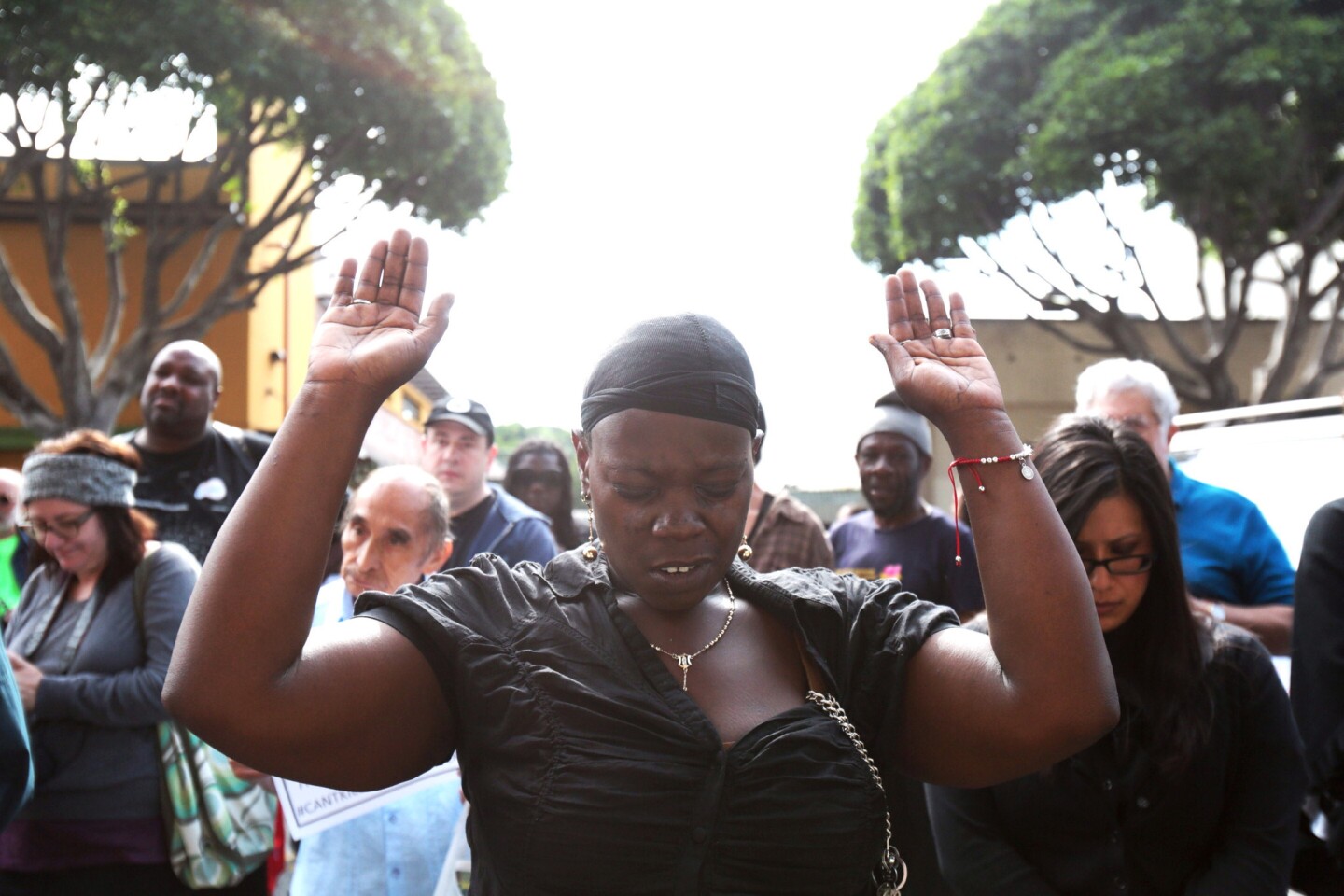 Attendees pray during the memorial, which eventually took on the tone of a protest.
(Marcus Yam / Los Angeles Times)
With allusions to Frederick Douglass, Martin Luther King Jr. and Malcolm X, skid row activists called Thursday for an independent investigation and release of police body-camera footage in the fatal police shooting of an unarmed homeless man on skid row.
About 100 people gathered on the street where Charly Leundeu Keunang, a Cameroonian national, was shot March 1. The event had been billed as a memorial but took on more of a protest flavor when family members decided to delay a Los Angeles wake and service until next month.
Keunang's mother and sister had a local mortuary remove his body from the coroner's office Wednesday, a coroner's spokesman said.
Marcel Bwanga, a Cameroonian immigrant who said he had been in touch with the family, told the crowd they were trying to raise an estimated $20,000 to $25,000 to take Keunang's body back to the central African nation for burial.
Pete White of Los Angeles Community Action Network criticized Los Angeles police for disclosing Keunang's bank robbery conviction 15 years ago and for asserting that he had robbed another homeless man before the struggle with police. The LAPD's internal investigation is expected to take months.
"Wait means never," said White, whose organization represents skid row poor people.
White also assailed Mayor Eric Garcetti for meeting with black leaders from other communities to discuss the shooting while refusing to receive skid row representatives.
"For the mayor any black folks will do," White said.
Keunang entered the U.S. in 1997 on a stolen French passport and lived under the name Charley Saturmin Robinet. During a 13-year prison stint for the bank robbery conviction, the government had him committed to a prison psychiatric hospital. On skid row, he was known as "Africa" or "Cameroon."
Speakers at Thursday's gathering called for the deployment of specially trained police and mental health clinicians on skid row.
"Where is the department of mental health ... the grief counselors ... when we need them?" said General Jeff Page of Issues and Solutions, a skid row activist group. "I haven't seen one person come out here and try to help us heal."
"Brother Africa never should have been on this street," White said.
Police said Keunang became combative after they were called to his tent on a robbery report. Officers fired a Taser but it was "ineffective," police said. Five officers wrestled him to the ground but he continued to fight and at one point grabbed one of the officers' holstered guns, Police Chief Charlie Beck said.
Several witnesses disputed that account.
Homeless advocates said the fatal shooting near the corner of 6th and San Pedro streets was a predictable outcome of downtown's economic renaissance, which has brought premium lofts and bistros to what was once regarded as a no-man's land of trash-can fires and ragged tents but has done little to improve homeless people's lot.
The growing gentrification has halved the number of low-income rooms once available, squeezing an increasing number of homeless and mentally ill people living on the sidewalks of the 50-block district into smaller space.
Twitter: @geholland
---
For reporting and exclusive analysis from bureau chief John Myers, get our California Politics newsletter.
You may occasionally receive promotional content from the Los Angeles Times.