A day after Mammoth avalanche, crowds are back at popular ski resort
Hordes of anxious skiers and snowboarders made their way to Mammoth Mountain on Sunday
Reporting from Mammoth —
By daybreak Sunday, hordes of anxious skiers and snowboarders were already making their way to Mammoth Mountain.
The ski resort's parking lots were full before 9 a.m. and cars lined the snow-dusted roads. License plates showed visitors had traveled from Nevada, Arizona, Texas and New York.
Groups waited at bus stops or trekked nearly half a mile with their equipment.
At the Eagle Lodge, the line of people waiting to buy lift tickets snaked outside and around the domed building.
"I expected the line to be out the door, but I didn't expect this," one man said to his friend as they walked out to get in another line for the lift.
Visitors appeared undeterred by news of an avalanche that occurred the day before, forcing the closure of the mountain and triggering an emergency response. It was one of two avalanches that occurred at California mountain resorts last week, injuring several people.
Caleb Hill, 24, an avid snowboarder and a former instructor at Mammoth, was among those frustrated by Sunday's long lines at the resort. The Colorado native said that the avalanche did not worry him, noting that a friend broke his pelvis on the slopes on Saturday. .
"If you ride with fear of dying then you're not embracing the livelihood it will give you," he said, as he marveled at the clear March sky..
Snow near Mammoth's 11,000-foot summit gave way around 10:15 a.m. Saturday as members of the resort's ski patrol were trying to mitigate the chance of an avalanche, Lauren Burke, public relations manager for Mammoth Mountain Ski Area, said in a statement. Such work usually involves setting off cannons and other explosive devices to break up snowy overhangs that could give way.
A Mammoth worker clears closed signs. It s unclear whether the resort s efforts to prevent an avalanche may have led to it.
(Brian van der Brug / Los Angeles Times)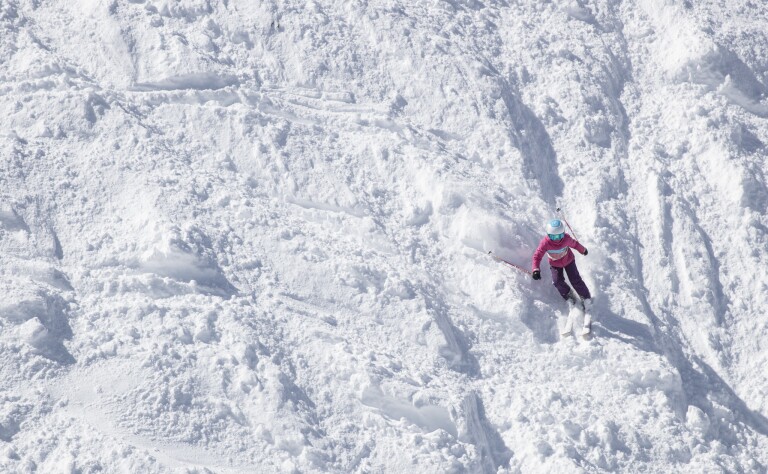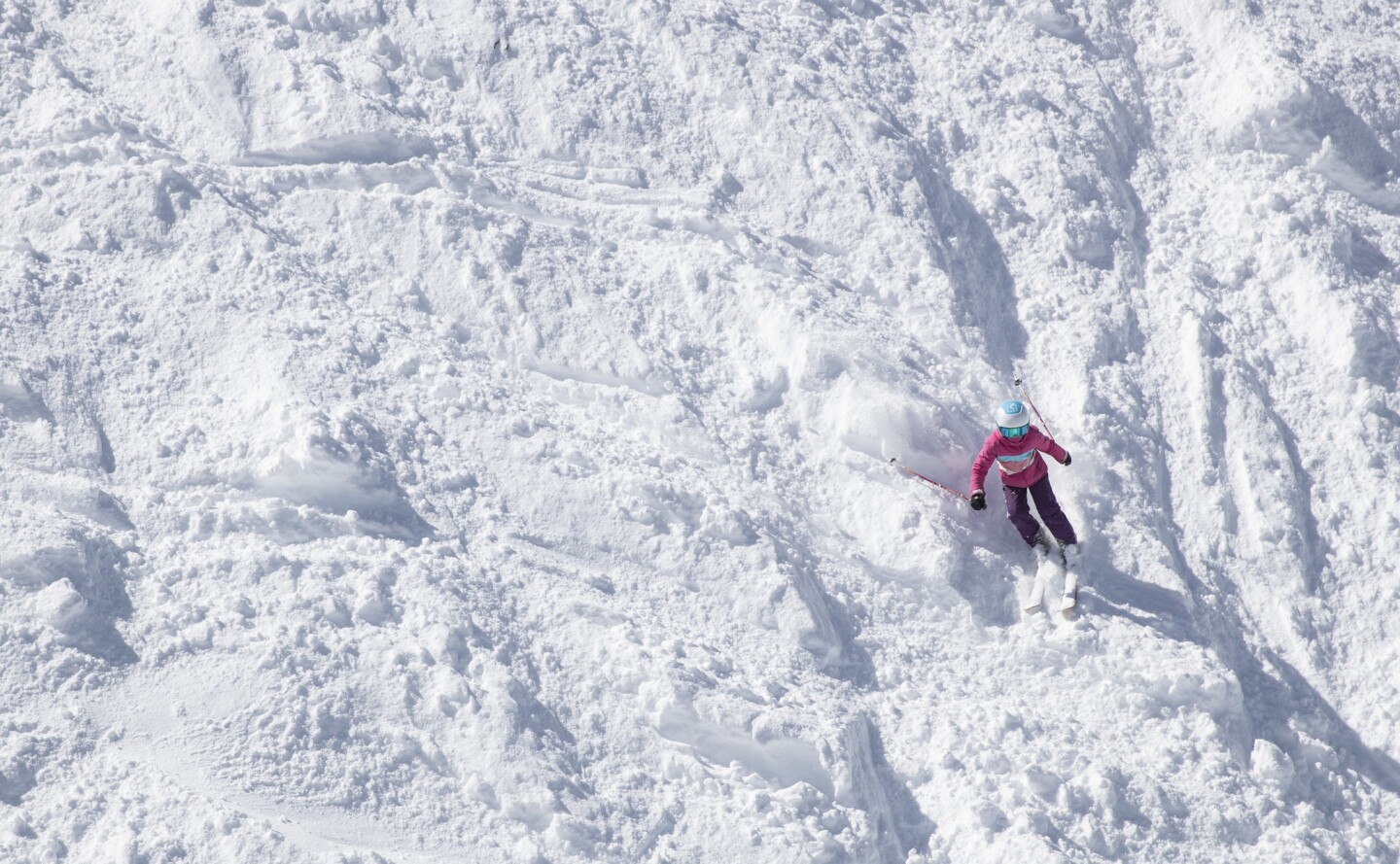 Forecaster urged skiers at Mammoth Mountain to be more cautious than usual. An advisory posted by the Eastern Sierra Avalanche Center in Mammoth Lakes warned that considerable avalanche danger persisted Sunday. Above, a Mammoth skier Sunday.

(Brian van der Brug / Los Angeles Times)
Skiers at Mammoth on Sunday. The incident shows that avalanche mitigation remains an inexact science, experts say, with explosions used to clear hazards sometimes sending snow farther downhill than anticipated.

(Brian van der Brug / Los Angeles Times)
Skiers and boarders on Mammoth Mountain but some terrain remains closed after an avalanche Saturday in Mammoth Lakes, Calif.
(Brian van der Brug / Los Angeles Times)
Skiers looked for powder stashes on Mammoth Mountain, but some terrain remains closed after an avalanche Saturday in Mammoth Lakes, Calif.
(Brian van der Brug / Los Angeles Times)
Untracked powder under Chair 5 on Mammoth Mountain as the lift remains closed after an avalanche Saturday in Mammoth Lakes, Calif.
(Brian van der Brug / Los Angeles Times)
Alpine team member Eric Smith relocates closed markers as some on Mammoth Mountain remains closed after an avalanche Saturday in Mammoth Lakes, Calif.
(Brian van der Brug / Los Angeles Times)
The snow slid down Climax, a steep run for experts, and funneled into a narrow chute named Upper Dry Creek before coming to a stop at the base of a chairlift called High Five Express, Burke said.
While the area where the ski patrol was working was closed to skiers, six Mammoth employees at the lift "were partially caught, but freed themselves quickly, suffering only minor injuries," Burke said in a statement.
In addition, Burke said "a powder cloud" from the avalanche continued about 100 yards into an area that was open to skiers and boarders, where two guests were partially caught. They both freed themselves quickly.
The area around the High Five Express remained closed Sunday, according to mountain officials.
Within minutes of Saturday's slide, a massive rescue operation, which included about 200 people and the use of search dogs, was immediately activated.
Upon hearing reports of the avalanche, Mammoth Hospital summoned about 20 extra doctors and nurses into work, but the hospital did not receive any patients related to the event, according to an emergency room nurse, who declined to give his name.
"The reports we are getting is that all employees have been accounted for, and no one has called in to the number for missing loved ones," he said.
Mammoth is in California's Sierra Nevada range, about 300 miles north of Los Angeles. The snowstorm brought up to 5 feet of snow to the area — jump-starting what had been an underwhelming winter for the state's ski resorts.
The slopes were crowded Saturday morning with people taking advantage of the new snowfall. Skiers realized something was amiss as chairlifts came to an abrupt halt and the air was suddenly filled with the sound of sirens as emergency responders and ambulances streamed up to the resort, a witness said in an interview with The Times on Saturday.
"I was waiting to board a ski lift when it suddenly stopped working," said Barbara Maynard of Los Angeles. "It was pandemonium everywhere you looked. Ambulances, police vehicles and fire engines were rolling into the area. Simultaneously, Mammoth Mountain staffers and ski patrols were roaring up the slopes on snowmobiles."
Many people were probing for buried skiers and snowboarders on the Comeback Trail, which cuts past Chairlift 5, she said.
"Shortly before the slide, that area was very crowded," Maynard said. "Essentially, the top of the mountain came loose."
Lucas Dunn was skiing down from Chairlift 16 when he saw snow pouring down what appeared to be a closed run near the High Five Express lift.
"I skied down to see what was going on, and at that point, you could see a bunch of broken trees and all the fencing had been taken out. You could see snowmobiles flipped and buried," said Dunn, the social media manager at Footloose Sports, a sporting goods store in Mammoth Lakes. He said the men riding the snowmobiles appeared unhurt and were doing a head count as he passed by.
With the ski runs closed after the avalanche, throngs of motorists began making their way down into town in white-out conditions. As cars crept down the winding roads, Dunn said, more than 15 ambulances, their sirens screaming, made their way up the hill toward the site of the avalanche.
"That was the most unnerving part," he said.
John Williams, 46, a longtime resident of the area, said he was among a group of friends preparing to board Chairlift 22 when it stopped suddenly, leaving about 150 skiers perplexed.
"We hiked about 15 minutes to the parking lot, where local emergency mayhem had broken out," Williams said. "There were people trying to get out any way they could; some were waiting for buses, others were sharing rides and more than 100 just started skiing down Minaret Road, the main highway to the bottom of the mountain."
The varying consistency of the snowpack deposited over the area by recent storms already was a topic of conversation among locals concerned about the potential for avalanches.
Thursday night, a heavy layer of wet snow accumulated over a few feet of light snow. On Friday night, the heavy, wet snow was covered with another fresh layer of light snow.
That combination, locals say, can result in layers of ice and light snow that fail to adhere and are, therefore, prone to avalanches.
On Sunday morning, the talk around Eagle Lodge centered on the avalanche.
Lindsay Wroe, 32, of Corona, said she heard the booms of the canons used to mitigate avalanches on Saturday morning. She had taken the gondola from the Village at Mammoth Mountain to Canyon Lodge and when she arrived, she saw that the lifts were closed.
She said buses were full and dozens of people were in line for the gondola. Phone calls and texts weren't going through.
"It was kind of spooky because we didn't know what was going on," said Wroe, who has skied at Mammoth a few times a year since she was a child.
Knowing the avalanche may have been triggered by mitigation efforts made her less concerned than if it had been caused by nature.
"I know how rare an inbound avalanche really is," she said. "The fact that no one was injured made it easier on people, I think."
Gabriela Duran, 30, of Playa del Rey worried that people were trapped on the mountain but said the resort's staff didn't explain what was going on. She said she didn't know what had happened until that Saturday night when she read about it.
On Friday afternoon, an avalanche hit Squaw Valley resort, west of Lake Tahoe, and crashed into two men and three women who were near the Olympic Lady chairlift, in an area that was open to skiers and snowboarders, authorities said. Guests had been warned about the potential avalanche danger.
More than 100 rescuers used probes and dogs to search for people buried in the snow. The slopes were shut down for the rest of the day and reopened on Saturday.
The two injured people were taken to hospitals and one was released by the end of the day Friday. The other suffered a serious lower-body injury, according to a resort statement.
Heather Turping, 39, told Associated Press that she saw a cloud of snow pass in front of her. A woman screamed that her husband was missing and someone spotted his snowboard sticking out of the snow.
Turping helped dig him out and the man was able to snowboard back down the mountain.
The avalanche struck hours after the body of a missing snowboarder was found on the mountain. Wenyu Zhang, 42, of Rocklin was found dead Friday morning by the Squaw Valley Ski Patrol, according to the Placer County Sheriff's Office.
Zhang had been missing since Thursday afternoon. The cause of his death is under investigation.
Officials at both resorts said they were investigating how the avalanches occurred.
---
UPDATES:
4:00 p.m.: This article was updated with more comments from skiers and snowboarders.
1:15 p.m.: The article was updated with more comments from visitors to the ski resort.
11:45 a.m.: This article was updated with new comments from visitors to the ski resort.
10:50 a.m.: This article has been updated with new comments from visitors to Mammoth Mountain.
This article was originally posted at 5 a.m.
---
For reporting and exclusive analysis from bureau chief John Myers, get our California Politics newsletter.
You may occasionally receive promotional content from the Los Angeles Times.