L.A. judge delays Stormy Daniels' lawsuit, suggests Cohen likely to be indicted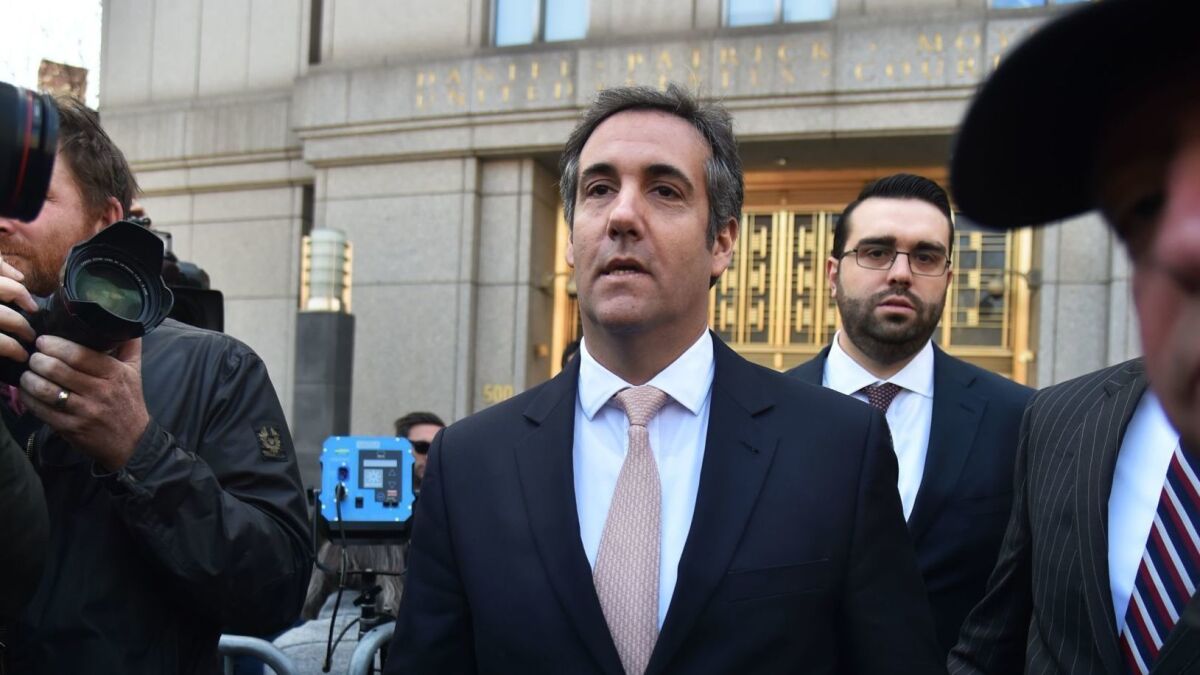 A federal judge in Los Angeles has delayed a lawsuit filed by porn star Stormy Daniels against President Trump and his personal lawyer, Michael Cohen, saying that a recent FBI raid targeting Cohen is significant and suggests a criminal indictment is forthcoming.
U.S. District Judge S. James Otero ruled that proceedings in Daniels' civil suit be pushed back until at least July 27, saying the postponement is justified until the court is able to determine "the scope and context of the FBI investigation and potential criminal proceedings."
"The significance of the FBI raid cannot be understated. This is no simple criminal investigation; it is an investigation into the personal attorney of a sitting president regarding documents that might be subject to the attorney-client privilege," Otero wrote in a ruling released Friday. "Whether or not an indictment is forthcoming, and the court thinks it likely based on these facts alone, these unique circumstances counsel in favor of stay."
Cohen has come under scrutiny for crafting a hush-money agreement with Daniels, who said she had a sexual affair with Trump years ago. Daniels, whose real name is Stephanie Clifford, was given $130,000 shortly before the November 2016 presidential election, a payment that critics have described as a potentially illegal campaign expenditure.
Daniels has accused Cohen of breaking federal law when he set up a shell corporation called Essential Consultants to pay her the hush money less than two weeks before the election. Daniels' lawsuit seeks to void the agreement, saying Trump never signed it.
The White House has denied that Trump and Daniels had an affair.
Federal authorities have not publicly revealed the focus of their investigation, but the judge Friday said in his written order that both government officials and Cohen have indicated that the subject matter in the criminal probe, and the documents seized, "in some part reference the $130,000 payment made to Ms. Clifford."
"Any criminal investigation into this payment would likely have significant overlap with plaintiff's assertion that the agreement, and the payment in particular, had an illegal purpose," Otero wrote.
Cohen has said in court filings that he would assert his 5th Amendment right in connection with the civil case "due to the ongoing criminal investigation by the FBI and U.S. attorney for the Southern District of New York."
On April 9, after obtaining court-approved search warrants, FBI agents launched a series of raids across Manhattan and reportedly seized computers, tax documents, emails, communications and business documents from Cohen's home, his office, and his hotel room.
If the civil lawsuit were to proceed without delay, Cohen would have to choose between defending himself or asserting his 5th Amendment privilege to not provide testimony that could be self-incriminating, the judge wrote, and "the adverse inference drawn from the invocation of his privilege, if he so chose to maintain it, would undeniably impact the case. … The potential prejudice to Mr. Cohen thus weighs in favor of a stay."
On Thursday, the president appeared to confirm that Cohen was representing him when the lawyer paid $130,000 to Daniels. Those comments seem at odds with his April 6 statement that he knew nothing about the payment, including why Cohen made it or where he got the money. Cohen has said he used his own money and never consulted Trump about it.
A lawyer for Daniels, Michael Avenatti, said on Twitter he would probably appeal the ruling. "Justice delayed is justice denied," he wrote.
---
Life is stressful. Our weekly mental wellness newsletter can help.
You may occasionally receive promotional content from the Los Angeles Times.