Strong support in Koreatown propels David Ryu to L.A. City Council victory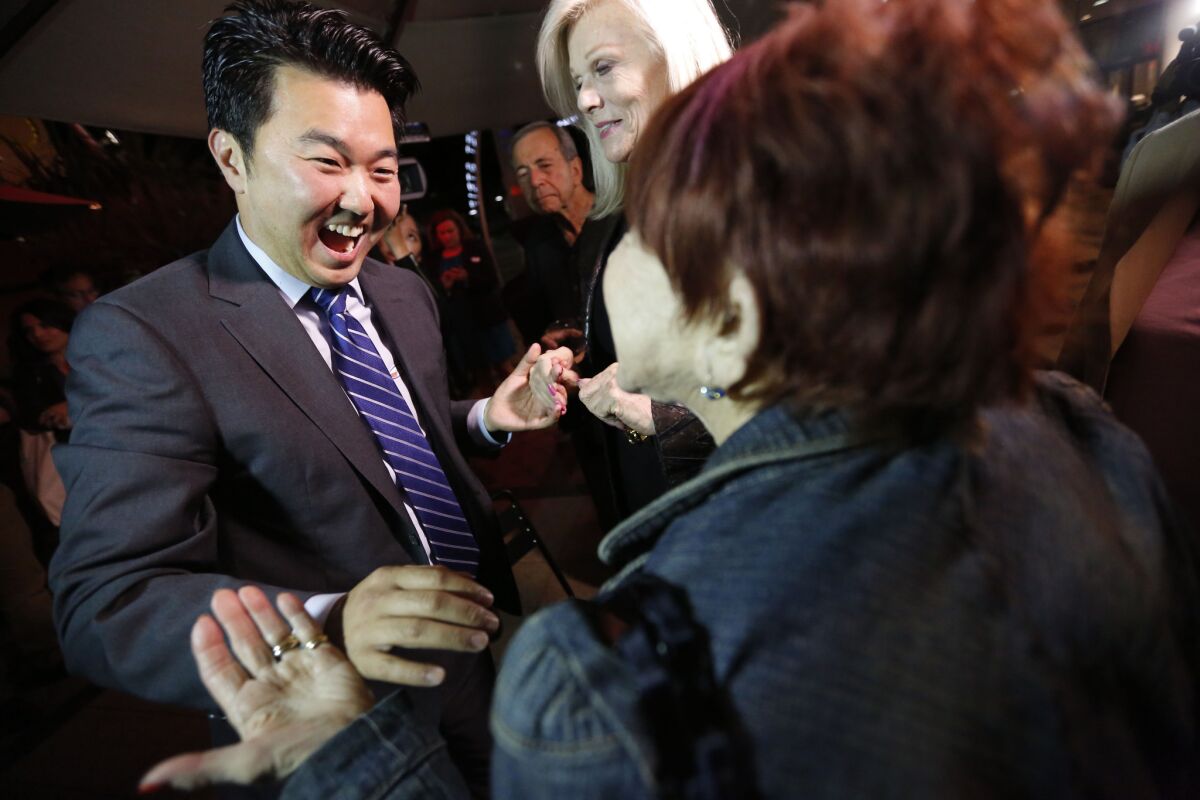 By a margin of 1,600 votes, David Ryu became the first Korean American elected to the Los Angeles City Council on Tuesday, thanks in part to strong support in and around Koreatown.
The health center development director beat out Carolyn Ramsay in a race that largely centered on whether the district would best be served by an insider or outsider perspective. Ramsay is a former aide to incumbent Councilman Tom LaBonge and ran with the support of both Mayor Eric Garcetti and Council President Herb Wesson.
But Ryu was propelled to victory by big margins in the southern end of the district in and around Koreatown, according to a Times analysis of the vote. Ramsay won a majority of votes cast in Windsor Square, Los Feliz and Silver Lake, but was defeated by Ryu in Hollywood and the San Fernando Valley neighborhoods of Sherman Oaks and Toluca Lake.
"All the big names, all the established players were not with us," Ryu told the crowd at an election night party on the Sunset Strip. "But we had something more important, something stronger — it was the community leader, it was the block captain."
"And today, it's historic not because I'm Asian American. It's historic because we are finally telling City Hall that we do not like business as usual."
Ryu is just the second Asian American elected to the L.A. City Council. He follows in the footsteps of Mike Woo, who represented the neighboring 13th District from 1985 to 1993.
Ryu received 11,269 votes to Ramsay's 9,657. Preliminary numbers show 14% voter turnout in Los Angeles, according to the City Clerk's Office.
Tuesday's election also included three races for the Los Angeles Unified School District's Board of Education. Incumbent Richard Vladovic hung onto his district, which stretches from South Los Angeles to the Harbor area, with 56% of the vote over challenger Lydia Gutierrez.
But two incumbents, one supported by the teachers' union and one supported by the charter school movement, were voted out of office. One-term incumbent Bennett Kayser lost to Ref Rodriguez, who received 54% of the vote. The San Fernando Valley's Tamar Galatzan lost her seat to Scott Schmerelson, who finished with 55% of the vote.
The LAUSD's runoff elections were notable for the amount of outside money that was spent -- $5.1 million in total. United Teachers Los Angeles spent $1 million trying to keep Kayser, seen as an ally, in office. The California Charter Schools Assn. Advocates supported his opponent to the tune of $2.4 million.
Galatzan was also supported by the charter movement.
The new school board member will be responsible for finding the district's new superintendent and tackling such issues as teacher evaluations and graduation requirements.
Preliminary results show overall turnout for the City Council and three school board races was 8.6%, with 65% of votes coming from mail-in ballots, according to the City Clerk's Office.
Follow @TheCityMaven and @LATdatadesk for the latest on L.A. election results
Times Staff Writer Ben Welsh contributed to this report.
---
The stories shaping California
Get up to speed with our Essential California newsletter, sent six days a week.
You may occasionally receive promotional content from the Los Angeles Times.