Tentative settlement reached between teachers and L.A. Unified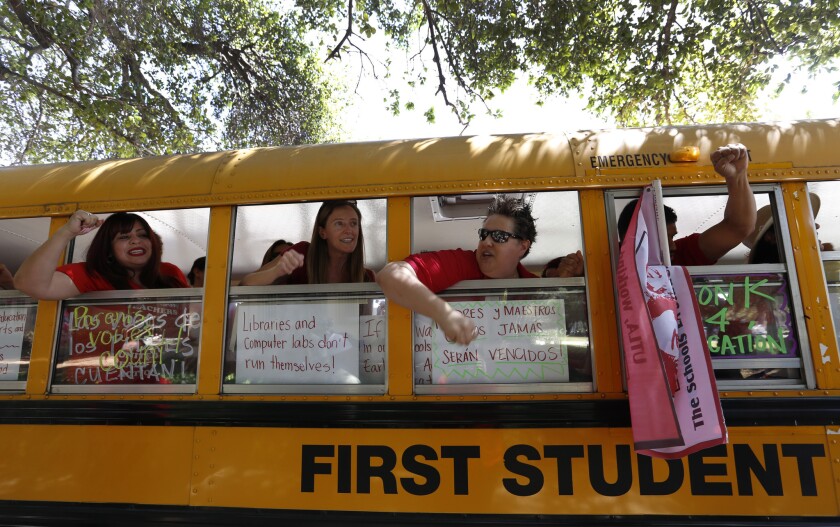 The L.A. Unified School District and the teachers union reached a tentative contract settlement Friday night for a three-year deal that includes a 10% salary increase over two years. There also are terms affecting class sizes, the number of counselors at schools and the district's teacher evaluation system.
The deal could end more than a year of strained relations and organized agitation by United Teachers Los Angeles, whose members have not received a raise for eight years. The pact must be ratified, however, by both the union membership and the Board of Education.
The apparent breakthrough, after a long mediation session on Friday, will halt, at least for now, talk of a possible strike.
"This is an important step in restoring trust and partnership between LAUSD and UTLA," said school board member Steve Zimmer. "Our message to our teachers is simple: We believe in you. I look forward to the stability and renewed collaboration this agreement will bring and to all us working together to improve outcomes for all students in L.A."
A statement from the union echoed those sentiments: "LAUSD and UTLA believe this agreement is good for students, educators, the community and the stability of the district moving forward."
Friday marked the fourth formal mediation session after the union declared an impasse in negotiations.
The agreement represents a compromise between the two parties, but the teachers union has achieved a larger settlement than other employee groups. It was not immediately clear if "me too" provisions would result in like gains for other employees.
Full details of the accord were not available Friday night.
In its most recent demands, the union had sought an immediate 8.5% pay increase and a $1,000 annual stipend for supplies as well as full, prorated pay when teachers attend training sessions outside of work hours.
The district had proposed a 4% raise for this year and an additional 2% next year in the form of four additional work days for training. L.A. Unified also offered to increase the pay of starting teachers to at least $50,000.
Other topics under negotiation included class sizes, the teacher evaluation system, the decision-making process at campuses, the student discipline policy and the treatment of employees under investigation for alleged misconduct.
Earlier this week, the Board of Education voted 6-1 to approve a multi-billion dollar plan for districtwide health benefits that preserves the district's generous benefits package.
The benefits deal factors in modest annual increases in expenses and resolves some long-term unfunded costs for L.A. Unified. But it could cause strains to the budget in future years, possibly contributing to layoffs or cutbacks in services, officials said.
Long-term financial concerns could magnify with the proposed settlement.
The deal also has political implications. It could reduce the motivation for union members to back endorsed school board candidates. Or, alternatively, it could free the union to focus more intensely on board races.
The union recently transferred a portion of its strike fund into its political coffers, making the dollars available for use in upcoming board elections, scheduled for May 19. A contract settlement could result in additional dollars being available for political purposes.
Twitter: @howardblume
---
The stories shaping California
Get up to speed with our Essential California newsletter, sent six days a week.
You may occasionally receive promotional content from the Los Angeles Times.