LGBT group prepares to fight for entrance at 2014 Tet parade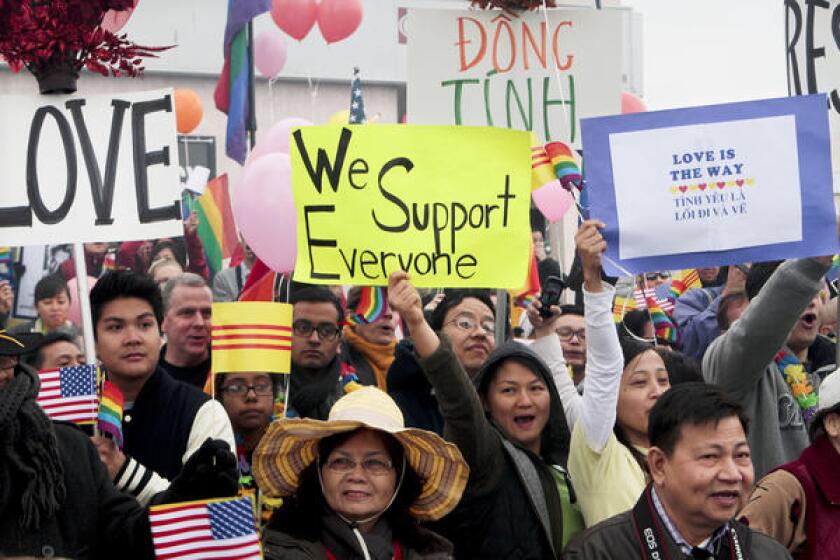 Vietnamese American LGBT members kept out of this year's Tet parade learned Monday that community leaders intend to prevent them from participating next year.
"In the past, they say that they want to work with us -- but no one has contacted us. The next thing we knew, they voted against us," said Hieu Nguyen, founder of Viet Rainbow of Orange County.
The group formed this past summer after the Vietnamese American Federation of Southern California, the group behind the Lunar New Year event, would not allow him and fellow gays to join as marchers.
Federation members and their supporters voted 47 to 21 Sunday against LGBT participation, prompting Nguyen to respond: "They had an opportunity to make right what was wrong, and they chose the same path. Last year we were caught off guard, but this time we're prepared with options."
He and his peers, who are gay, lesbian, bisexual and transgendered, plan to meet to research legal issues and will contact parade sponsors "not to ask them to boycott but to ask them to check their policies when it comes to being inclusive," he said.
Not a single group has submitted an application to Westminster's community services department to organize next year's parade, according to Viet Rainbow, which is tracking the process.
"This is an embarrassment for our community when people cannot get along -- when people are not willing to listen or to reach out," Nguyen said. "We're hoping to make it more democratic."
The parade is a tradition dating back nearly three decades. Carrying bright banners, LGBT activists have marched in the event several times over the objections of some religious leaders in Orange County's Vietnamese population.
ALSO:
For World War II veteran, daily flag-raising is a sacred duty
Man shot, killed in Pomona one day after vigil against gun violence
Gunmen killed Stockton family members as they slept, neighbors say
anh.do@latimes.com
Twitter: @newsterrier
---
The stories shaping California
Get up to speed with our Essential California newsletter, sent six days a week.
You may occasionally receive promotional content from the Los Angeles Times.