Parents launch petition to take control at 20th Street Elementary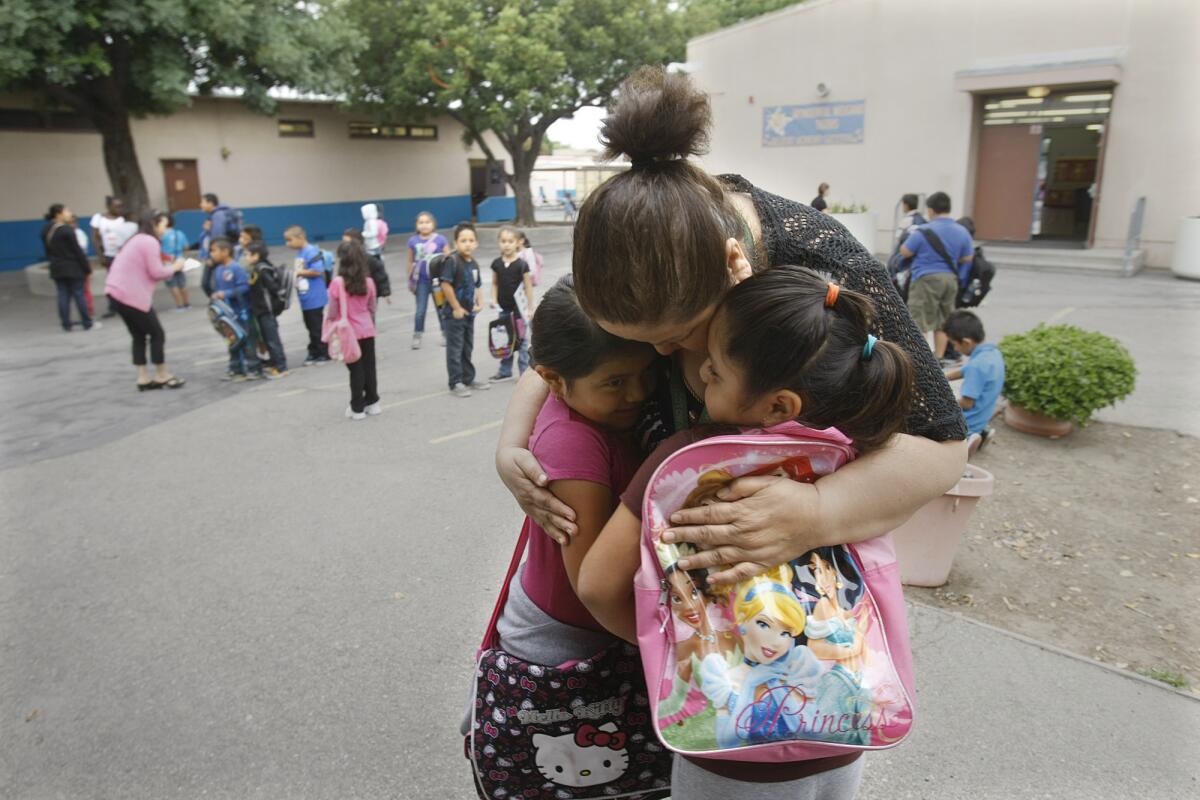 Under a state law allowing families such power, a parents group has launched a petition drive to force changes at a Los Angeles elementary school.
The effort, at 20th Street Elementary south of downtown, was organized with the help of the locally based nonprofit Parent Revolution, which also has worked with parents at other schools, with mixed success.
The parents announced their intent to use the state law in a letter Friday to L.A. schools Supt. Ramon C. Cortines.
"Our children are not well-prepared to go to middle school or the next grade level," said parent Omar Calvillo in an interview.
Many of the school's teachers are excellent, but some are not doing the job, said Calvillo, one of two parents to sign the letter. The less effective teachers either need to be replaced or to receive more training, he said.
And all teachers should commit to turning around campus academic results, said Calvillo, who has boys in first and fourth grades.
If parents collect signatures representing a majority of students, they can call an election to determine how the school will be run in the future. Their options include shutting down the existing school and replacing it with an independently operated charter school. Charters are exempt from the district's union contracts and from some provisions of state law.
In this instance, parents say they want a district-managed pilot school, which would incorporate some of the freedoms of a charter school. Those campuses typically operate under a simpler union contract and teachers must opt in to the school's new efforts. If they don't prove a good fit, they can be forced to transfer to another campus.
"We think the local autonomy and staffing flexibility given to pilot schools will open the door to the sort of changes and increased accountability we need at 20th Street Elementary," the letter signed by parents said. "We are always willing to consider other credible plans the district might put forward to meet our objectives."
Calvillo said that the parents are willing to work with the school's current principal.
The district already operates pilot schools nearby that serve middle schoolers and high school students.
A plan put together by parents has many proposals. These include more involvement for them in key decisions; improved communication; training for parents in how to help their children academically; and instructional strategies that rely on assigning projects that draw from "real life experiences."
California was the first state to give parents control over a campus through the trigger process. The idea has generated controversy nationwide, in part because trigger laws have been promoted by foundations that are frequently at odds with teacher unions. The unions and other critics have called these laws divisive.
Los Angeles Unified officials had no immediate comment. The district is on spring break this week.
L.A. Unified has been more receptive to parent petitions under the parent trigger law than some other school systems.
At 24th Street Elementary, a 2013 petition drive led to the campus being split between a charter and a reconfigured traditional school. At Haddon Elementary, that same year, parents halted their signature gathering when the district committed to working with them. At Weigand Avenue Elementary, organizing parents sought to remove the principal in 2013. The faculty rallied behind the principal and left as well.
Twitter: @howardblume
Sign up for Essential California for news, features and recommendations from the L.A. Times and beyond in your inbox six days a week.
You may occasionally receive promotional content from the Los Angeles Times.