New contract guarantees a series of raises for some Metro workers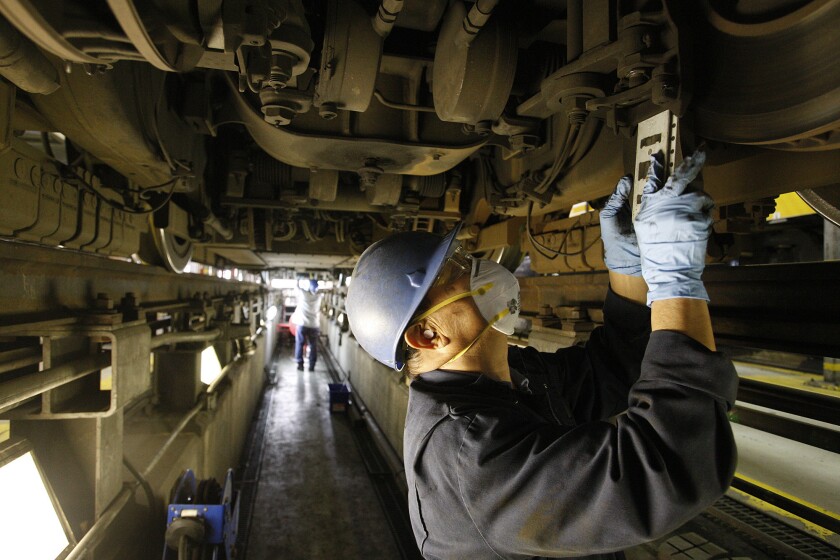 After months of negotiation, Los Angeles County transportation officials and a union that represents maintenance workers have both approved a new contract that guarantees a 3% annual raise for the next four years.
Raises for nearly 2,300 Los Angeles County Metropolitan Transportation Authority electricians, mechanics and other workers probably will add to an estimated $36-million operating deficit the agency expects to face in 2016. Without changes to the budget, or without raising fares, Metro staff has predicted the agency will be $225 million in debt within the next decade.
The raises will add about $36 million to Metro's budget over the next four years, agency spokesman Marc Littman said. Benefits and wages are Metro's single biggest expense, costing more than $1.9 billion this year -- about 38% of the agency's $4.9-billion budget.
Littman said although the raises could add to the expected deficit, the agency has to offer competitive salaries to continue to attract a skilled workforce. Employees receiving raises do some of the most technically difficult jobs at the agency, including welding, digital repairs and high-voltage electrical work.
"We feel that it was a fair contract," said James Lindsay, president of Amalgamated Transit Union Local 1277. "It's good that it got passed without a strike."
ATU members went four years without a pay hike during the recession, Lindsay said, so these raises will help close that gap. But, he added, Metro maintenance workers still make $2 to $5 less per hour than they would at comparable transit agencies in New York City and Chicago.
The Metro pay increase was less than the recent raise for city of Los Angeles employees, Littman said, and comparable to new raises for Los Angeles County workers.
In January, 13,000 city employees with the Coalition of L.A. City Unions received a 5.5% raise. The following month, officials approved a 6% raise over three years for more than 55,000 county workers, including nurses and social workers.
Metro negotiators are still working with a much larger labor group, the United Transportation Union, which represents the agency's train and bus operators. A vote on a new contract is expected sometime this summer.
---
The stories shaping California
Get up to speed with our Essential California newsletter, sent six days a week.
You may occasionally receive promotional content from the Los Angeles Times.