A small Jewish congregation in Central Valley comes to grips with mass shooting at Pittsburgh synagogue
Reporting from Visalia, Calif. —
With only 65 members, Congregation B'Nai David is so small that it doesn't have a full-time rabbi.
Once a month, a student rabbi drives up from Los Angeles, but more often than not members of the community lead the services, make sure the lights stay on and the buildings don't fall into disrepair.
Members of the congregation's executive board gathered in the temple's library Wednesday to set the agenda for the next meeting. Vice President Norm Goldstrom led the discussion that was mostly devoted to who would be responsible for bringing food to future gatherings.
Then the conversation turned to a subject that had suddenly gained new relevance and urgency: security.
Days earlier, a gunman had killed 11 worshipers in a synagogue in Pittsburgh's Squirrel Hill neighborhood, the historic hub of the city's Jewish community. The mass killing is believed to be the deadliest anti-Semitic attack in U.S. history.
"This guy walked in there with a couple of pistols," Treasurer Phil Appelbaum said. The suspect, Robert Bowers, pleaded not guilty last week to multiple counts of murder, hate crimes and other federal charges that could put him on death row.
"What could it hurt to have an extra pair of eyes?" Appelbaum said.
Goldstrom had already been planning a larger discussion about security and was even considering applying for a grant from the Department of Homeland Security. With the events of the last week, a vigil planned for Saturday and some already jittery congregants, the board after some debate agreed to temporarily hire an unarmed guard.
By some estimates about a quarter of the world's Jews live in the New York, Los Angeles and Miami metropolitan areas. But many live in somewhat isolated towns like Visalia or Fresno here in the rural and conservative Central Valley. Unlike the vibrant Jewish community of Squirrel Hill, members of Temple B'Nai David describe moving through the world as an oddity.
Though some say that safety has never been a paramount concern, others said they have begun to feel more vulnerable in the current political climate and are concerned about their ability to maintain a vibrant Jewish community in a place with so few people like them.
"We're in a time where I'm more fearful," said board President Alex Lechtman, a local plastic surgeon. "Unlike L.A. or Pittsburgh, we are the target. There are not a number of targets. For the anti-Semites of Tulare County, we are the target."
B'Nai David has been defaced with anti-Semitic graffiti twice through the years. On Friday, an FBI agent from the Fresno field office toured their buildings and urged them to buy security cameras. But for a small congregation, with one part-time staff member, the cost might be difficult to cover.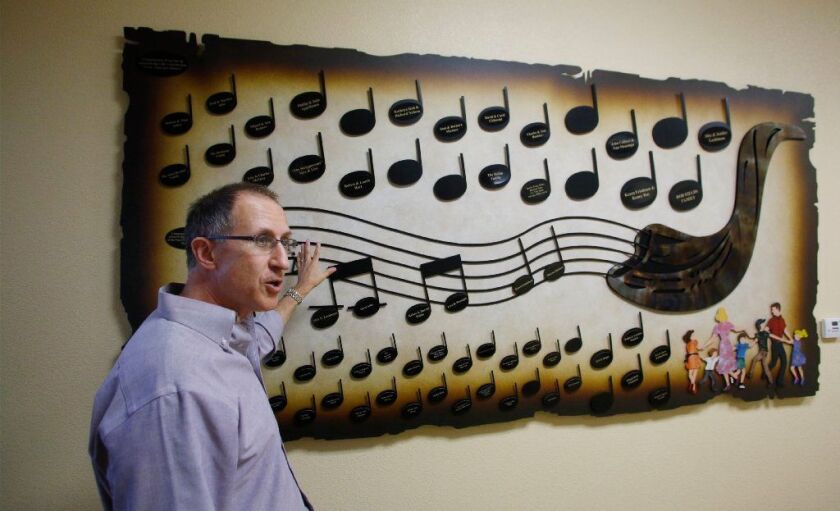 Rabbi Laura Novak Winer works at the Hebrew Union College in Los Angeles but lives in Fresno, where her husband is the rabbi of that city's largest congregation, which is also the largest in the Central Valley.
Last week, the word "Israel" was torn off the synagogue's sign — an act of vandalism that was being investigated as a hate crime.
A San Fernando Valley native, Winer described how it was important to teach her two kids how to respectfully stand up for their beliefs.
"It's really, really important for the leaders in these types of communities to educate about the experience of being a Jew in America, and that takes a lot of time and patience and it takes a lot of relationship building," she said, noting that she and her husband have cultivated strong ties with clergy from other faiths in service of this mission.
Still, she said she has felt more vulnerable since 2015, when Donald Trump began running for president.
"I think that his rhetoric has opened up and given permission for more hate to be more visible and expressed publicly," she said. "That's how I feel. I did not feel this vulnerable prior."
Even though her kids are some of the only Jews in their school, she also jokingly relayed an adage a teacher of hers once told during class: "Wherever you think you're the first Jew you're not."
Jews in this region date back to the mid-1800s. They were recent immigrants from Eastern Europe who became merchants, and one of the local cemeteries even had a "Hebrew Section," according to a history that was commissioned by the Visalia temple.
B'Nai David's roots date back to the 1950s and '60s, when services were held in congregants' homes.
"Despite the poverty of Jewish resources and the hardship of adapting to an alien environment, the situation was a cementing factor and brought us together to a common goal to maintain continuity and raise our children in the Jewish tradition," said Nate Unikel, according to this history.
The temple acquired and dedicated its first Torah in 1967. It had been squired out of Czechoslovakia shortly before the Holocaust and for several years was housed in a retrofitted gun case with glass sides.
B'Nai David moved into its current home in 1985 and has gradually expanded to include three buildings.
Barry Sommer had been a member for several years at the time of the move. When the psychologist and school district administrator first moved here from New York City, there were around 40,000 people living in Visalia and he was the first Jew many of his early friends and colleagues met in a region often referred to as the Bible Belt of the West Coast.
There's another, smaller temple, but B'Nai David is essentially the only Jewish house of worship in Tulare and King counties. Sommer described how gratifying it's been to build a Jewish community from the ground up.
"When I first got here I never felt anything but a lack of awareness or understanding," he said. "I never felt unaccepted. I felt embraced and welcomed in the community. "
Still, there were some awkward interactions. For many years, Sommer worked for one of the local school districts. One day, he and the superintendent, who had worked with him for 27 years, were walking down the hall when Sommer's colleague put his arm over his shoulder and said he was worried.
"He was concerned because I wasn't saved," Sommer said. "He was worried about my soul. It was a lovely moment. I looked him in the eyes and put my hands on his shoulder. I said I appreciated his concern and let him know I was fine."
But it's been more difficult for his two daughters. There was the time someone wrote on one's textbook cover: "This book belongs to Shonna Sommer the [expletive] jew." And the time when the mother of a boy wouldn't let her son go on a date with one of Sommer's daughters because she wasn't Christian. Or when one of his daughters was running for student body president and the elections were held on Yom Kippur — the holiest holiday on the Jewish calendar.
He said these incidents made his kids stronger and more connected with the basic tenets of Judaism. Sommer also stressed these were isolated incidents, but even if "this was not hate, it's pure ignorance" and being aimed at teenagers, "it was very hurtful."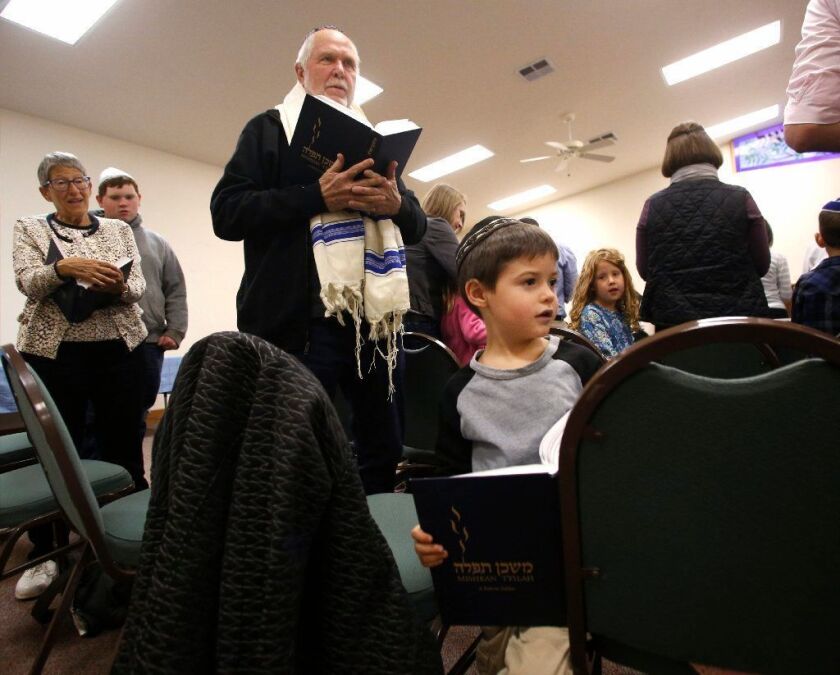 On Friday night, Appelbaum, the treasurer who landed here in the 1980s, was an early arrival at the temple. He poured wine into thimble-sized glasses and made sure to cover the challahs with a special cloth. Keren Friedman blessed candles and straightened tablecloths. They were expecting a bigger crowd.
Both are among the temple's earliest members. Friedman was born in the nearby small town of Woodlake to an Israeli father who helped found the temple. She spent more than a decade living in Israel then finally made her way back to Visalia. She now teaches Hebrew at the Sunday school.
Appelbaum eagerly introduced Lechtman, the board president, to a couple who were interested in joining the congregation so the husband could convert. Lechtman hopes that they can raise enough money to hire a full-time rabbi soon.
The room swelled with people. So much so that they had to pull out more chairs. After the Lecha Dodi, which is the prayer to welcome in Shabbat, the student rabbi asked that the congregants turn and introduce themselves to one another, which is standard.
It was a mix of longtime members and newcomers seeking comfort after a tough week. Strangers greeted each other warmly as restless children ran through the aisles. A local Episcopal deacon attended to show her support.
In all, about 40 people filled the sanctuary — almost double the turnout on a normal Friday night.
Ten-month-old Nahuel Adler crawled across the carpeted floor as his mother Valeria looked on. The Adlers moved to the United States six years ago from a small desert town in Israel. They landed in Visalia four months ago after living in Madera, Calif.
At the end of the services as Nahuel tore up and spit out challah, his father Dov described how the community had welcomed them. Along with Keren he teaches Hebrew on Sundays.
His new colleagues and neighbors share a common understanding of agriculture. He works in research and development for a small fruit grower, and some of the greatest innovations in irrigation and farming originated in Israel.
"We all speak the language of agriculture — of growing stuff," he said as Nahuel threw some more challah on the floor. "I feel very welcomed as a Jew in the valley. I feel proud to be one."
---
The perils of parenting through a pandemic
What's going on with school? What do kids need? Get 8 to 3, a newsletter dedicated to the questions that keep California families up at night.
You may occasionally receive promotional content from the Los Angeles Times.