California's path to victory in border wall lawsuit is a narrow one, analysts say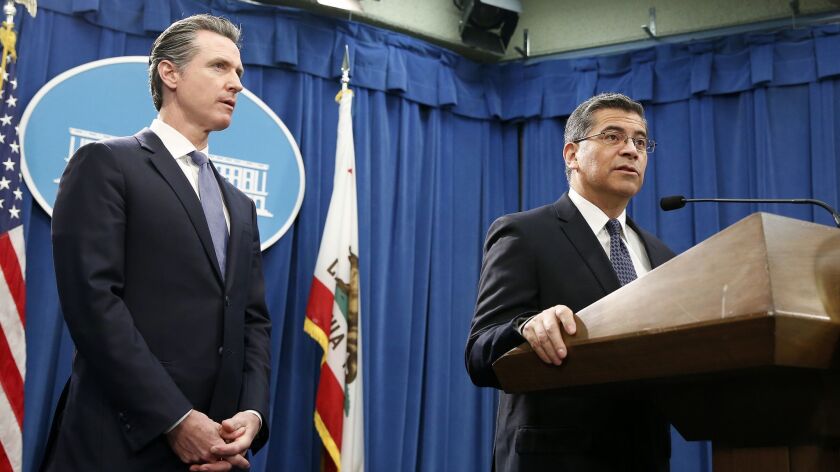 When a lawsuit challenging President Trump's plan to build a border wall goes before a federal judge in San Francisco, California and 15 other states will argue that the administration's decision to bypass Congress violates the U.S. Constitution.
But legal analysts generally agreed Tuesday that the lawsuit could prevail on more narrow grounds — if it succeeds at all.
"This is so clearly unconstitutional and illegal that the Supreme Court will say it is not permissible," predicted UC Berkeley Law School Dean Erwin Chemerinsky.
University of Texas law professor Robert Chesney, on the other hand, said California faces an uphill battle.
"In any normal presidency, there is almost no chance that the courts would second-guess" the president on the issues cited in the lawsuit, he said. "But this isn't a normal president."
"If there is judicial second-guessing," Chesney added, "it is going to be pretty dramatic because it normally wouldn't take place."
On Monday, California Atty. Gen. Xavier Becerra and 15 other state attorneys general sued the Trump administration, challenging its declaration of a national emergency to redirect billions of dollars from government programs to pay for a physical barrier along the U.S.-Mexico border.
At least two other lawsuits also have been filed, and more are expected in the coming days.
Legal scholars say the states' suit is likely to face early procedural challenges. To prevent the suit from being dismissed and obtain a preliminary injunction, the states will have to show they face concrete and imminent harm.
The lawsuit says states will be harmed because money will be diverted from construction at military bases, stopping drug trafficking and other law enforcement programs, hurting their economies and endangering their citizens.
To obtain legal standing, the states also have to show specific injury, which could be difficult at this early stage.
The Trump administration has yet to release information about exactly which government projects will lose money, undercutting the states' case, analysts said. And it could stagger spending, starting with sources of funding unencumbered by legal restrictions.
"There will be a question raised as to whether a court should get into this quite so early," said Peter Shane, a constitutional law professor at Ohio State University.
Aside from such technical challenges, judges who take up the lawsuit might be inclined to base their rulings on the language of the individual laws governing the pots of money Trump plans to tap — not on broader constitutional issues, Shane said.
"Courts generally try to avoid big constitutional statements if they can," he said. "If the Supreme Court is concerned about giving broad emergency powers to presidents, including future Democratic presidents, one way they could push back is to focus just narrowly on the statutes."
The constitutional argument is that Trump is violating the separation of powers, usurping Congress' power of the purse after lawmakers rejected his request for $5.7 billion to build the wall.
Instead of settling that argument, courts could rule more narrowly on a federal law that allows a president to transfer money from military construction projects in an emergency, Shane and other legal analysts said.
The bulk of Trump's planned spending — $3.6 billion — would come from diverting funds from military construction projects.
The law says money may be tapped from that fund if it is necessary to support troops.
"Can you really say building the wall is necessary to support the armed forces?" asked Chemerinsky.
Trump also plans to divert $601 million from the Treasury Department's forfeiture fund, made up of assets the government seized in legal cases, and as much as $2.5 billion set aside by the Department of Defense to fight drug trafficking.
By focusing on the language of the military construction law, the U.S. Supreme Court could "split the baby" and avoid rebuking Trump for declaring a national emergency, Shane said. Instead, the court could rule the funds simply are unavailable, he said.
Chemerinsky, though, believes the constitutional arguments are powerful.
He pointed to the Supreme Court's 1952 ruling in Youngstown Sheet and Tube Co. vs. Sawyer, which blocked President Truman from seizing steel mills during the Korean War to prevent a strike. The court said the president lacked the authority to take action Congress had not authorized.
"Never before has a president been refused money by Congress for a particular project and said, 'I am going to go ahead and do it anyway in the name of a national emergency,'" Chemerinsky said.
But UC Berkeley constitutional law professor John Yoo said the steel mill ruling was not on point.
Truman "was doing it under his inherent presidential power, and here President Trump is acting under a law passed by Congress to move money around during a national emergency," said Yoo, who is best known for writing a memo for former President George W. Bush justifying the use of torture to fight terrorism.
Trump declared the emergency under the National Emergencies Act, passed by Congress in 1976.
Yoo said a more fitting precedent was a 1981 U.S. Supreme Court ruling that upheld the president's power to nullify court orders and suspend private lawsuits to resolve the Iranian hostage crisis.
"The court extended the most extreme and generous deference to the president possible," he said.
Yoo also said the president could justify diverting military construction money to the border wall by saying it is supporting 3,000 troops stationed there.
"I actually think Trump is most vulnerable on whether it is a national emergency," he said.
The National Emergencies Act did not define what constitutes an "emergency." The states' lawsuit argues that Trump's own words and a drop in the number of immigrants crossing the Mexican border without permission show no emergency exists.
Yoo believes even that argument will fail, though. He expects that a majority of the Supreme Court would support a ruling akin to its decision last year to uphold a ban on travel from mostly Muslim countries.
"Instead of travel ban, the court could just substitute the word 'border,'" Yoo said.
Andrew Boyle, an expert in national security law at the Brennan Center for Justice, noted that challengers could distinguish between the two cases, but allowed that the Supreme Court may defer to Trump again.
"Typically in the national security realm, the Supreme Court has been very deferential to the executive," he said. "So to the extent they accept this is a national security issue, they may be deferential again."
Twitter: @mauradolan
---
The stories shaping California
Get up to speed with our Essential California newsletter, sent six days a week.
You may occasionally receive promotional content from the Los Angeles Times.