L.A.'s increasingly hot and dry autumns result in 'these near-apocalyptic fires'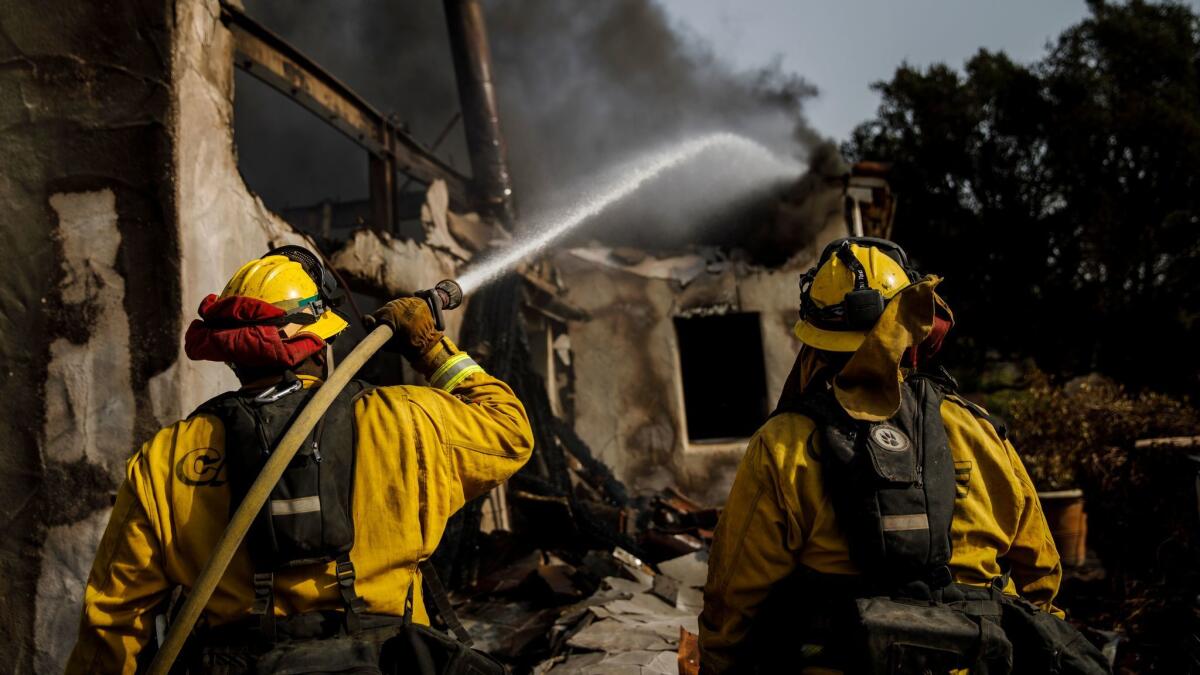 For weather experts, autumn in Southern California is "the great race."
The severity of the fall fire season is often determined by what arrives first — the fierce Santa Ana winds or the rains.
This year, however, it's been no contest. Autumn has seen excruciatingly little rain, intensely low humidity, record heat and powerful winds that sparked what is so far the second largest wildfire in modern California history.
"The result are these near-apocalyptic fires that we're seeing," climatologist Bill Patzert said.
Together, the weather conditions that fueled Southern California's December firestorms offer a window into a future that could include more destructive fires.
"There is some evidence that the autumn on average in Southern California is going to be drier as the climate warms," UCLA climate scientist Daniel Swain said.
Less rain in the autumn, along with hotter temperatures, increases the fire risk.
"Timing matters. If we had the early season rain, we wouldn't have had the fires we just had," Swain said.
On average, downtown L.A. gets more than an inch of rain in November and more than two in December. But this year, there was only a hundredth of an inch of rain in November and nothing at all in December until Wednesday night, when a weak storm system dropped one-hundredth of an inch of rain on downtown Los Angeles. In fact, there had been no substantial rainfall in downtown Los Angeles since February.
It's part of a larger weather trend for Southern California: Over the last seven years, maximum temperatures during the fall have gotten hotter and there has been less rain. This October and November were the hottest in 122 years of record keeping for the region.
For downtown Los Angeles, this is shaping up to be the driest March-through-December period on record. A paltry 0.68 of an inch had fallen through Tuesday, beating out the 1.24 inches that fell during the same 10-month period in 1962.
This autumn saw dramatic heat records fall. Dodger Stadium on Oct. 24 hosted the hottest World Series game — 103 degrees. On that same day, the mercury hit 104 in downtown L.A. — the hottest temperature on record so late in the calendar year. And the high of 92 on Nov. 23 broke a 114-year-old record for hottest Thanksgiving Day in L.A.
"Those are pretty eyebrow-raising numbers. All of that heat into the fall — and the fact that it hasn't rained — that combination has brought moisture in vegetation in coastal California to record-low levels for this time of year," Swain said.
A persistent weather pattern has blocked rainfall away from Southern California.
There's a large mass of high pressure over the West, which is associated with an unusually weak jet stream, said Patzert, a climatologist at NASA's Jet Propulsion Laboratory in La Cañada Flintridge. A weak jet stream — a powerful river of air in the upper atmosphere upon which storms ride — can be bad for rain in California when it meanders over the northern hemisphere and results into the development of a powerful mass of high pressure over the West that sends storms away north of California.
The mass of high pressure matters so much because Southern California gets most of its rain and snow from just a small number of storms every year.
"It's easy to miss out on just a couple of events and have a dry year," Swain said.
Swain said La Niña — a phenomenon of cooling ocean waters in the tropical east Pacific — is playing a role in the persistence of the mass of high pressure, as is a warming of the western tropical ocean by Indonesia.
Until Wednesday's unexpected light rain, December held the possibility of recording no rainfall at all — a dubious distinction that has occurred only five times since weather records were first kept for downtown L.A. 140 years ago.
"We're at 4% of normal," Patzert said.
Record temperatures and unusual heat waves throughout the autumn played a role in the drying out of vegetation.
The record warmth in California "is clearly a symptom of climate change," Swain said. "The likelihood of seeing record warmth and record heat waves is much more likely due to long-term warming."
The likelihood of seeing record warmth and record heat waves is much more likely due to long-term warming.
— Daniel Swain, UCLA climate scientist
During the worst period of fire weather, humidity sank to extremely low levels — as low as 1% — with low single-digit readings even at the beaches, which are typically damp from moisture from the ocean.
Even during a summer heat wave in Southern California, there's still enough moisture in the air to cause dew to form at 20 to 40 degrees. But the air had become so dry that the temperature would have to have fallen as low as negative 20 degrees to form dew, Swain said.
On top of that has been the unremitting Santa Ana winds this month. Typically, Santa Ana wind events might last for two or three days. But the National Weather Service clocked in a record stretch of 12 consecutive days of red flag warnings that began on Dec. 4, the same day the Thomas fire ignited. The blaze has charred 272,000 acres in Ventura and Santa Barbara counties, destroyed more than 700 homes and contributed to deaths of two people, including a firefighter.
"You get Santa Ana winds every year; they've been particularly persistent this year," Swain said. "But the difference this year is the period of record warmth that preceded them, and having an extremely dry start to the quote-unquote rainy season. We're getting the Santa Ana winds at a time we would've expected things to be much less dry."
Joe Sirard of the National Weather Service said he remembers the night of Dec. 4, when the Thomas fire broke out in the foothills above Thomas Aquinas College in Santa Paula.
"I could see a wall of flaming glow," Sirard said, and the gusty winds were coming from just the perfect direction to speed flames and embers straight down the Santa Clara River valley between Santa Clarita and Ventura.
"It was the perfect confluence of weather elements that night," he said. "It was a very bad situation, and it was hard to see those flames move so fast."
Had the wind direction been off by just 10 or 20 degrees, there would have been less.
But on that day, "the winds were such that they came right down into Ventura. It was the worst situation possible."
Sign up for Essential California for news, features and recommendations from the L.A. Times and beyond in your inbox six days a week.
You may occasionally receive promotional content from the Los Angeles Times.