Big earthquake would topple countless buildings, but many cities ignore the danger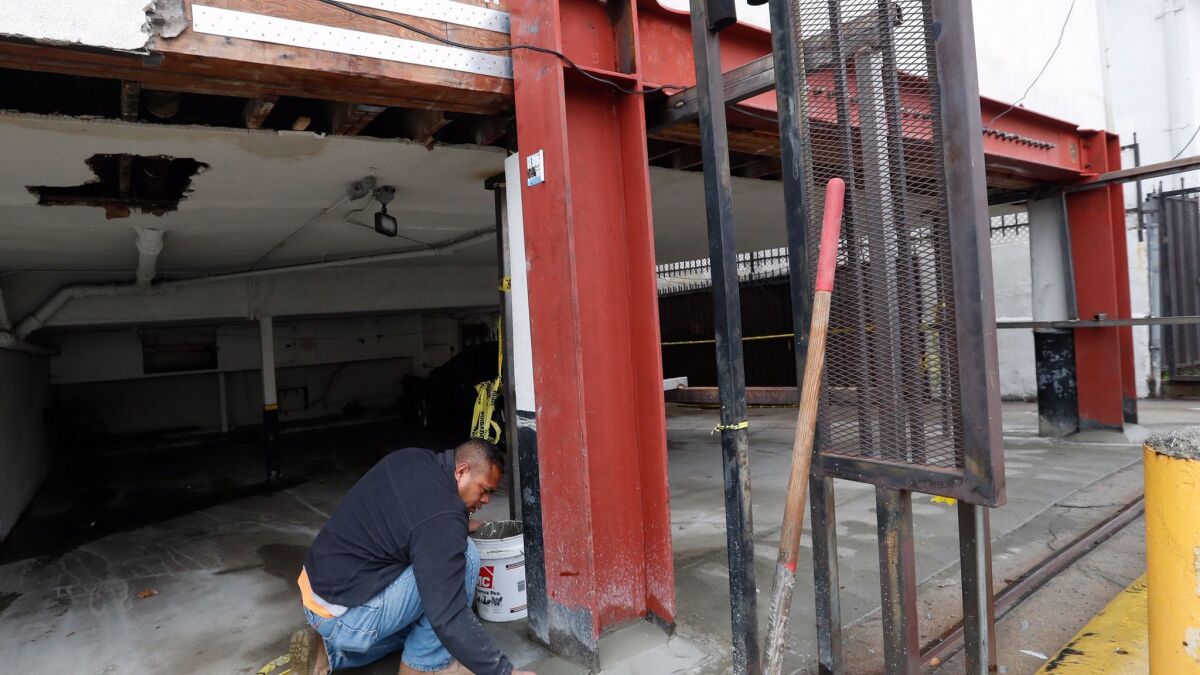 The Northridge earthquake that hit 25 years ago offered alarming evidence of how vulnerable many types of buildings are to collapse from major shaking.
It toppled hundreds of apartments, smashed brittle concrete structures and tore apart brick buildings.
Since then, some cities have taken significant steps to make those buildings safer by requiring costly retrofitting aimed at protecting those inside and preserving the housing supply.
But many others have ignored the seismic threat. And that has created an uneven landscape that in the coming years will leave some cities significantly better prepared to withstand a big quake than others.
Other than hospitals, state government has generally not set any mandatory rules for earthquake retrofits, and that has left it up to city and county governments to make decisions about seismic risks.
And because the public generally doesn't keep tabs on municipal retrofit laws, many could be in the dark about which cities might be more dangerous than others in an earthquake.
And that's unlikely to change — until a big earthquake hits.
"We can't afford a patchwork of California cities, some of which save lives, and others which lose lives," said Los Angeles Mayor Eric Garcetti, who authored the nation's most sweeping earthquake retrofit law, which will require 15,000 buildings to be retrofitted, and is pushing for a more uniform approach for seismic safety.
The move to retrofit vulnerable buildings was led by San Francisco and Los Angeles. But getting medium-sized and smaller cities to join the effort has been a mixed bag, with some officials expressing concerns over passing on the costs to building owners and perhaps to renters.
Gas from a ruptured supply line burns as water from a broken water main floods Balboa Boulevard in the Granada Hills area of Los Angeles. The fire from the gas main destroyed two homes, right.
(Lenny Ignelzi / AP)
A police motorcycle officer died after the collapse of a transition bridge between the 14 and 5 freeways.
(Steve Dykes / Los Angeles Times)
A damaged house in Fillmore six months after the Northridge quake.
(Joe Pugliese / Los Angeles Times)
Construction workers and investigators begin demolition at the remains of the Northridge Meadows apartment complex.
(Richard Derk / Los Angeles Times)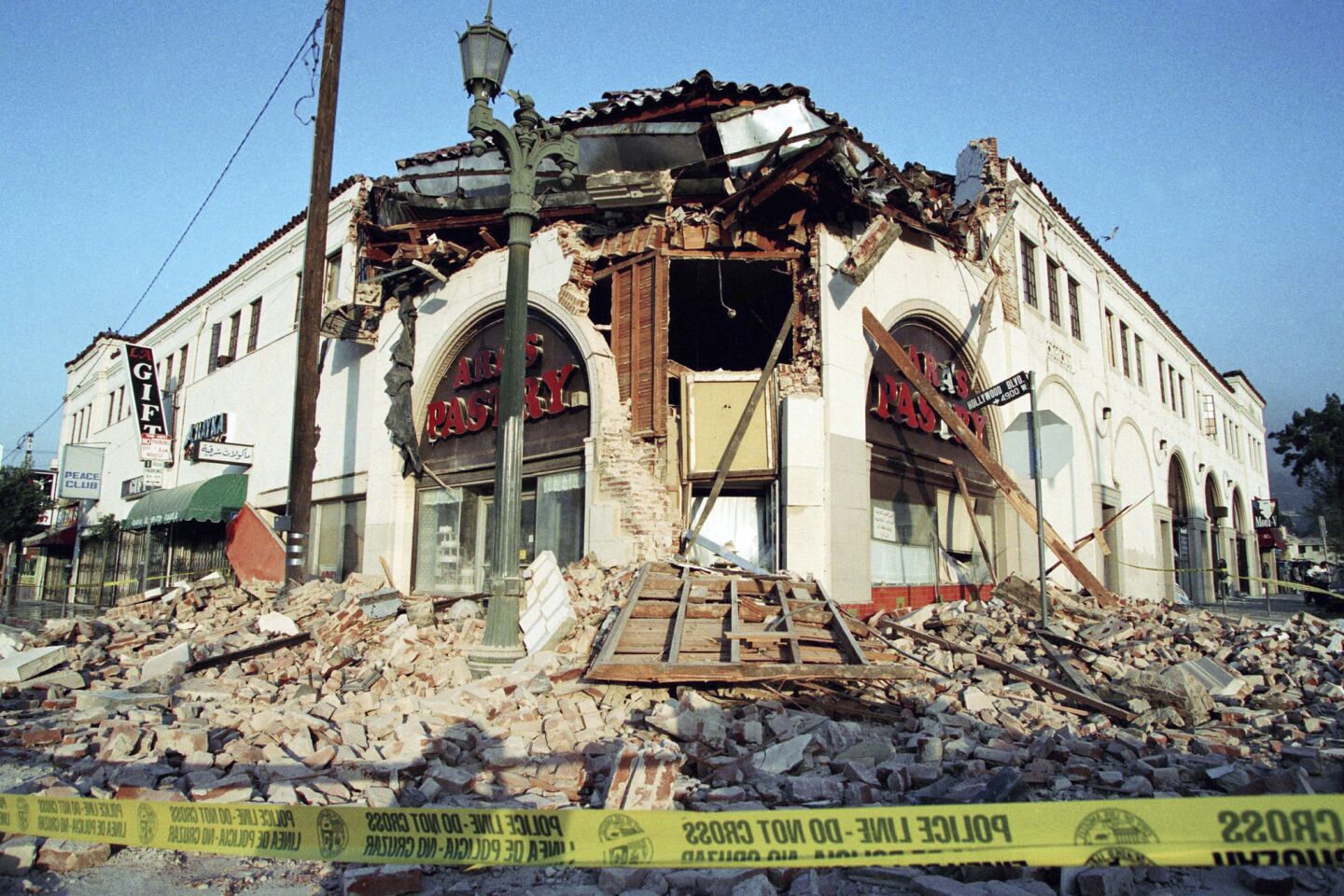 Bricks and debris surround a building on Hollywood Boulevard after the Northridge earthquake.
(Rene Macura / AP)
The 10 freeway split and collapsed over La Cienega Boulevard during the Northridge quake.
(Eric Draper / AP)
Cal State Northridge students walk past a collapsed parking structure on campus.
(Mark J. Terrill / AP)
The Kaiser Permanente outpatient center in Northridge after the quake.
(Alcorn, Jonathan / For the Times)
A portion of the Bullock's department store in the Northridge Fashion Center collapsed in the Northridge earthquake.
(Reed Saxon / AP)
The Northridge Meadows apartment complex, in which 16 people died when the upper floors collapsed onto the so-called soft story ground floor.
(Nick Ut / AP)
The covered body of Los Angeles Police Officer Clarence Wayne Dean lies near his motorcycle, which plunged off the 14 Freeway overpass that collapsed onto Interstate 5.
(Douglas C. Pizac / AP)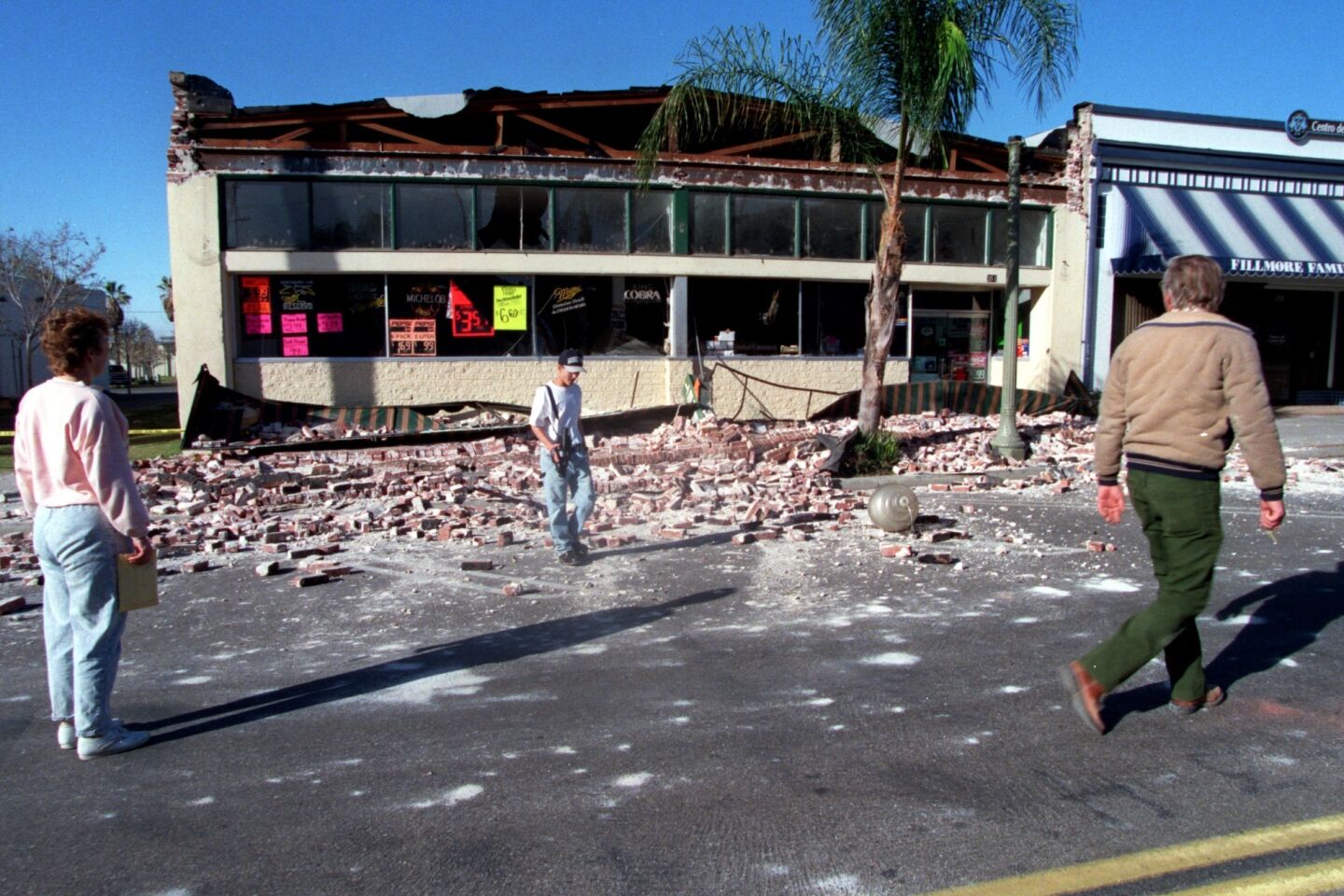 Fillmore's Cental Market was one of the many buildings and businesses hard hit by the Northridge earthquake.
(AH¥Alan Hagman / Los Angeles Times)
Damaged apartments in Sherman Oaks.
(Khan, Irfan / Los Angeles Times)
Los Angeles has a mandatory seismic retrofit law for wood-frame apartments and concrete buildings. Long Beach, the county's second-largest city, does not, and neither do the rest of L.A. County's 10 largest cities by population: Santa Clarita, Glendale, Lancaster, Palmdale, Pomona, Torrance, Pasadena and El Monte.
San Francisco, Oakland, Berkeley and Fremont require apartments with flimsy ground-floor construction to be strengthened. Yet other Bay Area cities in the heart of California's booming tech region, including Palo Alto and Burlingame, have not acted.
San Jose, California's third-largest city, doesn't even know where its vulnerable buildings are located, but it has applied for a grant to create an inventory.
On the Westside, Santa Monica, West Hollywood and Beverly Hills have all passed some kind of retrofit law recently, following reports about the danger from faults that run through the area. But in the South Bay, Torrance, Redondo Beach, Hermosa Beach and Manhattan Beach have not. Neither have some older cities in Orange County, including Anaheim, Fullerton and Santa Ana.
Many Inland Empire cities haven't even completed retrofits or demolitions of their old brick buildings, a hazard that had been more comprehensively resolved elsewhere by the 1990s. Ontario has changed its outlook: Officials are now creating a new inventory of all types of seismically vulnerable buildings.
GRAPHIC: Why old brick buildings can collapse »
Some cities, such as Alhambra, take their cues from what Los Angeles County requires of buildings in unincorporated regions not ruled by a city government — such as East L.A., Florence-Firestone and Hacienda Heights. But L.A. County has not passed any recent retrofit laws for the unincorporated area, where 1 million people live.
It's possible state officials may step in. With a new governor in office, Assemblyman Adrin Nazarian (D-North Hollywood) said he would reintroduce bills that were vetoed by Gov. Jerry Brown that would have provided for a tax break off the cost of retrofit of 30% for owners and mandated local governments to create their own inventory of earthquake-vulnerable buildings. Brown said he was concerned about how much both bills would cost the government.
But the veto of the inventory law caused momentum in some cities to evaporate.
Officials have long known exactly what type of buildings are likeliest to collapse in an earthquake, yet have spent a generation or more not requiring them to be fixed. It's time that has been lost even as so much wealth has been created in just the last 25 years, said Tom Tobin, former executive director of the California Seismic Safety Commission.
"The length of time it's going to take us to recover from a large earthquake — the economic damage, the social disruption, the loss of business — will set California back decades," Tobin said. "And it will be a price that we will pay for decades to come."
A U.S. Geological Survey simulation of a magnitude 7.8 earthquake in Southern California said 50 brittle concrete buildings housing 7,500 people could completely or partially collapse, and five high-rise steel buildings — of a type known to be seismically vulnerable — holding 5,000 people could completely collapse.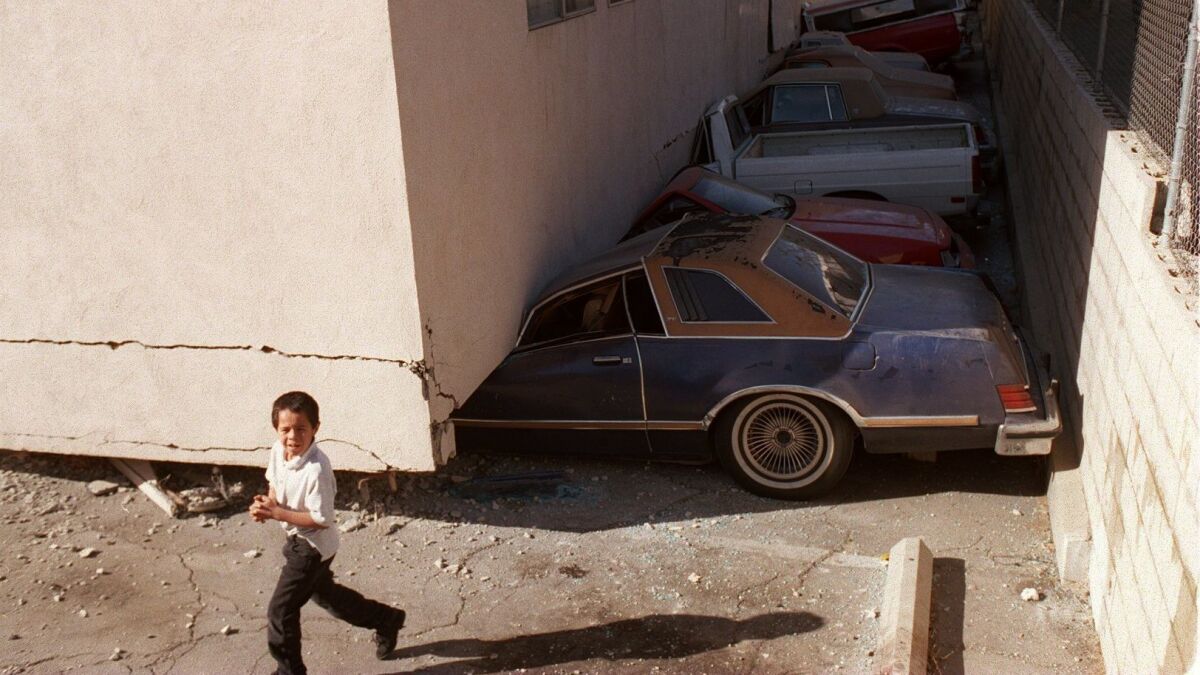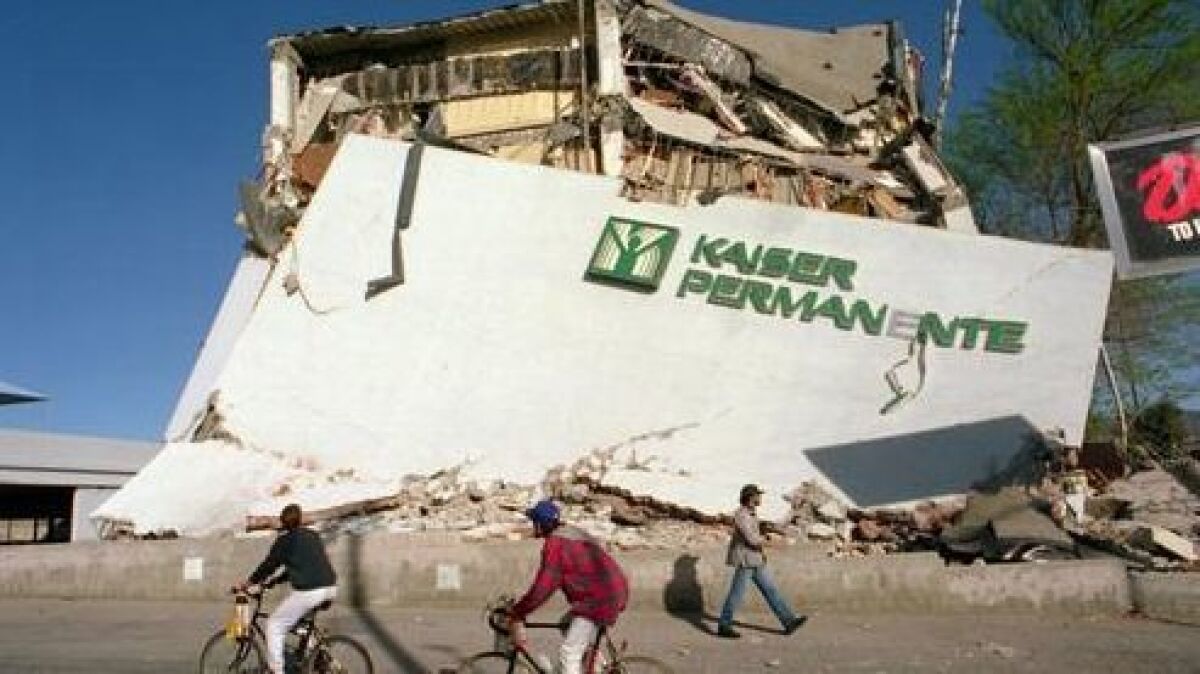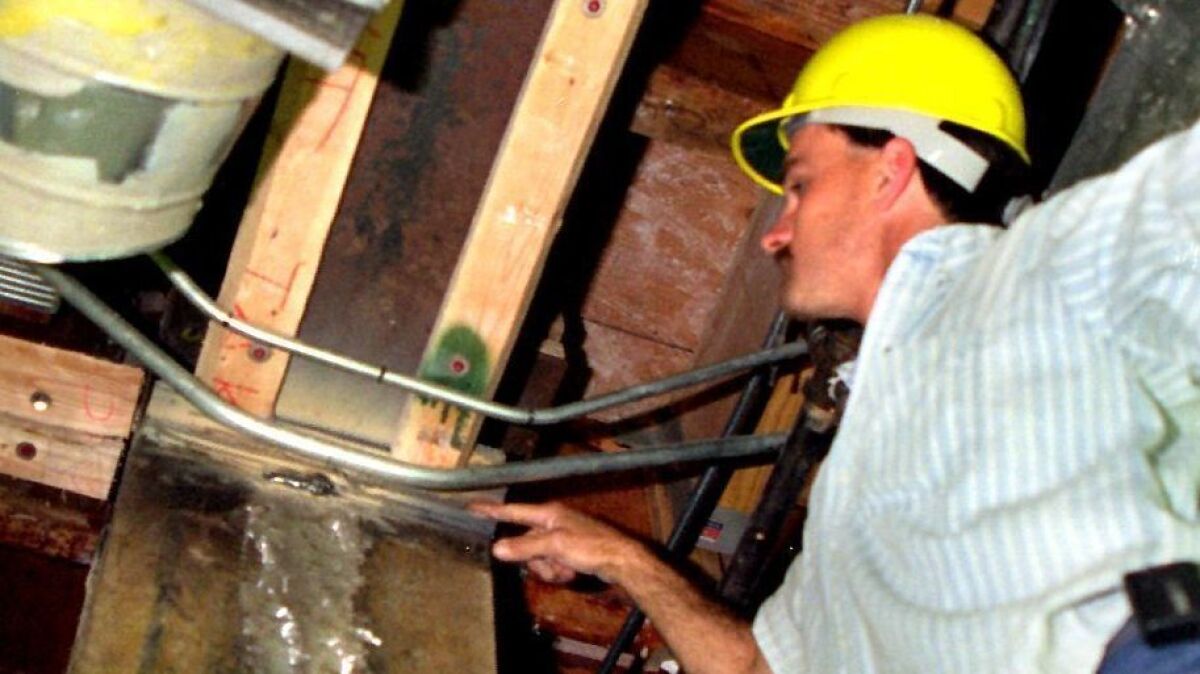 GRAPHIC: How apartment buildings can collapse in a quake »
Gov. Gavin Newsom, in the past, has been supportive of seismic retrofit efforts. As mayor of San Francisco, he began an effort completed by his late successor, Ed Lee, that led to a mandatory retrofit law for about 5,000 apartment buildings with a flimsy first story, typically used as a garage, carport or for a retail shop. About 200 of those "soft-story" buildings collapsed in the Northridge earthquake, including one building in which 16 people died.
It's easy to see why it can be difficult for elected officials to act — the price tag comes first, and the public generally isn't upset until the disaster strikes. Some local officials, including those in the city of Orange, said they have no plans to make changes to its rules unless the state takes action.
"You don't get citizens marching on City Hall or the state Capitol saying, 'Save us from the earthquake,'" said Peter May, a professor emeritus at University of Washington and an expert on policies to reduce the risks from earthquakes.
Instead, elected officials have to take experts' advice and be "willing to step up and take leadership on that…. It's a political calculus that comes back to upfront costs, delayed benefits, and a lot of headaches along the way."
In some cities, there's a reluctance for government to step in. "I'm certainly not in favor of government intruding on private property rights," Highland Mayor Pro Tem Larry McCallon said. Redlands Mayor Paul Foster said mandatory retrofits represent "a huge, prohibitive expense to the private owners."
Riverside Mayor Rusty Bailey said he's heard from merchants who fear retrofits could "potentially put some businesses out of business and property owners would lose their income." San Bernardino's point person on earthquake safety issues has left the city's employment.
"It is a delicate balance of living in Southern California. Building safety is a top concern for our city, but mandatory programs can have equally profound impacts on housing and our economy," said Mike Lyster, a spokesman for Anaheim.
GRAPHIC: Why concrete buildings can collapse »
Several city councilmen in Torrance, a community of 147,000 people, were skeptical about implementing mandatory retrofits when they were discussed last May.
"I'm concerned about the prospect of these mandatory costs that we're passing on — some pretty large costs here, on the order of $10,000 per unit," said Councilman Tim Goodrich. "Costs aren't just going to be absorbed by landlords; it's going to be passed on to residents. And rent has risen astronomically in the last few years."
According to Zillow, median rents in Torrance rose from $2,500 in November 2010 to $3,100 in November 2018.
Mayor Patrick Furey, however, said failing to take action could result in not only a high death toll, but a housing catastrophe should many older apartments be destroyed. "We have a housing crunch right now, and if we lose those houses, they're lost even longer," Furey said.
Torrance and Hermosa Beach, like San Jose, applied for a grant to do a seismic inventory. Pasadena and Mountain View are discussing potential ordinances that would require retrofitting of some apartments. Meanwhile, Palmdale building officials say they don't believe they have any of the most vulnerable kinds of structures in the suburb.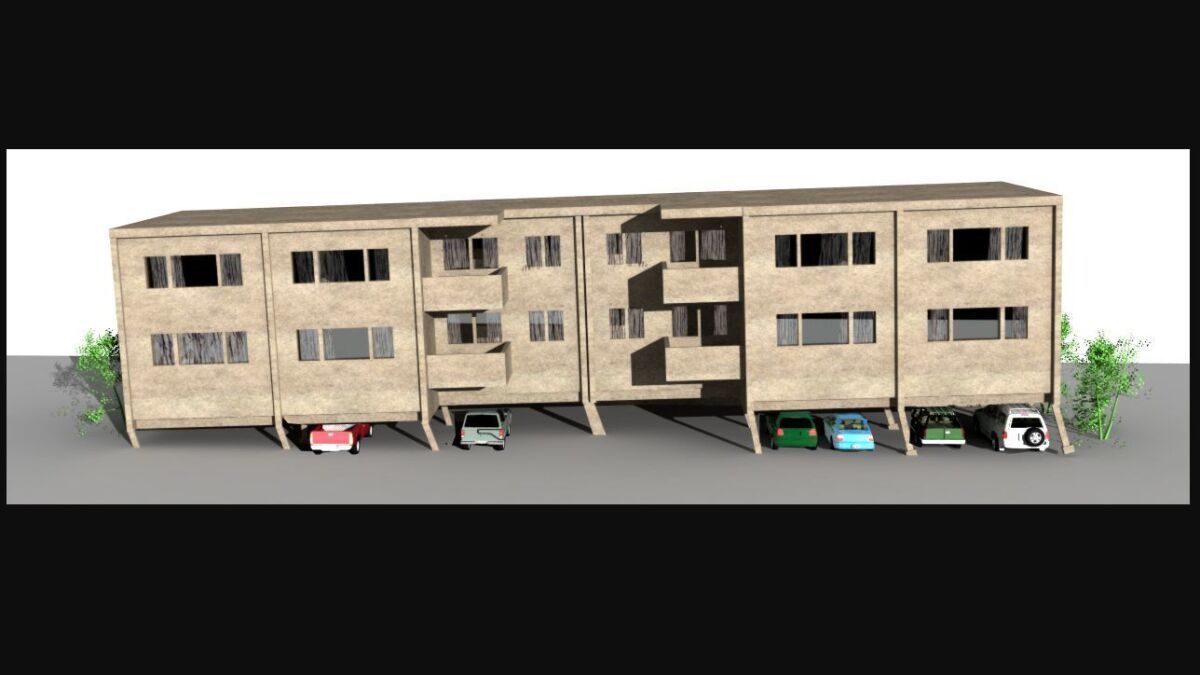 As rents have risen, so has the value of rental properties. Between 2008 and 2018, the average value per unit for a market-rate apartment complex in Los Angeles has climbed from $174,000 to $280,000, according to Steve Basham, a managing analyst for CoStar Group.
A prudent use of all that equity would be to invest it into a seismic retrofit, said Heidi Tremayne, executive director of the Earthquake Engineering Research Institute. "It's better to invest now."
Groups representing owners and tenants have begun to see the importance of retrofits, and the focus of many of them is how to accomplish the retrofits and finance them, rather than oppose the laws. Owners have also become increasingly aware of a California appeals court ruling placing owners liable for deaths and injury from earthquake damage.
From the Archives: The road to recovery for Robert Dorsey, whose three roommates died in the Northridge earthquake »
Various cities with rent control have taken different tacks. San Francisco allows all of the cost of a retrofit to be passed down to the tenants, spread over a 20-year period. L.A. splits the cost between owner and tenant, with monthly rent hikes at no more than $38 (the average amount passed on to tenants has actually been around $25). Santa Monica and West Hollywood have decided to bar owners from passing on retrofit costs to tenants.
But doing nothing may not help tenants. "Not addressing this and figuring out how to make sure we're preserving safe and affordable housing, and prevent displacement, is a losing proposition," said Larry Gross, executive director of the Coalition for Economic Survival.
Some cities are offering some sweeteners for owners. Oakland's law allows owners to add one or two more units to an apartment building, above the current density cap. Oakland and Berkeley have also received funding from the Federal Emergency Management Agency and the California Governor's Office of Emergency Services to help offset retrofit costs.
Experts warn that the economy of California is threatened unless more is done to keep buildings up right after a quake.
"The destruction of tens of thousands of units of housing after a big earthquake will bring on a housing crisis unlike anything we've ever seen," Garcetti said. "This is the rainy day. Spend it now before something bad happens."
The stories shaping California
Get up to speed with our Essential California newsletter, sent six days a week.
You may occasionally receive promotional content from the Los Angeles Times.