State not backing down after judge rules sanctuary law doesn't apply in charter cities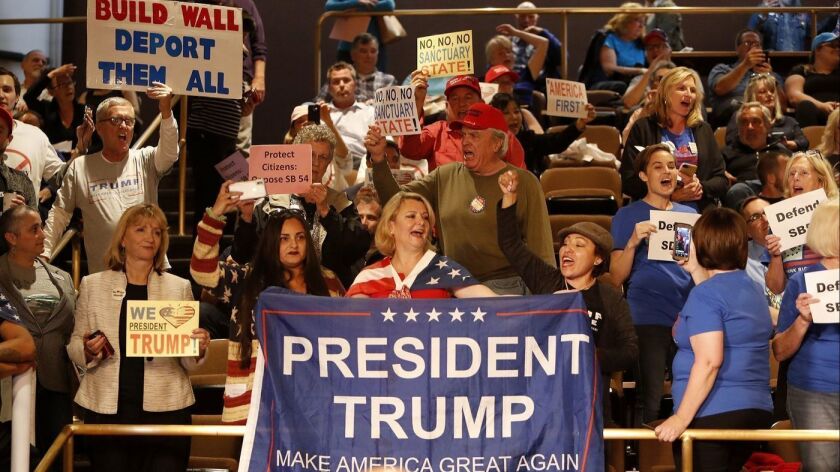 Despite an Orange County judge's ruling this week that California's so-called sanctuary protections for immigrants who are in the country illegally are unconstitutional as they apply to charter cities, state Atty. Gen. Xavier Becerra said Friday that the state would continue to uphold its laws.
"Preserving the safety and constitutional rights of all our people is a statewide imperative which cannot be undermined by contrary local rules," Becerra said in a statement. "We will continue working to ensure that our values and laws like the California Values Act are upheld throughout our state."
Jennifer Molina, press secretary for the attorney general's office, declined to comment on the likelihood of an appeal.
Huntington Beach on Thursday became the first city to successfully challenge the California Values Act, also known as Senate Bill 54, after Orange County Superior Court Judge James Crandall affirmed that the law violates its local control as a charter city — one governed by a charter adopted by local voters.
Huntington Beach City Atty. Michael Gates said the ruling makes California's 121 charter cities — which include Los Angeles, San Diego, Sacramento, San Jose and San Francisco — exempt from SB 54, authored by then-Senate leader Kevin de León (D-Los Angeles). The law in many cases prohibits state and local police agencies from notifying federal officials about the impending release of immigrants in custody who may be deported.
"This is a significant victory for the rule of law, the [California] Constitution, the city's charter authority and other charter cities," Gates said in a statement Friday. "We will continue to hold Sacramento accountable for unconstitutional state law overreaches. The city of Huntington Beach will not allow Sacramento to violate its constitutionally protected rights."
Huntington Beach joined a wave of Orange County opposition to SB 54 that started in March when the City Council in Los Alamitos — another charter city — passed an ordinance to opt out of the law. Since then, the Orange County Board of Supervisors has voted to join a federal lawsuit against the measure, the Costa Mesa City Council has adopted a resolution opposing the law and the city of Fountain Valley has signed on to a law group's brief supporting the federal case.
The Newport Beach City Council also passed a resolution opposing SB 54 and authorized filing a legal brief supporting the federal lawsuit. Newport Beach, which also is a charter city, hasn't filed such a brief, but City Atty. Aaron Harp said Friday that it still intends to.
Orange County's other charter cities are Anaheim, Buena Park, Cypress, Irvine, Santa Ana and Seal Beach, according to the League of California Cities.
Crandall said Thursday that "the operation of a police department and its jail is a city affair. For the state to say one size fits all for policing isn't going to fit everybody."
California Deputy Atty. Gen. Jonathan Eisenberg contended that municipalities can exercise other forms of autonomy, saying there is an "important need" for a uniform public safety law.
Rep. Dana Rohrabacher (R-Costa Mesa), whose 48th Congressional District includes Huntington Beach and parts of Fountain Valley, Costa Mesa, Newport Beach and Laguna Beach, issued a statement Friday commending Huntington Beach for its victory.
"This court case was a huge setback for supporters of sanctuary policies," said Rohrabacher, who urged various city governments to challenge the mandate. "This law was forced down the throats of Californians and dramatically undermined their safety and security. If cities and counties want to cooperate with ICE or other federal law enforcement, they have a right to do so, and I support the judge's decision."
Vega writes for Times Community News. Times staff writer Hillary Davis contributed to this report.
---
UPDATES:
2:45 p.m.: This article has been updated with comments from California Atty. Gen. Xavier Becerra and other details.
This article originally published at 11:50 a.m.
---
The stories shaping California
Get up to speed with our Essential California newsletter, sent six days a week.
You may occasionally receive promotional content from the Los Angeles Times.