Classroom desk replaced by IKEA couches, beanbags and rocking chairs. Will it help students learn?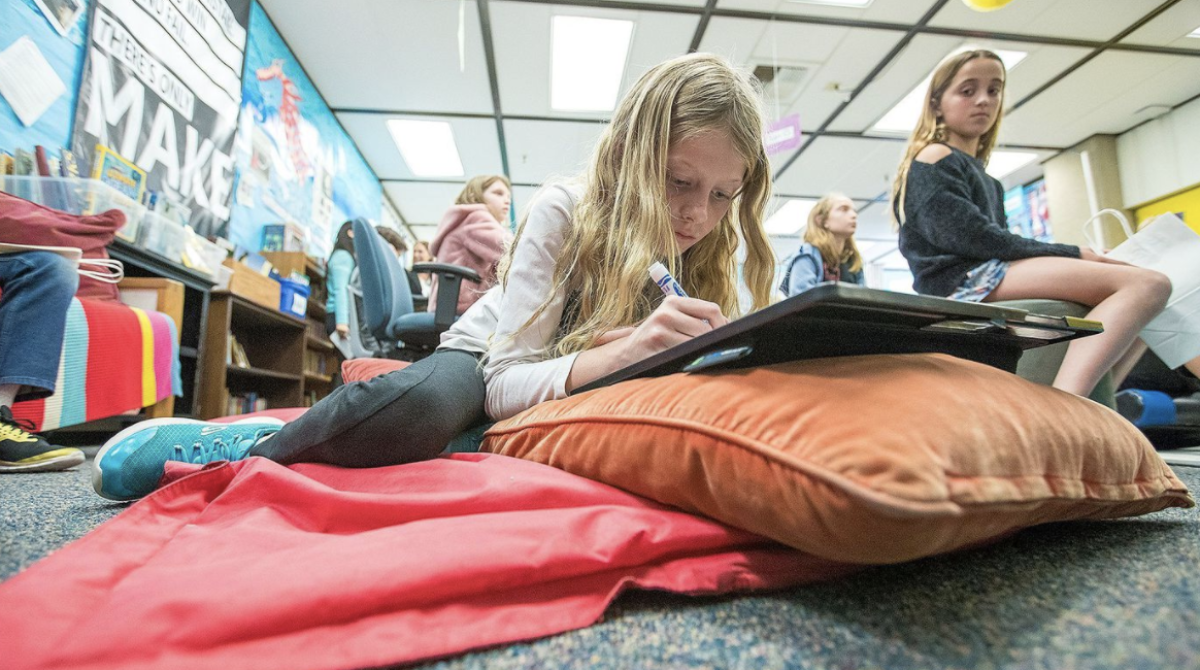 Anderson Elementary School teacher Alexandria Gladstone-Lamas wants her classroom to be more like a Google office.
Gone are traditional desks and chairs — they were moved to a separate room at the Newport Beach school. In their place is IKEA furniture such as high and low tables. Two couches are placed on opposite ends of the room. Bean bags, rocking chairs, squishy yacht buoys and padded blankets are scattered on the carpet near the front.
Students can choose where they'd like to start their day and rotate after recess and lunch. A few students have requested assigned seats because it helps them focus better, but they're still free to move around.
Gladstone-Lamas, who has taught in the Newport-Mesa Unified School District for 21 years, explained the new seating arrangements to her fourth-graders at the beginning of the academic year. She told them she was taking a "big risk" in the transition.
Google, Gladstone-Lamas tells her students, cares that employees do their work. It doesn't care if they need to take a break or lounge around sometimes.
"Flexible seating would offer them choices," Gladstone-Lamas said. "I didn't care about their body language so long as they could get their work done."
This week in Gladstone-Lamas' class, Emily Engel, 9, sat on a black yacht buoy as she balanced a Chromebook on her knees while working on her Accelerated Reader report.
"This is better than sitting in a plastic chair. It's uncomfortable and hard. I think every classroom should do this," Emily said.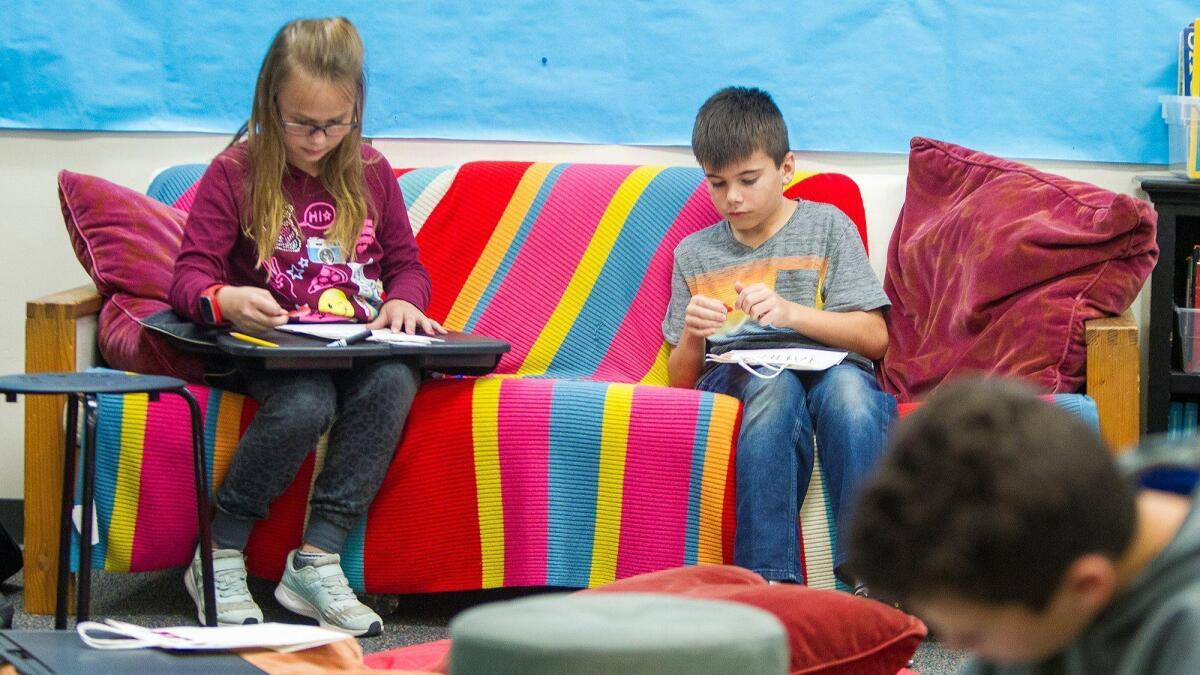 Some of her peers were sprawled on a padded blanket or a nearby couch. Others near the back stood on dome-shaped balance trainers while working at a high table.
Grayson Seery, 9, sat in a gray, plush rolling chair. He worked on a Valentine's Day project at a low table with two other students.
"I don't miss sitting at a regular desk," Grayson said. "This is amazing. I like working at this giant table. I have never seen a class do this before."
Since the transition, Gladstone-Lamas said she's noticed increased student participation, improved behavior, less restlessness and more desire to be in class.
"Kids never want to leave the classroom; they want to be there," she said. "With desks, you lose kids to the bathroom all the time. … I can go through a [sign-out sheet] in three days. That has been amazing."
Gladstone-Lamas said she was inspired to try flexible seating in her classroom a few years ago after using a yoga ball instead of a desk chair. In years past she's welcomed students to bring their own, and they did, but it became difficult to move around the room.
She placed a cubby organizer near the back of the classroom where students pick up exams and homework assignments.
Principal Shannon Bray said Gladstone-Lamas is the "pilot teacher" for flexible seating at Anderson. Other classrooms offer some forms of alternative seating, Bray said, but it's a change teachers have to embrace on their own.
"It's a big undertaking for teachers to move desks and chairs," Bray said. "Kids need to be comfortable to learn, and we're doing what's best for our kids."
At least one teacher at all Newport-Mesa elementary schools is doing some form of flexible seating, said district spokeswoman Annette Franco.
Vega writes for the Daily Pilot.
---
The stories shaping California
Get up to speed with our Essential California newsletter, sent six days a week.
You may occasionally receive promotional content from the Los Angeles Times.