Man arrested in L.A. in fatal 'swatting' hoax in Wichita, Kan., has been accused of making false threats before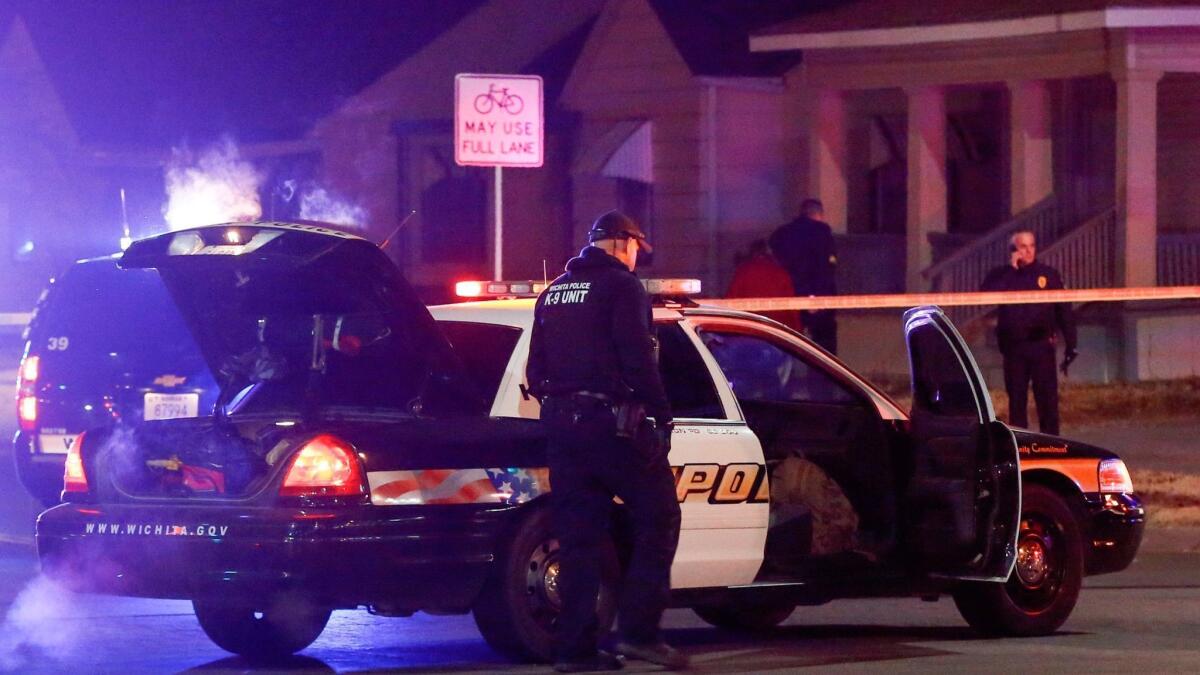 Two years ago, Tyler Barriss called in multiple bomb threats to the Glendale offices of KABC-TV Channel 7, prompting a mass evacuation.
Barriss was charged and eventually convicted in connection with the hoax, one of several high-profile incidents at the time that focused attention on the act of crank-calling known as "swatting."
Now, Barriss, 25, is accused of a much more serious hoax. He was arrested in South Los Angeles on Friday for his suspected role in a deadly prank in Kansas, police said.
Barriss allegedly made a hoax call that resulted in the police shooting of Andrew Finch, according to police and family members of the victim. Finch, 28, was killed after officers descended outside his Wichita house after getting a 911 call about a shooting at the residence on Thursday night.
The term "swatting" refers to the police response typically generated by such calls, with officers deploying SWAT teams to an address. Pranksters typically claim that an armed intruder is inside the home.
The FBI estimates that roughly 400 cases of swatting occur annually, with some using caller ID spoofing to disguise their number. Swatting cases that result in the death of a victim are less common, however.
An FBI supervisor in the Kansas City, Mo., office, which covers all of Kansas, said the agency joined in the investigation in Wichita at the request of local police.
Wichita Deputy Police Chief Troy Livingston said a prankster called to report a shooting and kidnapping. Police have not disclosed the name of the man who was killed Thursday evening, but relatives identified him as Finch.
Police played audio of the 911 call for reporters. A man said his father had been shot in the head. He said he was holding his mother and a sibling at gunpoint. The caller, speaking with relative calm, said he poured gasoline inside the home "and I might just set it on fire."
Several officers arrived and surrounded the home, bracing for a hostage situation. When Finch went to the door, police told him to put his hands up and move slowly.
But Livingston said the man moved a hand toward the area of his waistband. An officer, fearing the man was reaching for a gun, fired a single shot. Finch died later at a local hospital. Livingston said Finch was unarmed.
LAPD Officer Mike Lopez said Barriss was arrested Friday afternoon on a fugitive warrant. He is being held in Los Angeles County Jail without bail, Lopez said.
Dexerto, an online news service focused on the video game world, reported that the fatal series of events began with an online argument over a $1 or $2 wager over a "Call of Duty" game in an online tournament operated by UMG Gaming. Lisa Finch, Finch's mother, told reporters her son was not a gamer.
"We woke this morning to horrible news about an innocent man losing his life," UMG spokeswoman Shannon Gerritzen said in an email to the Associated Press. "Our hearts go out to his loved ones. We are doing everything we can to assist the authorities in this matter."
The Finch family on Friday allowed reporters inside their home.
"What gives the cops the right to open fire?" Lisa Finch asked. "That cop murdered my son over a false report in the first place."
Lisa Finch said the family was forced outside barefoot in the freezing cold and handcuffed after the shooting. She said her granddaughter was forced to step over her dying uncle and that no guns were found in the home.
Barriss' alleged bomb threats to KABC-TV in 2015 triggered a large police response. Prosecutors said Barriss also allegedly threatened a relative to prevent her from reporting the threats.
Barriss was convicted of two counts related to making a false bomb report and sentenced to two years and eight months in jail. It's unclear how much time he served in the case.
Court records show other convictions against Barriss, including a violation of a protective order.
A rash of swatting incidents in 2013 targeting Los Angeles-area celebrities prompted police to stop publicizing the cases. The police believed that media coverage fueled more swatting incidents. The Los Angeles City Council also voted that year to offer reward money for information leading to the arrest of suspected swatters.
The Associated Press contributed to this report.
Sign up for Essential California for news, features and recommendations from the L.A. Times and beyond in your inbox six days a week.
You may occasionally receive promotional content from the Los Angeles Times.