Convicted former No. 2 in Sheriff's Department shouldn't remain free during appeal, judge says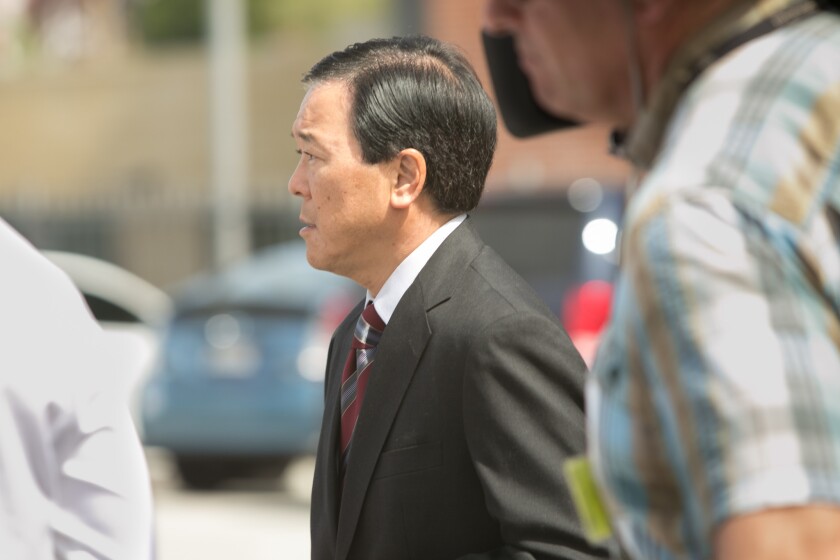 A federal judge Wednesday ruled that former Los Angeles County Undersheriff Paul Tanaka should not remain out of prison while he appeals his conviction on obstruction of justice charges.
Because Tanaka's attorneys will now appeal the judge's decision, plans that called for Tanaka, 58, to begin serving his five-year sentence next week will be postponed.
U.S. District Judge Percy Anderson, who presided over Tanaka's trial in April, rejected claims by Tanaka's attorneys that the 9th Circuit Court of Appeals is likely to overturn the conviction because of several mistakes during the original trial.
Those mistakes, the attorneys argued, included an improper instruction Anderson gave to the jury and his decision to allow prosecutors to question Tanaka about his involvement in a controversial clique of deputies.
Anderson ruled Tanaka was not likely to prevail on any of the issues raised by his attorneys.
A jury found that Tanaka, once the second in command in the Sheriff's Department, played a leading role in a 2011 scheme by sheriff's officials to interfere with an FBI investigation into widespread inmate abuse by deputies in county jails.
H. Dean Steward, one of Tanaka's attorneys, told Anderson he planned to file papers next week with the 9th Circuit, asking it to take up the question of whether Tanaka can remain free pending his appeal, which will probably last many months.
As soon as Steward does so, the Oct. 7 deadline Anderson set for Tanaka to turn himself in to prison officials will be set aside until the appeals court decides on allowing Tanaka to stay out of prison.
Follow @joelrubin on Twitter
ALSO
LAPD looking for man seen in video punching out woman in Venice Beach market
LAPD shoot man who escaped from police custody during medical visit at USC hospital
El Cajon police say black man was holding vape smoking device in hand when officers fatally shot him
---
The stories shaping California
Get up to speed with our Essential California newsletter, sent six days a week.
You may occasionally receive promotional content from the Los Angeles Times.