At UCLA, a dorm floor dedicated to first-generation students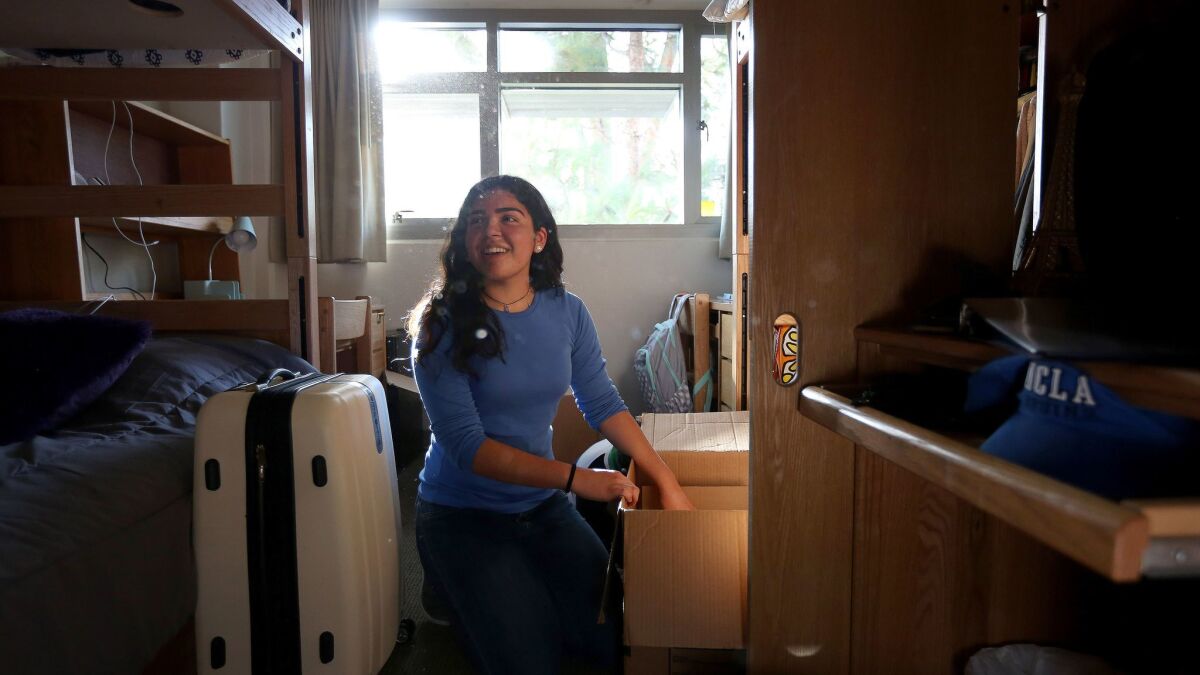 Desiree Felix didn't make her way to UCLA with the help of helicopter parents who hired tutors, hounded teachers or edited her application essays.
Her father is a handyman with a sixth-grade education. Her mother finished high school and helps manage apartments.
At Kennedy High School in Granada Hills, Felix had to figure out most of the nuts and bolts of preparing for and applying to colleges on her own. She didn't know anything about Advanced Placement classes until her sophomore year, and she came close to missing UC's application deadline.
In her freshman year, Felix has chosen to live on a newly created dorm floor just for students like her who are the first in their families to attend college.
"I wanted to be around people who understood and shared my experiences so I could connect with them," she said on move-in day as she unpacked her bags and arranged her new desk.
The dedicated dorm floor is UCLA's latest effort to support its first-generation students, who make up 32% of undergraduates — a strikingly high number for an elite university.
The average for other selective public institutions is 27%, and for private institutions it's 18%, according to UC data.
In the UC system as a whole, the first-generation share of the undergraduate population rises higher still, to 42%.
All the UC campuses are trying to boost support in a concerted systemwide effort that includes a new website and mentoring by more than 900 first-generation faculty members.
But it was a UCLA student who came up with the idea for the first-generation dorm floor, which houses 96. Violet Salazar, a senior in human biology and society, hopes to become a doctor. With the dorm floor, she said, she wanted to help others avoid the pitfalls she initially encountered.
Salazar had soared through Diamond Ranch High School with a 4.8 grade-point average, but no one told her to apply to Ivy League schools. Her mother, a single parent without a college degree, gave her encouragement but no academic guidance.
In her freshman year at UCLA, she took too many science classes and ended up with a C-plus in chemistry — the first time she had ever received less than an A in any class but PE. She was intimidated by professors and scared to seek their help. She didn't know about tutoring or study groups.
She was also, she said, uncomfortable in her dorm, surrounded by people far more privileged, whose parents were doctors and lawyers. She would hear them talk about fancy weekend getaways and feel isolated and inferior.
"I couldn't relate to them," Salazar said. "I felt it was their space, not mine."
So she set about creating an alternative. She proposed the idea for a dedicated floor during her junior year, when she became a resident assistant in the dorms. When UCLA housing officials embraced it, she felt so overwhelmed, she cried.
On move-in day, Salazar and other first-generation campus advocates were out in full force.
They included Symone Morales, who last year helped launch UCLA's "First to Go" program, which held social events, "etiquette dinners" where students could learn formal table manners, and workshops on job interviews, internships and resume-writing. This year's events will include a tailgate party, study-abroad fair and personal finance workshop.
"The biggest thing is finding community," Morales said.
First-generation students and their families heading to the dedicated dorm floor were treated to a reception with sandwiches and "First to Go" swag: pennants, bracelets and fans. Upstairs, the dorm floor's bulletin boards were filled with affirmations. "I am first to go and I will not let my circumstances define me," one said.
Tiana Coles set up her room with a new comforter and oversized stuffed bear from her boyfriend. She decorated her desk area with a UCLA pennant, pompoms and a #1 foam finger. She was nervous, she said, but excited to make friends with others with similar backgrounds. "We'll be going through this together," she said.
In his new dorm room, Mario Martinez had laid out a cherished stack of baseball caps. Martinez is the the son of Honduran immigrants. His parents' educations stopped at elementary school. He is gay, and said he could have lived on dorm floors with Chicano or LGBQT students. But he chose the company of others like him who had come to UCLA on little more than their own resources.
His father, a house painter, and his mother, a housekeeper, pushed him to go to college. But he had to figure out how to do it himself, he said, down to paying college bills and filling out federal financial aid forms.
"I hate how people focus on negative stuff when it comes to first-gen students," he said. "The stuff I learned from my disadvantages will help me more in the real world."
ALSO
L.A. Unified students toss out $100,000 in food a day. A new state law could donate it to food banks
California's students stagnate on standardized tests — but the lowest scorers are improving
Music teacher suspected of contaminating flutes with semen, roiling Southern California school districts
---
The stories shaping California
Get up to speed with our Essential California newsletter, sent six days a week.
You may occasionally receive promotional content from the Los Angeles Times.