Voting registration drive makes inroads in unexpected territory: county jails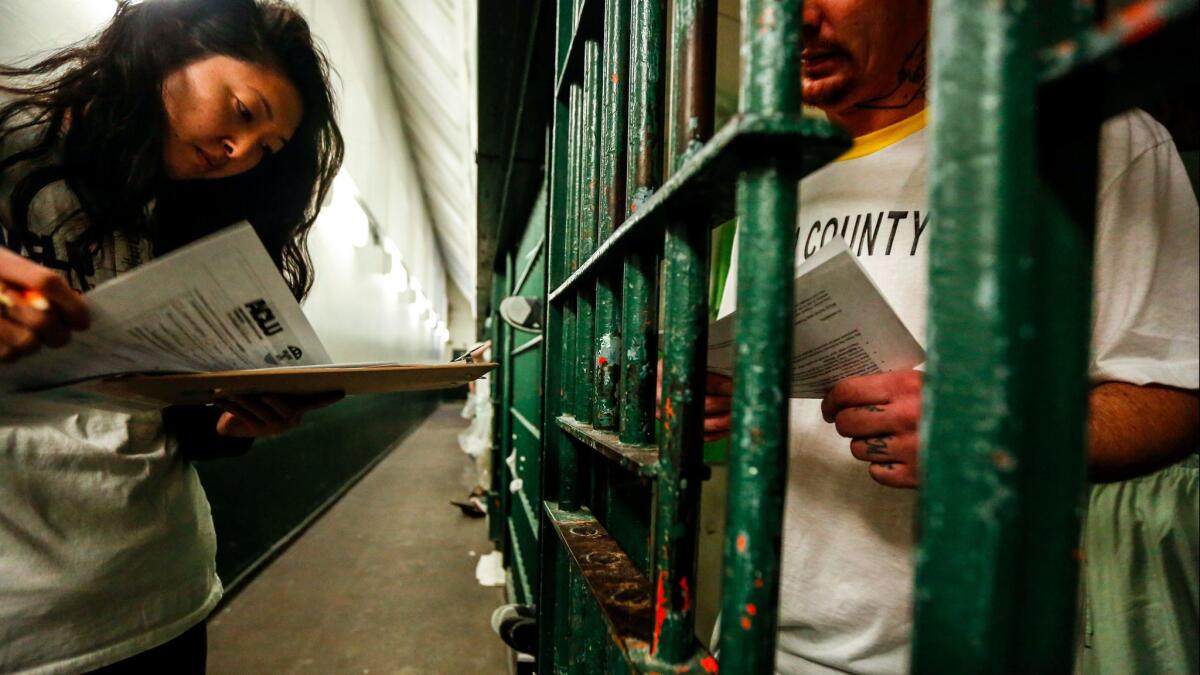 Several men in green "L.A. County Jail" jumpsuits stood behind bars and listened to Esther Lim speak about this year's elections.
"How many here didn't know they could vote?" Lim asked them. Some men came out of their cells or turned around as Lim explained their voting rights.
Later, in the day room of the Men's Central Jail downtown, a line of inmates eager to register had formed.
In one of the largest efforts aimed at registering eligible incarcerated individuals in Southern California, dozens of volunteers this month are going inside jails in Los Angeles and Orange counties as part of the American Civil Liberties Union's "Unlock the Vote" campaign to educate inmates about their rights.
In California, individuals awaiting trial, in jail for misdemeanors or probation violations or serving a county jail sentence for a low-level offense are eligible to vote. Those in state or federal prison or found to be mentally incompetent are ineligible.
The goal is to have thousands of inmates registered for the June 5 primary and Nov. 6 general elections. The last day to register for the primary is May 21 and for the general election is Oct. 22. Besides local bond measures and initiatives, races include that for L.A. County sheriff, with contenders seeking to unseat incumbent Jim McDonnell.
"You have a say in how that happens," Lim, who directs the jails project for the ACLU of Southern California, told the men.
After decades of laws that advanced felony disenfranchisement, many states— California, Colorado, Connecticut and New York — have begun to lift some restrictions.
Locally, the ACLU, politicians and community organizations are fighting the misconception that incarcerated Californians, who are disproportionately African American and Latino, are locked out of the voting process.
"[We're] opening up those avenues of education and engagement so they do participate and do share their voice," Lim said at a recent training session for volunteers.
The Los Angeles County Board of Supervisors this month approved a countywide initiative to promote voter education and registration for current and former offenders.
"No one should be denied their constitutional rights," Supervisor Mark Ridley-Thomas, who co-authored the plan. "I think voter registration efforts in the jails ought to be viewed as a significant piece to anti-recidivism and reentry."
Tim Kornegay shook hands with Ridley-Thomas after the motion passed. In 1995, Kornegay, 55, was sentenced to 27 years in prison for receiving stolen goods. While locked up, Kornegay said he "started seeing the impact of how not being knowledgeable" harmed him.
"I did my transformation into a better man in there, so when I came out I could be ready to serve," he said.
Since his release in 2015, Kornegay has been involved with L.A. Voice, a faith-based community organization, as a voter engagement organizer.
"Voting for us is critically important," Kornegay said.
"The day I got off probation, I registered to vote," said Tiffany Johnson, associate director and community organizer for A New Way of Life Reentry Project.
Registering herself and others to vote "made me feel for the first time in my life that I wanted to be a part of that process," said Johnson, who served 16 years for a second-degree murder conviction before her release in 2010.
The current L.A. County jail population is nearly 17,500 inmates, sheriff's officials said. According to Jeff Klein, manager of voter education and outreach the Los Angeles County registrar's office, more than 600 jail inmates registered to vote in 2016.
During the February drive so far, Lim said, 338 inmates from Men's Central Jail and Century Regional Detention Facility, the women's jail in Lynwood, have registered.
Many inmates listed their home address or an address on the outside on their application. Others were already registered to vote before their incarceration.
Voter registration in the jails gained momentum in 2016 after passage of Assembly Bill 2466, which clarified voting eligibility.
Assemblyman Matthew Harper (R-Huntington Beach) opposed the measure and granting voting rights to inmates altogether, calling the efforts "a very specific political drive" so Democrats can stifle any political change in California.
"It dilutes the vote of the law-abiding citizen," Harper said.
Assemblyman Jim Patterson (R-Fresno) said these efforts send the signal that "the consequences of a felony are being removed."
"Do your time and pay your debt, thoroughly," Patterson said. "Show a change of heart, a change of life for a substantial time," and then rights can be restored, he said.
During the recent registration at Men's Central Jail, inmates sat two at a time at silver octagon tables, under the watchful eye of sheriff's deputies.
Volunteers helped applicants complete voter registration forms and vote-by-mail-ballot applications. For their mailing address, applicants can use that of the jail or one outside. Homeless inmates are able to use cross streets of locations where they live.
Inmates lifted their hands to show the booking number on their white wristbands. The booking number is necessary so that if an inmate transfers to another facility, his ballot can still be mailed to him.
The voting process in jail is "very secure," Los Angeles sheriff's Sgt. Kevin Unland said.
Deputies receive a ballot box from the registrar's office and begin handing out ballots a day or two ahead of the election. Ballots are delivered to the registered inmates in their housing quarters, placed in a sealed envelope, and then handed back to the deputies. The deputies place the sealed votes in the ballot box, which is sent back to the registrar's office.
"It's a very interesting partnership, with two government entities working with the community to try and engage" with inmates, Lim said at the training session.
Deputies didn't interact during the application process but monitored the door as inmates entered and left the day room.
"I got the sticker. I'm a registered voter now," one inmate said, placing his Unlock the Vote sticker on his chest.
In all, volunteers helped to register more than 50 individuals.
Elizabeth Garcia-Bynum said three of the initial four inmates she helped were registering for the first time.
"Eleven for my first day is pretty good," she said.
michael.livingston@latimes.com
Twitter: @mikelive06
Sign up for Essential California for news, features and recommendations from the L.A. Times and beyond in your inbox six days a week.
You may occasionally receive promotional content from the Los Angeles Times.