Man killed by police in shooting caught on video was a homeless Navy veteran, mother says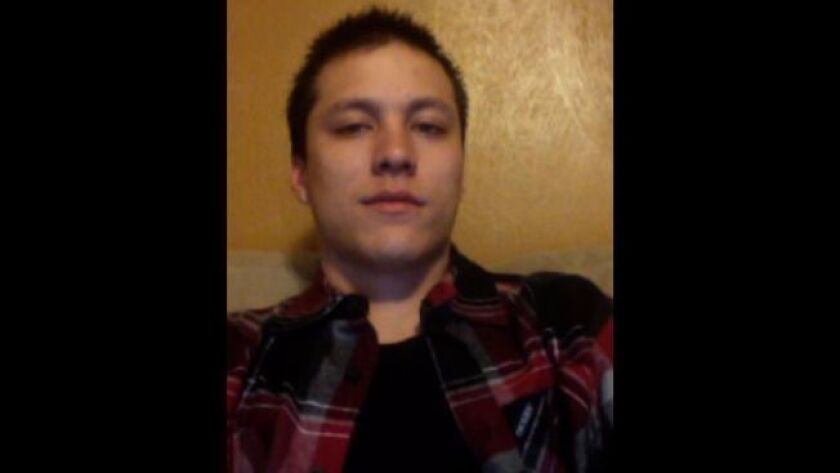 Tiffany Tabares isn't sure what to do, so she sits quietly outside the 7-Eleven store where her 27-year-old son was fatally shot Friday morning during a confrontation with a Huntington Beach police officer.
On Friday night, she slept on the sidewalk. She's left a few times, she said, but always found her way back to the spot where her second-youngest son, Dillan Tabares, was mortally wounded.
She knows that eventually she'll have to go about the business of picking a headstone and finding a place to bury her son. But on Monday, she again assumed her post on a blue yoga mat next to dozens of candles, bouquets of flowers and a large photo of her son that had been placed on the sidewalk outside the store at 6012 Edinger Ave. The photo shows the Navy veteran on a naval ship gazing at an ocean sunset.
"My life is just surreal right now," Tabares said. "I still don't know what to do with myself."
The sidewalk memorial, which began Friday afternoon with a few flowers and candles placed by passersby, has grown steadily.
A window that was pierced by a bullet during the confrontation has been boarded up, but shards of glass occasionally become dislodged, clanking against the metal window frame.
Every piece of glass that falls provides a jarring reminder for Tabares of the way her son was killed. She winces, but she doesn't leave.
The situation unfolded about 9:30 a.m. Friday when an officer contacted Dillan Tabares outside the store. That led to an altercation and ultimately the shooting, police said. The officer was not on a dispatched call and it isn't clear why he approached Tabares.
The deadly confrontation was captured on video by multiple bystanders.
A new 96-second video that surfaced over the weekend provides a longer view than earlier ones of the altercation that preceded the shooting. The video, taken from a parked car and later posted on social media, shows Tabares walking toward the officer, who appeared to have drawn a weapon — which police said was a Taser stun gun. The officer backed away, but Tabares continued approaching him and threw at least one punch.
The officer, whose name has not been released, grabbed Tabares in a headlock and both fell to the ground and continued to scuffle next to a parked car, the video shows.
Police Chief Robert Handy told reporters at the scene Friday evening that the man wouldn't obey any of the officer's commands. As the encounter escalated and became violent, the officer used his Taser, but it wasn't effective, Handy said.
Another video shot at a different angle shows Tabares pulling an item off the officer's utility belt. It's not clear what he grabbed.
Videos show six shots being fired, causing Tabares to convulse and stumble. After a seventh shot, he collapsed on his side against the store.
Tabares was taken to UCI Medical Center in Orange, where he was pronounced dead at 10:13 a.m., according to the Orange County coroner's office.
Fry works for Times Community News.
ALSO
Should video from LAPD body cameras be made public? When? By whom? Police Commission resumes debate
500 homes evacuated overnight as wildfire in Santa Ana Mountains grows to 2,500 acres
Security increases at San Diego site where prototypes for Trump's border wall to be constructed
---
The stories shaping California
Get up to speed with our Essential California newsletter, sent six days a week.
You may occasionally receive promotional content from the Los Angeles Times.