In Vietnam, news of a comedian's arrest in O.C. on molestation charges is being closely watched
The media scrum gathered outside the West Justice Center in Westminster, paparazzi-style, and fans of the Vietnamese comedian filled the courtroom.
In court last week, Minh Quang Hong stood in an orange jail jumpsuit, staring ahead as his lawyer moved her body to shield him from the public glare.
Prosecutors say Hong went to Huntington Beach on March 20 to meet with a group of dancers at a talent show, letting them know he would be recruiting for an upcoming video project. The alleged incident leading to his arrest occurred three days later at an audition, according to authorities.
Hong, who was arrested March 24, is charged with meeting with a minor under age 14 with intent to engage in lewd conduct and oral copulation of a minor.
The case of the performer who goes by the stage name "Minh Beo," or "Fat Minh," provided a classic example of the parallel celebrity found in Southern California's many immigrant communities.
Though most people who are not of Vietnamese descent wouldn't know him, Hong's star is such that his legal predicament is gaining considerable attention.
"The Vietnamese in the homeland want to see how U.S. law will judge a person from Vietnam," said John Dinh Xuan Thai, program director for Little Saigon TV. "In Vietnam, a man with money can flee. He can just get away with it. So people tune in and they're asking: 'What is fairness?'"
In that way, the case of the People vs. Minh Quang Hong, 38, followed obsessively by Vietnamese-language media, offers a peek into the gears of American criminal justice.
At Hong's arraignment in mid-April, Orange County Dist. Atty. Tony Rackauckas asked that bail be set at $1 million, arguing that Hong was a flight risk.
Superior Court Judge Craig Robison approved the bail amount, ignoring protests from Phu Do Nguyen, Hong's lawyer at the time, who said his client had agreed to surrender his passport and wear an electronic ankle bracelet.
Hong is expected back in court July 28 for a pretrial conference.
Thien Thanh Nguyen, Hong's uncle, said the case has "been like a soap opera. It's the stuff you usually see on television."
He said Hong is not used to American food and spends his days eating ramen, reciting Buddhist prayers from a cell at Theo Lacy Jail in Orange. Nguyen said a fellow Vietnamese inmate who is accused of murder helps him communicate with those around him.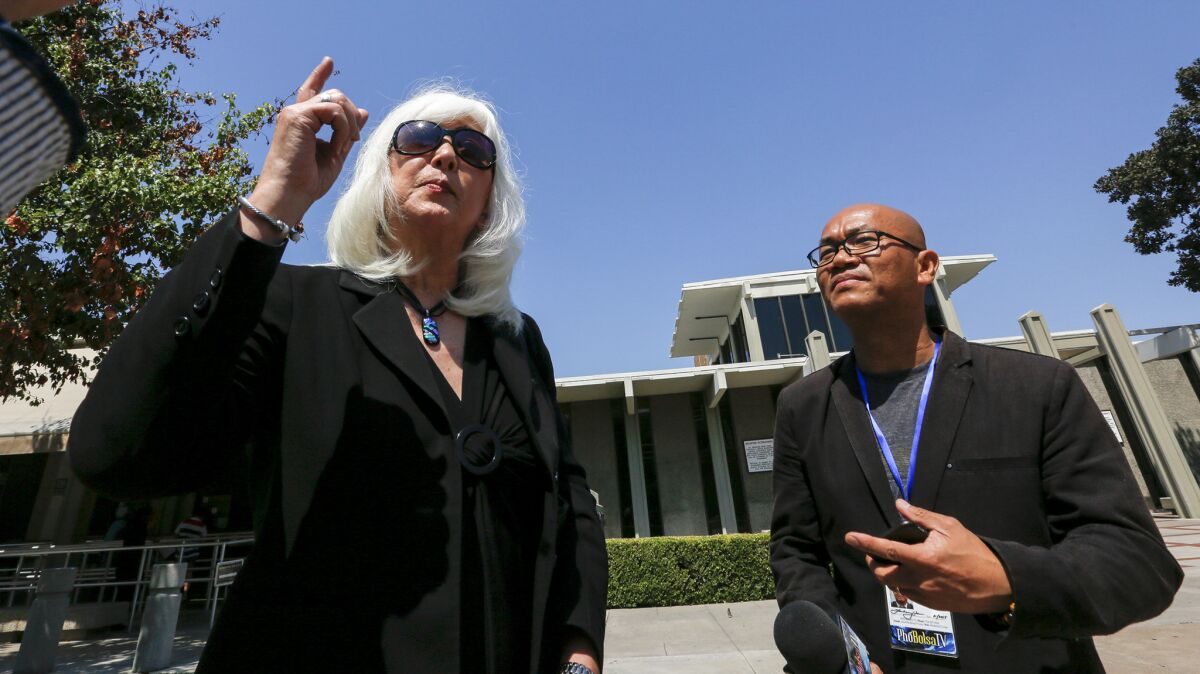 Despite the charges against Hong, many of his fans can't believe he could have committed such a serious crime. Some in Vietnam closely monitor the case and local groupies show up at the courthouse, trading gossip about the comedian's roster of lawyers and what they know and don't know.
Clarence Dung Taylor, owner of D & D Entertainment in Irvine, had booked Hong for a live casino gig in Mississippi. When he found out that Hong had been arrested, he rushed to find someone else.
"He's trapped, but because he's famous, people are hungry to know more," said Taylor, who didn't want to miss Hong's court appearance Wednesday.
Orange County was a stop on Hong's current U.S. tour and when he's in Southern California, he often stays with friends in Garden Grove.
Kevin Nguyen, who sold herbal medicine in Vietnam and who immigrated to Westminster seven years ago, said he supports Hong, who he describes as "having done good work, always helping the poor."
He said he did not think Hong was guilty, but acknowledged the seriousness of Hong's situation relative to if he was in Vietnam.
"Here the law involving sexual violations of minors is heavily enforced, which is why I want to come to court each time to see what will happen," Nguyen said.
Vietnam's criminal justice system lacks independence, and according to Human Rights Watch, Communist party officials hold a monopoly on political power, preventing challenges to its leadership in a country where citizens often are imprisoned without trial.
The reaction in Vietnam has been mixed.
"On the one hand, people say, 'If he can't learn his lesson in Vietnam, let America teach him a lesson.' Others say, 'We're all Vietnamese. Let's root for him,' " Hai Hong Nguyen, a writer from Saigon who follows the performer's career, said in a phone interview. Some wonder whether Hong will be deported.
Hong hosted a show called "Luc Lac Vang" or "Golden Rattle," where he sought out needy families in the countryside, giving farmers cows and an initial capital investment so they can start raising cattle. The feature airs Sundays on national TV, and as news intensified via Facebook and other social media feeds, producers were forced to edit out footage of the disgraced star and find another emcee.
"He will never recover from this, even if he's innocent," the writer said. "I doubt that any mother or father will be taking their child to any of his shows."
Hong also operates Sao Minh Beo, a theater under his name in Saigon's District 11, which according to Nguyen, remains nearly empty post-scandal.
Some tourists from Vietnam who managed to get a seat in the courtroom said they were impressed by how much more transparent the law is in the U.S.
Outside the courthouse, Lan Vu, founder of PhoBolsaTV, fired a series of questions at Hong's uncle. Vu said he has devoted many hours providing in-depth analysis of the case, broadcasting before and after each court date, from arrest to arraignment.
"I go where the action is," he said, knowing that media outlets far from California depend on him for updates. He turned his mic toward Hong's uncle, who slipped on gold-rimmed sunglasses before answering questions.
In his first few weeks in jail, Hong was "severely depressed," Thien Thanh Nguyen said. Then Nguyen brought him some Buddhist material to read. After skipping meals, Hong lost nearly 70 pounds, his uncle reported, while adding that the comedian wrote four skits from behind bars.
Nguyen said the Vietnamese government hired Yamamoto as his new defense attorney. The previous attorney had been critical of Vietnam's human rights record, he explained.
As Yamamoto, an Army veteran who served in Vietnam, stepped into the sunlight, reporters tried to get her to talk about the case. She refused to comment..
But on her way to grab a hot dog, before leaving, she waved to the press and paused to share sound bites about the Dodgers, Southern California weather and gun control.
"I love you all, but I completely deprive you of information," she said, then granted a request for a selfie. "Hey, he's the one you should be talking to," she pointed, as Christopher Darden, a prosecutor in the O.J. Simpson murder trial, strolled by.
---
Life is stressful. Our weekly mental wellness newsletter can help.
You may occasionally receive promotional content from the Los Angeles Times.