Waiter's alleged comments to Latino patrons touches a nerve for people of color
Waiter's alleged comments to Latino patrons touches a nerve for people of color
An incident at a Huntington Beach restaurant in which a waiter allegedly asked Latino patrons, "Can I see your proof of residency?" has touched a nerve.
For Latinos and other minorities, the exchanges feel familiar, a part of life for someone of color.
"It came out of left field. I was dumbfounded," said Diana Carrillo, who complained about the waiter's alleged comment to management at the upscale Saint Marc restaurant, which responded by firing the waiter.
She's even questioned herself when the incident happened last week. "Did I misinterpret something?" she said. "No. There is no room for misinterpretation."
She said the manager told her that the waiter had told him he had meant the comment as a "joke, but she doesn't buy it.
"He was not charismatic at all and very standoffish," Carrillo said.
She said the waiter approached the table without a smile.
"He didn't introduce himself or welcome us to the restaurant," Carrillo said. "He just asked us for proof of our residency, looked at our IDs and walked away."
She looked at the comments on social media that challenged her story, stating that the waiter was actually asking them if they were Huntington Beach residents.
"There is no way," she said. "That didn't happen. First of all, I didn't even know about the residency discount until someone posted about it on social media."
Although Carrillo said the restaurant incident was the most extreme form of racism she's ever experienced, she said she's had to contend with varying degrees of aggression for most of her life due to her ethnic background.
Most incidents are subtle, Carrillo explained.
"You walk into a place and people look at you and kind of judge you on your appearance, you skin color," she said. "You can just feel it."
Sometimes people make snide remarks when she and her family speak Spanish to each other in public.
"Illegals need to just stop jumping the border," a passer-by once said within earshot of her family a few years ago.
Carrillo said she knows these sorts of experiences have always happened to some degree. Still, she said she believes President Trump's rhetoric regarding illegal immigration has emboldened and even validated people to say inappropriate comments that they may not have voiced in the past.
"People feel they have the power to discriminate against others and judge them based off their appearances more so than before. It seems like there is a higher degree than ever before," Carrillo said.
She's tried to not let it bother her, most times just ignoring glances, eye-rolling or other gestures. She says she knows she may not experience these instances as much as darker-skinned friends because she's fairly light-skinned and speaks flawless English.
Carrillo's mother, for instance, has received the brunt of people questioning her American status.
Guillermina Carrillo , 52, came to the United States from Mexico more than 30 years ago. She's been a citizen for nearly two decades, juggling two jobs while raising her four daughters alone.
She works as a security guard at the Segerstrom Center for the Arts, where she's been employed for more than 20 years, and has a second job pressing clothing at a manufacturer for an upscale women's clothing brand. She works more than 12 hours a day, six days a week.
Carrillo cries when she recounted her mother's relentless efforts to perfect her English so she could get ahead at work. As a young girl, Diana Carrillo remembers her sisters and mothers visiting swap meets, scouring for books on English language instruction. Later, she'd call her daughters, asking them for help. She's recite certain words.
"Did I say that right?" she'd ask.
Just a few months ago, one of her mother's co-workers commented on her English.
"You've been here for over 30 years and your English is still broken," the colleague said.
Those sort of comments are hurtful, Diana Carrillo said.
"My mom has raised four girls by herself. She put herself through school and learned English and assimilated and contributed to society. But you still get people telling you don't belong here as much as you try to be part of society," she said. "You still kind are made to feel like you don't belong. It's just heartbreaking."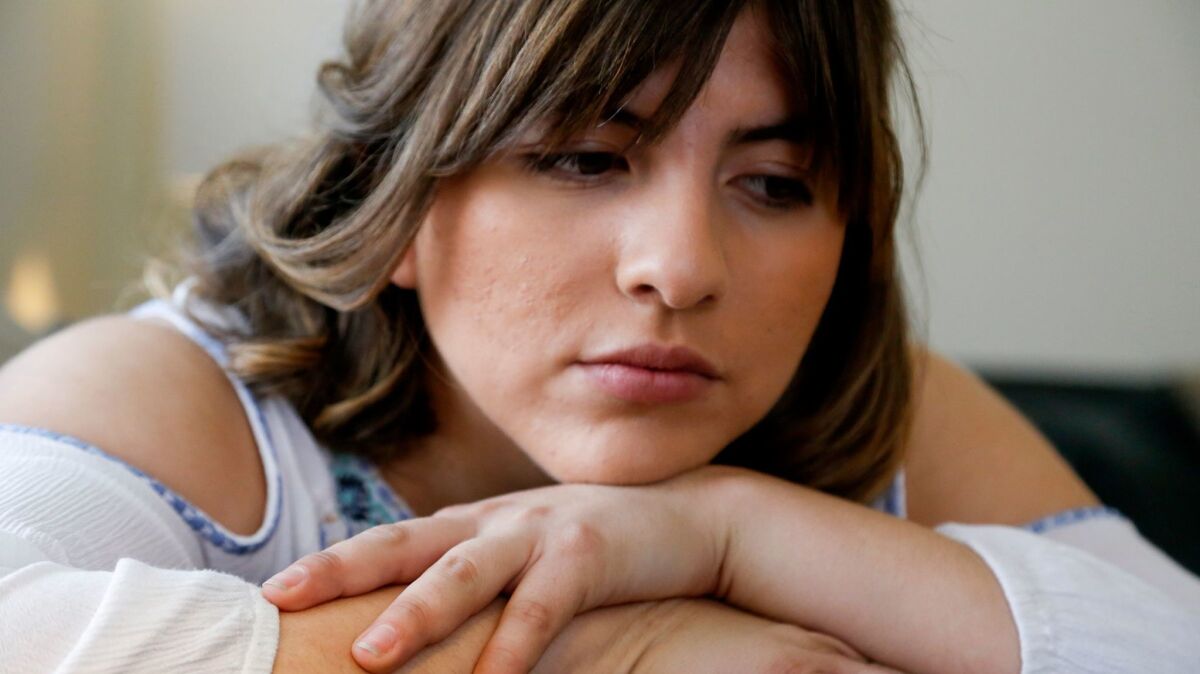 Patrons at Pacific City, where the eatery is a high-volume draw, shared mixed feelings about the viral incident.
"I think people need to take responsibility for their own actions. If you watch how you behave, and know that the way you behave is going to affect how people treat you, most likely you won't get in trouble," said Nancy Tolbert of Westminster, who's a regular at the oceanfront shopping complex, stopping by weekly for seafood and oysters.
The retired schoolteacher, 42, said she's curious to try Saint Marc, and as a Latina, knows "that I don't fit the blond beach stereotype of this area, but really, this is a comfortable environment. You don't need to follow societal norms. We are in California, after all. You can speak freely, regardless of your culture. This is an accepting place."
Jesse Acosta, 43, said changes in leadership in Washington filter down, and "there are a lot of hot-button issues popping up right now. If you're looking to get offended, you will be offended."
The corporate trainer from Westminster said what grabs his attention are the extremists. "There's a lot of times in life where people pull the race card — and it happens on both sides, people trying to exploit each other. Our country is in that phase now."
---
Life is stressful. Our weekly mental wellness newsletter can help.
You may occasionally receive promotional content from the Los Angeles Times.