Decomposing 22-ton whale washes up onshore again — this time in Encinitas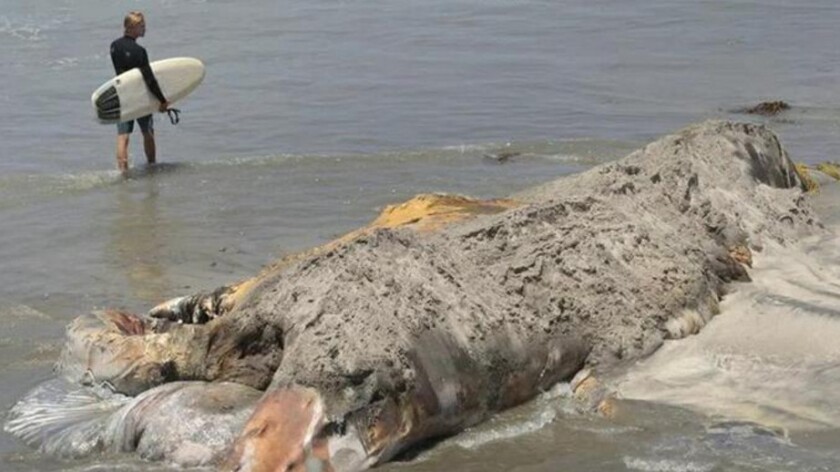 Wally, the dearly departed humpback whale, seems unwilling to leave the Southern California coast — even in death.
Efforts to push the carcass out to sea have been thwarted, with the remains emerging back on various beaches every few days.
Now, a whale carcass found on a San Diego County beach over the weekend is likely that of Wally.
A construction crew attempted Sunday to cut up and remove the decomposing whale from Grandview Beach in Encinitas, since lifeguards didn't have a boat big enough to haul it to sea. Work was halted when part of a forklift snapped off during the effort.
Encinitas Marine Safety Capt. Larry Giles said lifeguards covered it in sand to cut down the stench and that workers will try again Monday.
"You can smell it up to about a quarter-mile away," he said.
See the most-read stories in Local News this hour >>
Giles believes the dead animal is Wally, who in life was known on YouTube and in death has plagued Southern California beaches by repeatedly drifting toward shore.
"We're pretty sure of it because of the other agencies we've spoken to," Giles said. "Yeah, it's Wally."
The 22-ton, 45-foot-long carcass was first found on Dockweiler State Beach in Los Angeles County on June 30. Lifeguards tugged it back to the ocean, but it reappeared further south, twice being towed after floating close to Newport Beach and then again when it got too close to Dana Point and San Clemente.
Wally, a female about 15 years old, was regularly spotted in the water off Orange County in her later years. Though she was covered in whale lice, which usually signifies poor health, she was seen eating and breaching.
Last year, photographers who caught up with Wally off the coast of Newport Beach captured footage of the whale as she went to the surface. Water expelled from her blowhole caught the light just so, creating a rainbow. The footage was put on YouTube and has been viewed more than 1 million times.
Winkley writes for the San Diego Union-Tribune.
MORE LOCAL NEWS
Hundreds to attend vigil for UC Berkeley student killed in Nice terror attack
'Pokemon Go' adds new life to some L.A. neighborhoods by forcing players outside
How transparent will the LAPD be on releasing videos of police shootings, other controversial encounters?
---
UPDATES:
1:27 p.m.: This post was updated with additional information and reworked sections.
Originally posted at 8:30 a.m.
---
The stories shaping California
Get up to speed with our Essential California newsletter, sent six days a week.
You may occasionally receive promotional content from the Los Angeles Times.