From rebuilding to flood insurance, residents affected by the Woolsey fire vent and learn about aid at town hall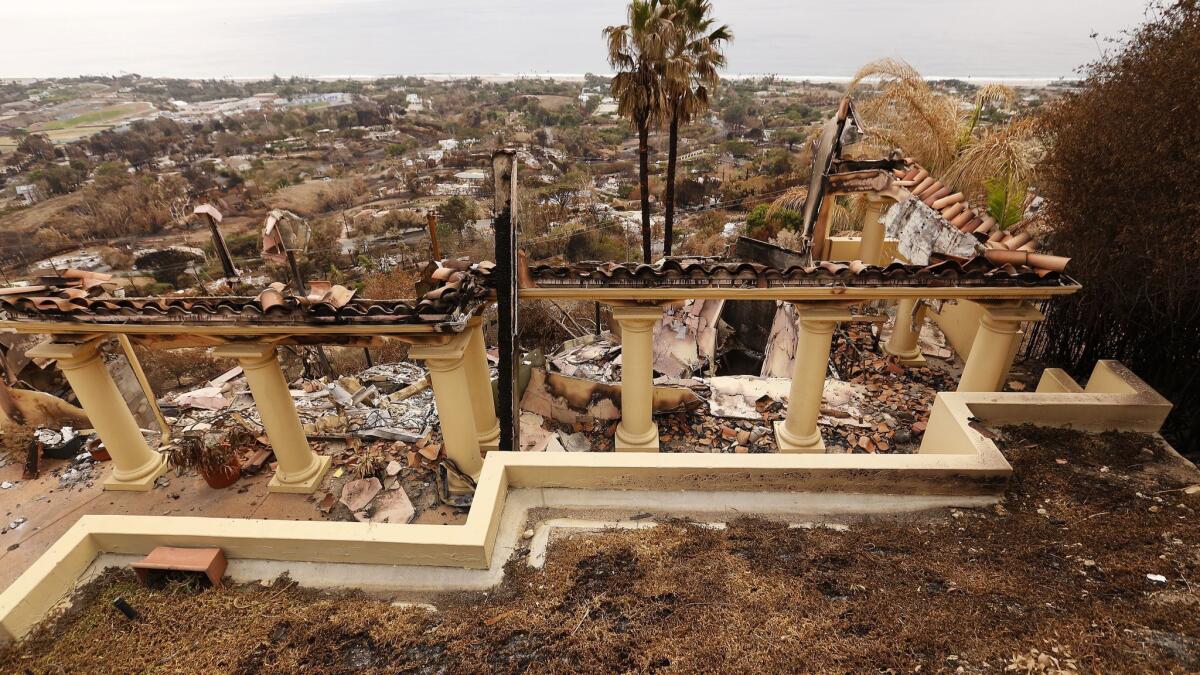 About 400 residents filled an auditorium at the King Gillette Ranch in Calabasas on Thursday evening to ask questions and, at some points, demand clear information about how they can start rebuilding their homes destroyed by the Woolsey fire.
The fire, which started Nov. 8 and is fully contained, was the most destructive blaze to burn through Ventura and Los Angeles counties in recent history, killing three people, burning almost 97,000 acres and destroying more than 1,600 structures.
Residents had questions about the hurdles to rebuilding, what aid is available and if there are any ongoing air quality issues during the cleanup. Officials attempted to answer the range of questions from an obviously frustrated crowd.
When attendees starting booing the Malibu city manager at the beginning of the Q&A portion, L.A. County Supervisor Sheila Kuehl — whose district includes a large portion of the affected areas — corralled the naysayers, asking them to keep their jeers to themselves or go outside and scream at the stars.
But Kuehl said she understood why so many in the audience were angry.
"There's been an enormous loss, and more than that, there's been an enormous trauma," she said. "And it's a very individual trauma, but it's also a community's trauma…. In times like this, the best rises to the top, in terms of what you do [and] how you act, and this forum is to try make the government do the same thing for you tonight and beyond."
Kuehl's office hosted the forum and will hold another one at 1 p.m. Sunday at Pepperdine University.
Kuehl introduced a motion at the Board of Supervisors meeting this week to create a working group to review the response to and recovery from the Woolsey fire. The review will include trying to understand how the fire started, how firefighting resources were deployed and how evacuations did — or didn't — work.
"That report's going to take a while, but we're very serious about it," she said.
Much attention was given Thursday night to Southern California Edison, including a question from the audience about why Edison was replacing burned power poles with more wooden poles.
No one from Edison came forward to answer, but Rudy Gonzales, government relations manager with the utility, said in an interview after the meeting that in areas of high fire risk, Edison is installing fire-resistant poles, including lightweight steel poles, as well as installing covered conductors with insulated wires that minimize the possibility of tree branches making contact with the lines and potentially causing in a fire.
On Malibu Canyon between the 101 Freeway and Pacific Coast Highway, he said, the company has replaced wooden poles with steel poles.
Officials told residents to prepare for flooding and mudslides, and encouraged them to take advantage of the free sandbags available at county fire departments.
"You need to be considering, first, flood insurance," Los Angeles County Public Works Director Mark Pestrella said. With heavy rains, "it definitely is a possibility that there will be debris in your neighborhood, in your yard and hopefully not up against the back of your house."
Planning officials are working to ease the permitting process necessary for rebuilding to begin.They explained that if residents build a similar home in the essentially the exact same spot as their old home, they will have fewer permits and planning issues to work through.
For this simplified permitting process, residents do not have to build on their existing foundation — as a portion of a house's foundation is often removed during cleanup — but instead, in the footprint of where their home once stood.
The Los Angeles County Fire Department is not easing any fire code restrictions for residents rebuilding, but Deputy Fire Chief John Todd, who oversees the prevention services bureau, said the agency would help residents mitigate challenges that would undoubtedly come up.
Residents with homes in unincorporated parts of Los Angeles County can go to the county district office at 26600 Agoura Road, Suite 110, in Calabasas, where several agencies are providing individualized recovery planning resources. That will help residents best determine how to proceed, Pestrella said.
"We are here to rebuild your community with you," he said.
PG&E highlights bullet-riddled equipment and downed tree branches near Camp fire in letter to state regulators »
Sign up for Essential California for news, features and recommendations from the L.A. Times and beyond in your inbox six days a week.
You may occasionally receive promotional content from the Los Angeles Times.