From the Archives: Jessica Tandy, Star of Stage, Screen and TV, Dies at 85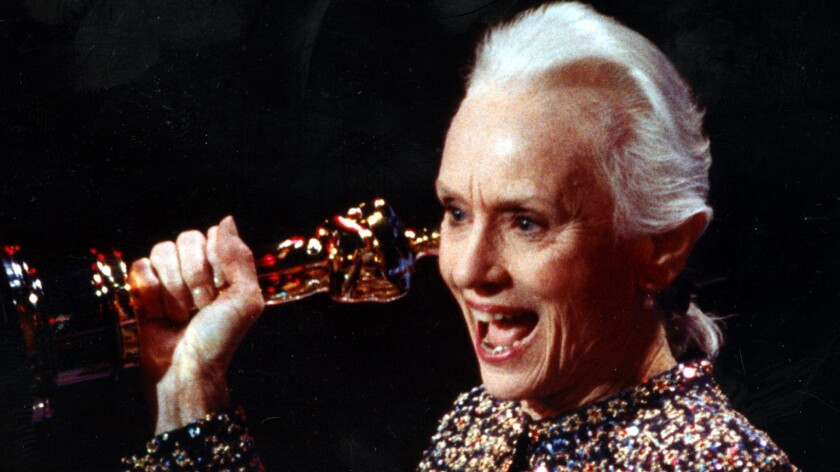 Jessica Tandy, the versatile dramatic actress who electrified Broadway audiences as the original Blanche DuBois in Tennessee Williams' classic "A Streetcar Named Desire," and went on to wider fame decades later as the Oscar-winning heroine of the film "Driving Miss Daisy," died Sunday. She was 85.
She died at the Connecticut home she shared with her actor husband Hume Cronyn after a four-year battle with ovarian cancer. Cronyn was at her side, the couple's publicist, Leslee Dart, said in announcing the death.
Miss Tandy died on the day of an Emmy Awards ceremony in which she and Cronyn were nominated as best lead actress and actor in a miniseries or special for their CBS movie, "To Dance with the White Dog."
She did not win the Emmy in her category, but Cronyn did in his.
Early in the ceremonies, actor John Lithgow delivered a tribute to her and said, "Your friends in television say goodby to you tonight. We will all miss you very, very much." The audience observed a moment of silence.
Miss Tandy won her best actress Academy Award in 1990 for her portrayal of a Southern Jewish dowager in "Driving Miss Daisy," a film that charmed audiences around the world. But long before, Miss Tandy had more than established herself by winning three of the coveted Tony Awards for dramatic acting in legitimate theater. She was a veteran of more than 150 roles on stage, screen, radio and television in a career that spanned nearly seven decades.
For 52 of those years, she was married to Cronyn, with whom she performed in several plays and films, including the 1985 movie "Cocoon" and its sequel, "Cocoon: The Return."
The two were often called the "first couple of the American theater," and both were named to the Theatre Hall of Fame in 1979.
In the last decade, the couple, and particularly Miss Tandy, seemed busier than successful performers half their ages. Miss Tandy, who appeared in six films since 1985—including her 1991 co-starring role in "Fried Green Tomatoes" for which she was nominated for another Oscar—seemed determined not to retire. In 1988, she was honored by the American Academy of Dramatic Arts.
The woman who once described acting as "the breath of life to me" was born in London on June 7, 1909. Much of her childhood was spent in poverty. Her father died when she was 12, and her mother took extra clerical and night teaching jobs to save enough money to send her young daughter to private school and then to London's Ben Greet Academy of Acting.
Miss Tandy developed an interest in the theater through her mother, who, feeling the girl was too young to stay home alone, took her along to the adult night school where she taught. To pass time, the child enrolled in a Shakespeare appreciation class with students more than twice her age.
Her mother also routinely took her and her two brothers to plays, pantomimes and museums. "It sounds terribly snobbish, but she raised us to be intellectually above our neighbors," Miss Tandy later recalled, adding, "I didn't date, ever."
Her mother encouraged her interest in acting, she said, "as a dignified way for me out of our bleak life."
When Miss Tandy was 18, in 1927, she made her professional debut in a Soho-district theater in London, winning a role that paid two pounds a week. The part called for five elegant costumes, which she was expected to provide. Unable to buy them, she sewed them herself.
She first gained recognition as a gifted actress in 1932, in a London play called "Children in Uniform," and that same year, married British actor Jack Hawkins. The marriage lasted eight years and produced a daughter, Susan.
Miss Tandy's reputation was enhanced by other roles—as Ophelia in John Gielgud's 1934 production of "Hamlet," opposite Laurence Olivier in "Henry V" in 1937, and again with Gielgud, playing Cordelia in "King Lear" in 1940.
While still based in London, she appeared on the New York stage four times, in two short-lived plays in 1930, and more successfully in 1938 and 1939. In 1940, when her marriage to Hawkins ended, she moved permanently to New York City with her daughter and became an American citizen in 1954.
"Everybody who had said, 'We long to have you here,' disappeared into the woodwork," she said in a later interview. She was cast in minor roles in minor plays, and had trouble making ends meet. "That was a tough time," she recalled. "It mattered terribly that I should make a living and I couldn't."
In September, 1942, she married Cronyn. The couple moved to Hollywood because Cronyn had won a role in his first film, Alfred Hitchcock's "Shadow of a Doubt."
While Cronyn was successful and in great demand as a character actor, Miss Tandy was, as she put it, "rather unused." Her husband arranged a supporting role for her in a film he was doing, "The Seventh Cross" (1944), and she gave birth to a son, Christopher, in 1943, and a daughter, Tandy, in 1945.
She had some small roles in "Valley of Decision" (1945), "Dragonwyck" (1946) and "The Green Years" (1946). "Nobody out there really took me seriously as an actress," Miss Tandy said years later.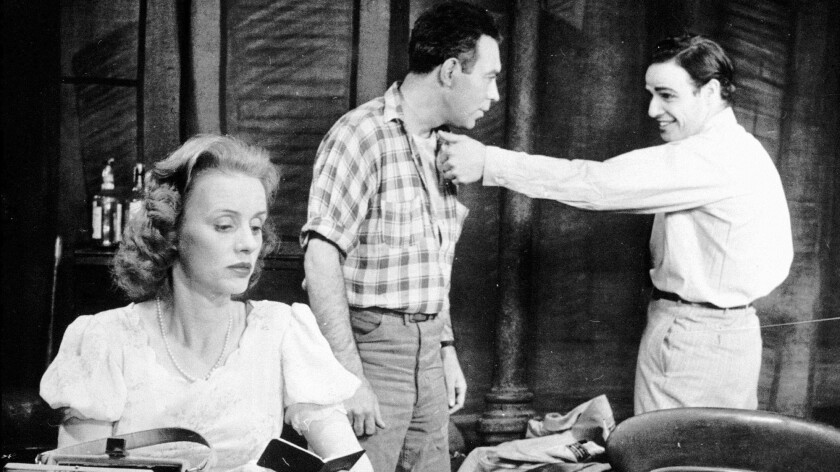 Her career revived on Broadway in 1947, when she originated the role of Blanche DuBois opposite Marlon Brando as Stanley Kowalski in the now classic Broadway production of "A Streetcar Named Desire." Her casting came about after Cronyn directed his wife in one of Williams' one-act plays, "Portrait of a Madonna," in Hollywood.
Williams was having trouble casting his frail and tragic Southern belle, Blanche, until he saw Miss Tandy perform. Williams journeyed by train to see her and later wrote: "It was instantly apparent to me that Jessica was Blanche." Miss Tandy's portrayal of Blanche in the play established her as one of the world's most renowned actresses, and earned her a first Tony Award.
"Playing Blanche changed my life," she said in a 1983 interview. "It brought me back to the theater. . . . 'Streetcar' gave back the challenge and the challenge has never left."
Hollywood, however, was still years away from appreciating her talents.
She did have supporting roles in "Forever Amber" (1947), "A Woman's Vengeance" (1948) and two other films in 1951. But when "Streetcar" was made into a movie in 1951, Vivien Leigh was cast as Blanche.
Miss Tandy returned to Broadway and joined her husband in what was to be their first joint triumph, "The Fourposter," a two-character comedy about a 35-year marriage. It ran on Broadway for two years and led to both a radio and television series.
Miss Tandy also won critical acclaim on Broadway in "Five Finger Exercise" in 1959, and in Edward Albee's "A Delicate Balance" in 1966. She was awarded a second Tony for "The Gin Game" in 1977 and a third for "Foxfire" in 1982. She also won an Emmy in 1988 as best actress in a miniseries or special for the CBS television version of "Foxfire." She was cast opposite Cronyn in both plays.
In a 1982 review, New York Times critic Frank Rich wrote: "Everything this actress does is so pure and right that only poets, not theater critics, should be allowed to write about her."
She appeared in several more films as well, including "The Birds" (1963), "Butley" (1974) and "Honky Tonk Freeway" (1981). Then starting at age 76, Miss Tandy had a starring role in "Cocoon" (1985), which became a major hit, and followed that with "Batteries Not Included" (1987), "The House on Carroll Street" (1988), "Cocoon: The Return" (1988) and, of course, "Driving Miss Daisy" in 1989. The last she called "by far the best movie role I ever had."
"I suppose I feel rediscovered," she said in 1990. And when informed that at 80 she was the oldest person to win an Oscar, Miss Tandy replied: "Well, good for me!"
She and her husband maintained a home in Connecticut, an apartment in Manhattan and a rental home on the Bahamian island of Great Exuma. Although there were times when either her career or Cronyn's dominated the other, Miss Tandy told the Chicago Tribune in 1990: "I don't think we've ever been in competition with each other. . . . On the whole, we've kept pretty even. One of the reasons the marriage has been successful, I think, is that it was the second for each of us. I think there are different expectations. Each of us originally married far too young, and it didn't work. But I think this one is going to last."
After the actress played Miss Daisy, a New York Times interviewer asked her about old age, and dying. Before replying she put a hand on her forehead and closed her eyes. "At my age," she said, "I do wonder what the end would be. I hope against hope it will be quick. . . . But of course you have no control over any of this. I don't know how much longer I can go on. And I do hope I have the sense to know when to stop."
A few weeks earlier, however, the veteran performer told another reporter just as earnestly: "I find that what makes life worth living is the work. I'd like to do another play, another film. It doesn't have to be a big part. Just a good part. . . ."
From the Archives: Marlon Brando, A Hollywood Iconoclast Who Transformed the Art of Acting
From the Archives: Hollywood Legend Claudette Colbert Dies
From the Archives: Spencer Tracy, 67, Dies After Screen Career of 37 Years
From the Archives: Karl Malden dies at 97; Oscar-winning actor
---
Must-read stories from the L.A. Times
Get all the day's most vital news with our Today's Headlines newsletter, sent every weekday morning.
You may occasionally receive promotional content from the Los Angeles Times.