From the Archives: Les Brown; With Band, He Defined an Era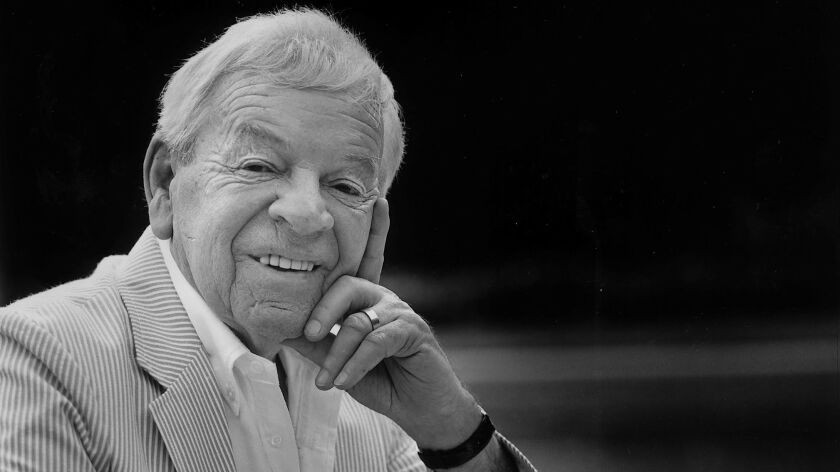 Music would be a way out of the drudgery of his father's bakery in a small Pennsylvania town, a young Les Brown once hoped. It became his ticket to the top of the entertainment world.
Brown, who died of lung cancer Thursday night in his Los Angeles home at the age of 88, and his Band of Renown made the hit parade in the 1940s with tunes like "Joltin' Joe DiMaggio," "Sentimental Journey" and "I've Got My Love to Keep Me Warm."
The longtime bandleader for comedian Bob Hope, Brown was a fixture on radio, television and in concerts for nearly six decades.
As recently as five months ago, he was still touring with his group, playing about 60 concert dates a year. When Brown didn't lead the band, his son Les Jr. did.
"The world has lost a great musician," Hope said in a statement Friday. "I have lost my music man, my sideman, my straight man and a special friend. Dolores and I will miss him so much . . . so very much."
Singer and actress Doris Day, who recorded "Sentimental Journey" with Brown in 1945, said Friday that she "loved Les very much. I am going to miss his phone calls. The happiest times in my life were the days when I was traveling with Les and his band."
Brown's band played for television shows and golf tournaments, New Year's Eve galas, inauguration parties and business functions.
It played on the opening day at Disneyland in 1955 and performed there annually into the 1990s as part of the theme park's summer big band series.
It performed on Hope's radio and television shows and on "The Steve Allen Show" in the late 1950s and early 1960s. And, in its longest television run, it appeared on "The Dean Martin Show" from 1965 to 1974.
Never considered in the top rank of big band leaders with names like Tommy Dorsey, Glenn Miller and Benny Goodman, Brown nevertheless offered the public spirited renditions of the broad range of popular music from the American songbook.
"He had a splendidly organized ensemble, one that never stepped too far across the border separating utilitarian dance tunes from orchestral music as an art form," the late critic Leonard Feather wrote of Brown some years ago. "Today, he offers a package that is nice, precise, safe, conservative [and] inoffensive."
Lester Raymond Brown was born in Reinerton, Pa. His father made his living as a baker but also played the soprano saxophone and was the town bandmaster. Brown and his three brothers learned music at home, Brown playing saxophone and later clarinet. He played his first gig, a local dance, at the age of 9.
"Music to me was a way out of the bakery," Brown told a reporter for the San Diego Union-Tribune some years ago. "My dad had me working before school and after school. I'd wrap the bread and clean the pans and turn the doughnuts."
He received his formal musical training first at the Ithaca Conservatory of Music in upstate New York, then at Duke University, where he also led his first dance band, the Duke Blue Devils, on saxophone and clarinet.
Band Got Name From Announcer's Ad-Lib
After the Blue Devils broke up in 1936, Brown moved to New York and found work as an arranger.
But an official of RCA-Victor Records saw promise in Brown and helped him gather a band to play at a local hotel. Named Les Brown's Orchestra, its name changed in 1942 thanks to an ad-libbing radio announcer.
"We were doing a remote broadcast, and one night an announcer said, out of the blue, 'Here's Les Brown and his band of renown,' " Brown told the Union-Tribune. "My ears perked up. I liked the sound of it. And that's how it's been ever since."
His first big hit was "Joltin' Joe DiMaggio," a novelty tune celebrating an event that had kept American enthralled during the summer of 1941: Yankee slugger Joe DiMaggio's 56-game hitting streak.
It also was during the 1940s that Brown signed a 17-year-old singer named Doris Day, and together they recorded a song that was to be the anthem for the military personnel coming home after World War II.
Written with Ben Homer and Bud Green, "Sentimental Journey" spent 23 weeks in the top 10, with 17 weeks as No. 1.
"We played the tune a few times before we recorded it," Brown told Don Heckman, the Los Angeles Times jazz writer, a few years ago. "and people came up and said, 'What's that song?" . . . When the band finally recorded it, "it was a hit right out of the box. The only problem was that it was 1945, and there wasn't enough shellac to press all the copies that people wanted."
The shellac shortage notwithstanding, "Sentimental Journey" put the Brown band on the map and made Day a singing star.
"The public loved her," Brown later said. "Wherever she went and whatever she sang, the public liked."
In 1947, Brown replaced Desi Arnaz as Hope's musical director. A year later, the Brown band had another big hit with "I've Got My Love to Keep Me Warm," an instrumental version of the Irving Berlin song.
With Hope, the band started on radio and moved on to television. The Brown band provided accompaniment for 18 of Hope's Christmas tours overseas.
"Entertaining the troops—that was very rewarding," Brown said in 1998. "We got to see the world. For seven years, we went to Vietnam. Those guys needed the entertainment the most."
And when they couldn't go, they sent the music with Hope.
When Hope toured in the Middle East in the 1980s, a U.S. Navy band sat in for the Brown ensemble, purely for visual effects on the camera.
Later, someone told Brown that the band sounded pretty good.
"They should've," Brown replied. "It was our music. They weren't blowing a note. If they had, they would have ruined the whole thing."
One of the founding fathers of the National Academy of Recording Arts and Sciences, Brown served as the first president of the Los Angeles chapter and helped get the first Grammy Awards programs televised by convincing Hope, Bing Crosby and Frank Sinatra to participate.
Brown is also survived by his wife, Evelyn; daughter Denise Marsh; four grandchildren; two great-grandchildren; and a great-great-grandchild.
The family has asked that memorial donations be sent to the Michael Burke Foundation at the St. John's Health Center in Santa Monica.
From the Archives: Renowed Jazz Bassist Charles Mingus Dies at 56
From the Archives: Ella Fitzgerald, Jazz's First Lady of Song, Dies
Louie Bellson dies at 84; Duke Ellington called him 'the world's greatest drummer'
From the Archives: Miles Davis, Jazz Legend and Innovator, Dies at 65
From the Archives: Frank Sinatra, Premier Vocalist of His Time, Dies at 82
---
Must-read stories from the L.A. Times
Get all the day's most vital news with our Today's Headlines newsletter, sent every weekday morning.
You may occasionally receive promotional content from the Los Angeles Times.