From the Archives: Death Takes Dance Star Ruby Keeler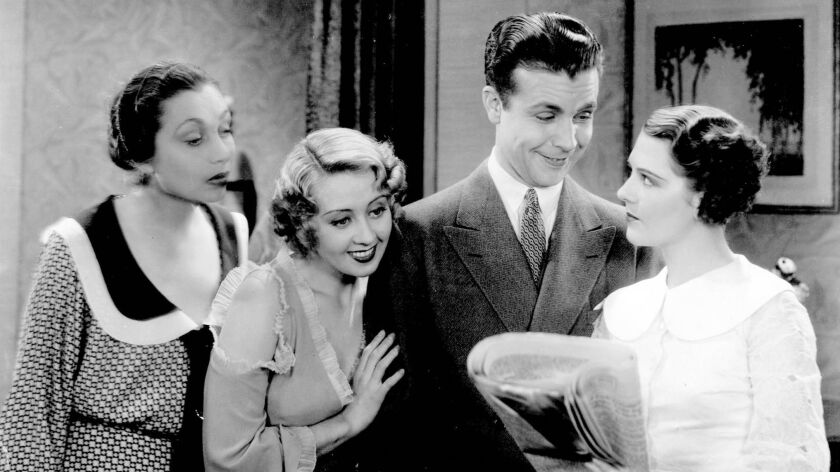 Times Staff Writer
Ruby Keeler, the cherub-faced dancer who tapped her way to fame in the '20s and then five decades later managed it again, died Sunday.
She died at her home in Rancho Mirage near Palm Springs of cancer, said her son, John Lowe.
The centerpiece of Busby Berkeley's kaleidoscope of motion picture chorines was 83.
Keeler's life resembled the rags-to-riches musicals she made famous. She rose from poor New York chorus girl to Hollywood star, never losing her confectionary expression or girl-next-door reputation despite a celebrated marriage to and divorce from Al Jolson.
An admittedly weak singer and actress, she often credited her success to being in the right place at the right time. Her Broadway days may have been more exciting offstage than on because of her courtship by Jolson.
She arrived in Hollywood just as the advent of sound launched the modern movie musical, giving her the inside track to several key roles, including her screen debut in the landmark "42nd Street."
In that 1933 musical gem she played a chorus girl who was a last-minute replacement for the star, who had injured an ankle.
Warner Baxter, who portrayed the director, told her in one of the most enduring and endearing lines in motion picture history:
"Give and give. . . . You're going on a youngster, but you've got to come back a star!"
In the 1920s and '30s, Miss Keeler perfected the part of the ingenue, the fairy princess every town needs to keep its boys in a frenzy and its girls up in arms. After her second marriage in 1941, she retired to devote herself to home life and became what the Associated Press once called "the nation's happiest exponent of motherhood, housewifery and golf." Her films continued her popularity through the war years.
In 1971, producer Harry Rigby persuaded her to dust off her tap shoes for a stage revival of the 1925 hit, "No, No, Nanette!"
However, a cerebral aneurysm in 1974 curtailed further revivals and she underwent several brain operations. Therapy and determination helped her regain her ability to walk but not perform.
Thereafter, she made occasional appearances in connection with film revivals or studio anniversaries.
Ethel Hilda Keeler was born in Halifax, Canada, on Aug. 25, 1909. Three years later, her family moved to New York City where, as the daughter of an iceman, she grew up in near poverty. Nonetheless, she started dance lessons before she was 10, was a buck dancer at 13 and made the chorus of a George M. Cohan show a year later.
Her fancy footwork—energetic more than stylish—her lithe figure and dominating eyes gained her featured roles around New York, and an offer to play opposite Eddie Cantor in Florenz Ziegfeld's "Whoopee."
Miss Keeler met the celebrated Jolson while dancing at raconteur Texas Guinan's Hollywood club where she had gone while awaiting rehearsals of "Whoopee." Jolson, probably Broadway's biggest star at the time, had been in Hollywood for "The Jazz Singer," the first talking and singing film. He followed Miss Keeler back to New York, where they were married in 1928. It was her first marriage and his third.
In 1929, Miss Keeler won her first Broadway star billing, appearing with Jimmy Durante and Eddie Foy in the George Gershwin musical "Show Girl."
Jolson helped her get a contract with his studio, Warner Bros., where she appeared in nearly a dozen movie musicals.
"42nd Street" (1933), "Footlight Parade" (1933) and "Gold Diggers of 1933," now considered genre classics, were typical of the bubble-headed stories told in simple songs and celebrated in dancing on elaborate sound stages of fantasy.
Choreographer Berkeley loved to place Miss Keeler in extravagant production numbers blended out of his favorite mix of anatomy and geometry.
(Berkeley returned to her side as supervisor of the 1971 revival of "No, No, Nanette!")
Miss Keeler admittedly was at her weakest when the music stopped. Her acting was passable and, "I could do a few dance routines but I didn't have a voice," she said in 1973. "I always dreaded the part when I had to sing back to Dick (Powell)."
Columnist Hedda Hopper reported that at the height of her career, Miss Keeler made the then-monumental sum of nearly $5,000 a week and received carloads of fan mail.
Miss Keeler, in real life, never quite realized Baxter's chorus-girl-to-star admonition.
While her colleagues in the chorus—Lucille Ball, Ginger Rogers, Joan Crawford—ascended to the heights, she continued to be more a celebrity than a star. "Oh, yes, that tap dancer!" or "Wasn't she married to Jolson?" were remarks that haunted her career.
Yet Miss Keeler was philosophical about her shortcomings: "It's amazing. I couldn't act. I had that terrible singing voice, and now I can see, I wasn't the greatest tap dancer in the world either!" she reportedly told a crowd at a 1965 Busby Berkeley film revival.
But she became the perfect foil for such sharpies as tough guy James Cagney ("Footlight Parade") and such hard-boiled dames as Joan Blondell ("Gold Diggers of 1933"). Her characters often were entangled in love triangles or backstage brawls, not because they were bad—just good to a fault.
Miss Keeler and her best boy, usually baby-faced Powell, always depended on love to conquer the world, whether the backdrop was the back alleys of Broadway or the hallowed halls of West Point ("Flirtation Walk," 1934) or the Ivy League ("Sweetheart of the Campus" with Ozzie Nelson 1941).
Her private life was less idealistic. Miss Keeler's marriage to Jolson was dissolved in 1939. During their divorce trial, Miss Keeler complained of suffering from her husband's cruelty and what the columnists called "his affinity for night life."
But Jolson maintained that their 11 years together were "the happiest of my life." He gave her a settlement of $400 a week and a $50,000 lump sum on her remarriage. She received custody of their adopted son, Albert.
Miss Keeler also was unhappy with her career. In 1937, she told an interviewer that she did not believe that she was good enough to carry a film and that she was sick of backstage romances. In that same year, she left Warner Bros. after Jolson quarreled with the front office.
Miss Keeler signed with RKO and starred in "Mother Carey's Chickens" (1938), a role allegedly turned down by several top actresses. The movie barely survived the year. Her contract was allowed to lapse.
Miss Keeler withdrew totally from the limelight. She married Pasadena real estate broker John Lowe Jr. in October, 1941, and went into semi-retirement. She often said her life "really began" when she met Lowe and that their 28 years of marriage were her greatest joy. He died in 1969 after they had three daughters and a son.
Miss Keeler made occasional television appearances in the 1950s and '60s and a few later. She spent much of her time at her homes in the San Fernando Valley and Orange County, visiting her grandchildren or walking the greens. An ardent golfer, she once was a finalist in the Los Angeles City Championships and maintained an 11 handicap.
Then, spurred by producer Rigby, she returned to Broadway in "Nanette!" in 1971 and celebrated her biggest success ever, playing a Bible publisher's wife with a penchant for tap dancing.
Miss Keeler won the 1971 George M. Cohan award and was honored by Harvard University theater students as their favorite performer with the Hasty Pudding award in 1972.
But then came 1974 and the cerebral aneurysm she suffered while visiting a daughter in Montana. After two months in the hospital, she returned to her home in Laguna Beach where she began physical therapy that helped her learn to walk again.
Miss Keeler said in a 1984 interview with The Times that she might have continued to perform onstage if not for the aneurysm. "I'd be trying to. I'm sure I would. I don't think I would ever have stopped dancing, because I love it."
Services will be private.
From the Archives: American dancer killed in car accident in France
From the Archives: Rosa Parks, dies at 92; civil rights icon set wheels of justice in motion
From the Archives: Jackie Gleason, 'Great One' of Many Talents, Dies at 71
From the Archives: Jacqueline Onassis Dies; First Lady of 'Camelot' was 84
From the Archives: James Cagney, Legend of Movies, Dies at 86
---
Must-read stories from the L.A. Times
Get all the day's most vital news with our Today's Headlines newsletter, sent every weekday morning.
You may occasionally receive promotional content from the Los Angeles Times.