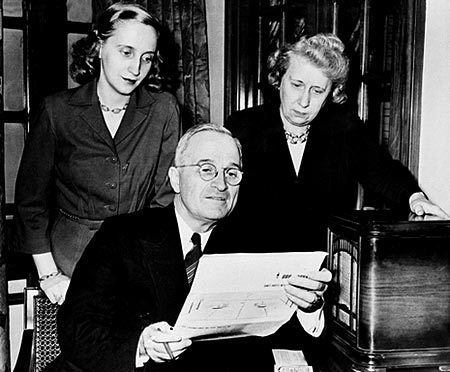 9 Images
Margaret Truman Daniel | 1924-2008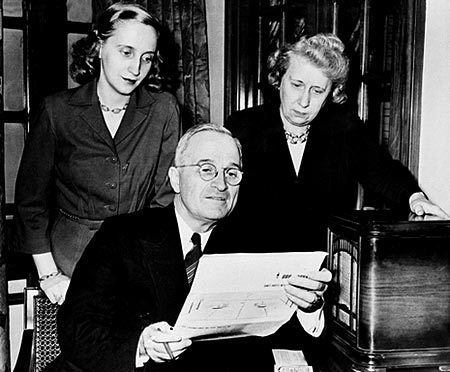 Margaret Truman, left, and her mother, Bess, look over the shoulder of Harry S. Truman in Kansas City on Nov. 7, 1944, as he makes a chart of election returns. As possibly the first First Daughter in the age of modern media, she quickly learned the perils of political celebrity and came to disdain Washington.
(Associated Press)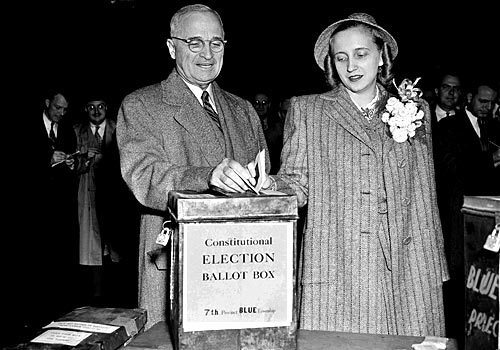 On Nov. 5, 1946, President Truman drops his ballot in a box while his daughter Margaret waits her turn to vote in Independence, Mo.
(Associated Press)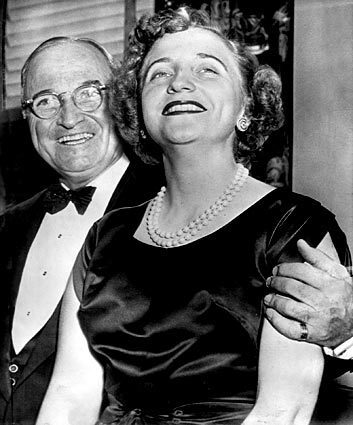 President Truman and Margaret are shown at a "Father and Daughter" dinner at the National Press Club on Dec. 13, 1950. It was the first public appearance of the two since Truman famously scolded a Washington Post music critic for saying his daughter's voice was flat.
(Associated Press)
Truman is all smiles in a December 1950 performance at Washington's Constitution Hall, where she sang before her parents.
(Associated Press)
Truman keeps in step with comedian Jimmy Durante, left, and his partner, Eddie Jackson, in a March 1952 rehearsal in Hollywood. From 1954 to 1961, Truman was under contract to NBC and became a radio and TV personality.
(Associated Press)
Former President Truman greets his daughter with a kiss upon his arrival in New York in 1954 to make a television appearance.
(Associated Press)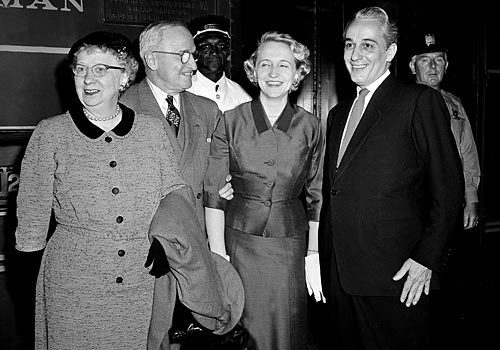 Margaret Truman Daniel and her husband, Clifton Daniel, welcome the former president and first lady to New York in September 1957.
(Associated Press)
Daniel makes an appearance on an NBC television show Jan. 6, 1977. By this time, she had written several books, including a bestselling biography of her father and 1976's "Women of Courage."
(Associated Press)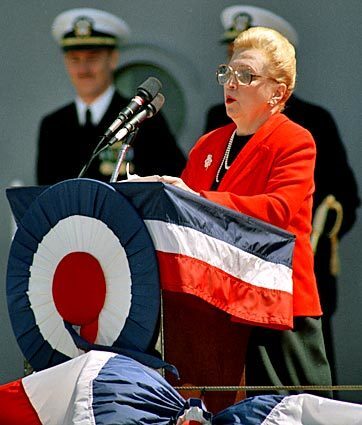 Daniel speaks during the re-commissioning ceremonies for an Iowa-class battleship in San Francisco in February 1986.
(Associated Press)