Abe Vigoda dies at 94; actor was known for 'Barney Miller' and 'Godfather' roles
Abe Vigoda, best known for portraying a gangster in "The Godfather" films and the glum Det. Fish on TV's "Barney Miller," died Tuesday at his daughter's home in Woodland Park, N.J. He was 94.
Vigoda's daughter, Carol Vigoda Fuchs, said he died in his sleep of natural causes.
A veteran of New York theater, Vigoda was about 50 when he was cast in his first U.S. film, "The Godfather." Director Francis Ford Coppola chose him from 500 other actors during an open casting call.
Abe Vigoda as Detective Fish in "Barney Miller" in 1977.
(Jeff Robbins / AP)
Abe Vigoda, left, and Robert Duvall watch Marlon Brando and Al Lettieri shake hands in a scene from the film "The Godfather" in 1972.
(Michael Ochs Archives / Getty Images)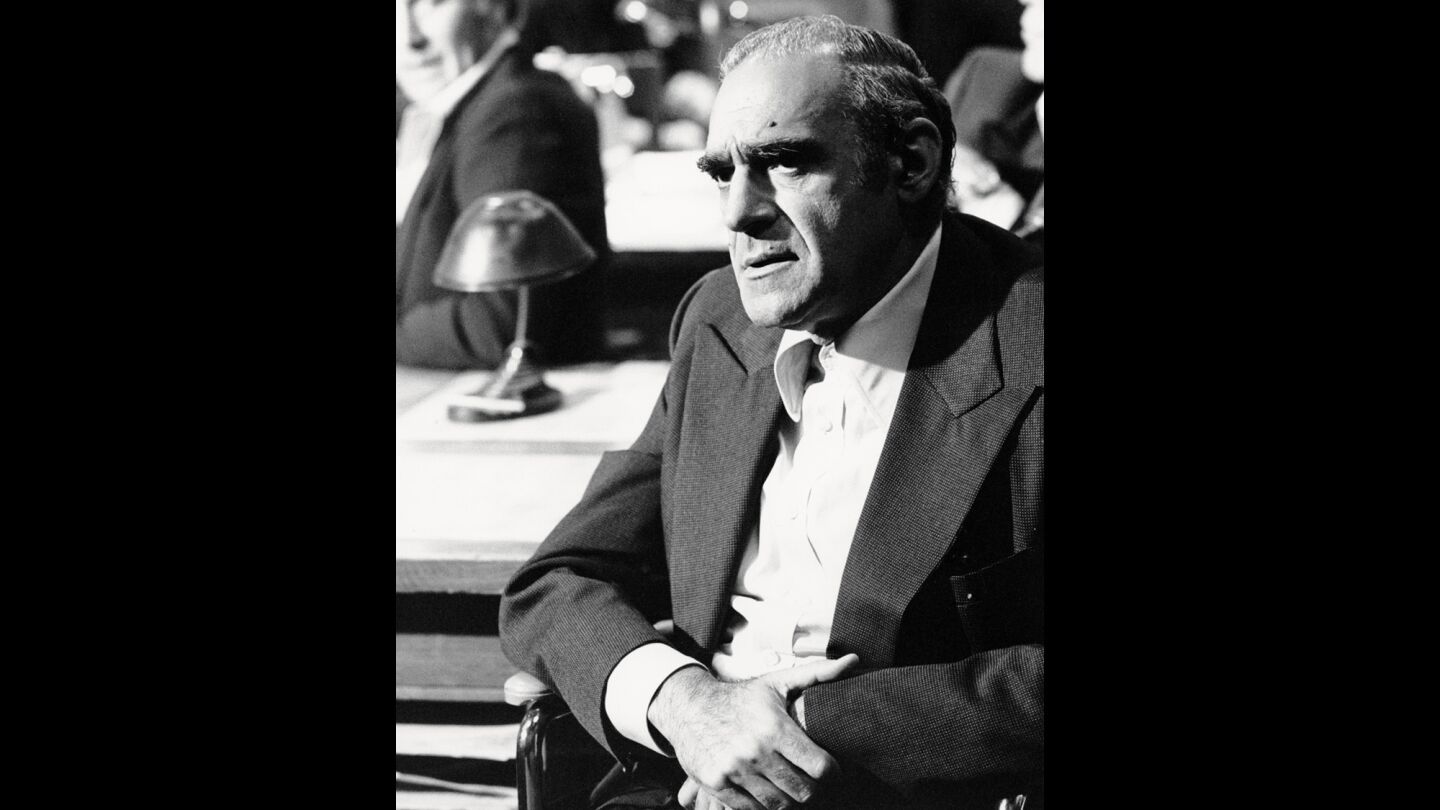 Abe Vigoda as Sal Tessio in "The Godfather" in 1972.
(Silver Screen Collection / Getty Images)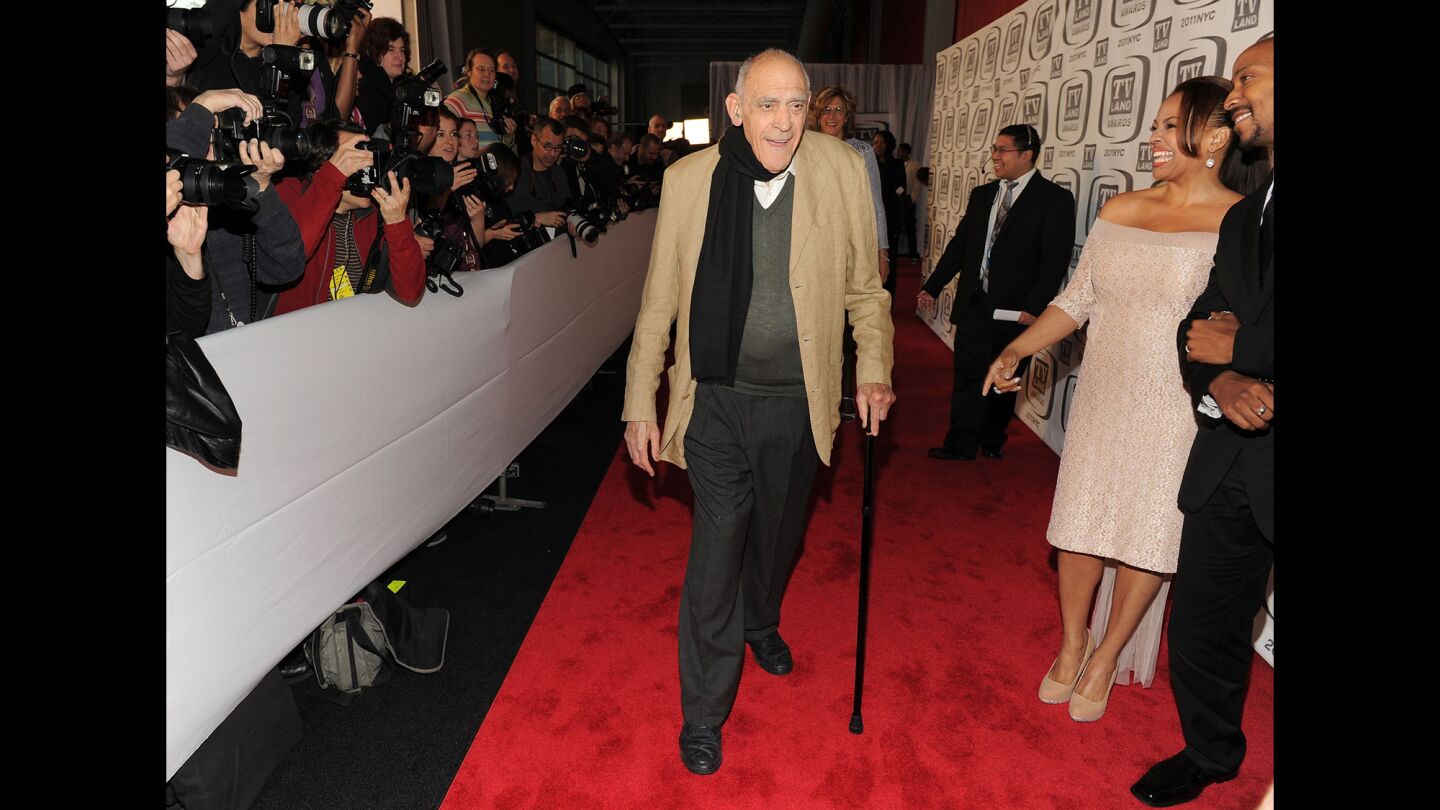 Abe Vigoda attends the ninth annual TV Land Awards at the Javits Center on April 10, 2011, in New York City.
(Larry Busacca / Getty Images)
Vigoda played Sal Tessio, an old friend of Vito Corleone's (Marlon Brando) who hopes to take over the family after Vito's death by killing his son Michael Corleone (Al Pacino). The great success of the film -- it won the best picture Oscar in 1973 -- and "The Godfather Part II" made his face and voice, if not his name, recognizable to the general public and led to numerous subsequent roles.
Join the conversation on Facebook >>
"I'm really not a Mafia person," Vigoda told Vanity Fair in 2009. "But Francis said, 'I want to look at the Mafia not as thugs and gangsters but like royalty in Rome.' And he saw something in me that fit Tessio as one would look at the classics in Rome."
For the part, he essentially "became an Italian," Vigoda, who was Jewish, recalled in 1997.
But it was his comic turn in "Barney Miller," which starred Hal Linden and ran from 1975 to 1982, that brought Vigoda's greatest recognition.
The show featured Linden as captain of a motley precinct crew. Vigoda played the cranky detective whose every breath sounded like it could be his last. With his deadpan delivery, he was "the hit of the show," according to "The Complete Directory to Prime Time Network and Cable Shows."
He received three consecutive Emmy nominations for the role and starred in a spin-off, "Fish," that aired in 1977 and 1978. For several months, he appeared in both shows.
Vigoda remained a popular character actor in films in his later years, including "Cannonball Run II," "Look Who's Talking," "Joe Versus the Volcano" and "North."
Offstage he was an active athlete who regularly jogged and played handball, a sport he still pursued in his late 80s.
His resemblance to Boris Karloff led to his casting in the 1986 New York revival of "Arsenic and Old Lace," playing the role Karloff originated on the stage in the 1940s. (The murderous character in the black comedy is famously said by other characters to resemble Boris Karloff, a great joke back when the real Karloff was playing him.)
Abraham Charles Vigodah was born Feb. 24, 1921, in New York City, to Samuel and Lena Vigodah, Jewish immigrants from Russia. His father was a tailor. A brother, Bill, was a comic-book artist, mainly for the Archie enterprise.
After making his stage debut at 17, Vigoda regularly appeared in New York productions and dozens of touring shows. His Broadway credits include the late 1960s' "The Man in the Glass Booth" and 1970's "Inquest."
In total, he acted in about 25 films and 75 television shows. Often, he was typecast as a Mafia figure or a policeman.
He was a mob boss in Wesley Snipes' "Sugar Hill" (1993) and perhaps the world's oldest fast-food worker in the 1997 comedy "Good Burger."
Vigoda also appeared with actress Betty White when both were in their late 80s in a commercial for Snickers that debuted during the 2010 Super Bowl. Their advanced ages were a point of the punch line.
In the 1989 hit film "Look Who's Talking," Vigoda was 68 when he played John Travolta's 100-year-old grandfather. It was just the kind of wizened role that even decades later could help foster Internet skirmishes over whether Vigoda was alive or dead -- he was erroneously reported to have died in 1982.
Reflecting on his delayed success, Vigoda once remarked: "When I was a young man, I was told success had to come in my youth. I found this to be a myth. My experiences have taught me that if you deeply believe in what you are doing, success can come at any age."
He was married twice, most recently to Beatrice Schy, whom he married in 1968 and who died in 1992. He had his daughter with his first wife, Sonja Gohlke, who has also died. Vigoda is survived by his daughter, grandchildren Jamie, Paul and Steven, and a great-grandson.
ALSO:
Louis DiGiaimo, casting director of 'The Godfather,' dies at 77
Eagles guitarist Glenn Frey dies at 67: chief architect of band's vocal and instrumental blend
Henry Worsley dies at 55; British adventurer crossing Antarctic alone perishes just short of goal
---
Must-read stories from the L.A. Times
Get the day's top news with our Today's Headlines newsletter, sent every weekday morning.
You may occasionally receive promotional content from the Los Angeles Times.