Alexander M. Haig dies at 85; secretary of State to Reagan
Brig. Gen. Alexander Haig in June 1970, when he was deputy assistant to the president for national security affairs.
(Associated Press)
President Nixon congratulates Gen. Alexander Haig after awarding him the Distinguished Service Medal in 1973. With them, from left, are Secretary of State William Rogers, national security advisor Henry Kissinger and Defense Secretary Melvin Laird.
(Associated Press)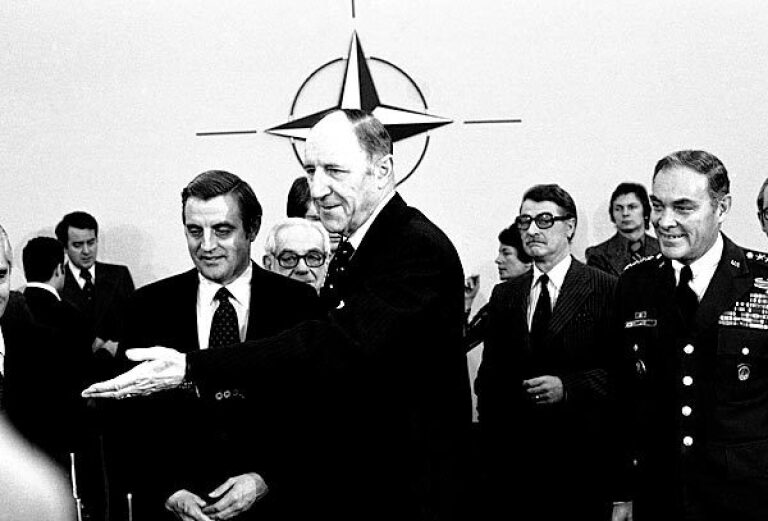 Gen. Alexander Haig, right, with NATO Secretary-General Joseph Luns of the Netherlands, who gestures to Vice President Walter M. Mondale at NATO headquarters in Brussels in 1977. Haig was commander of NATO forces at the time.
(Associated Press)
Gen. Alexander Haig appears at a Pentagon news conference in 1978.
(Associated Press)
British Prime Minister Margaret Thatcher positions Alexander Haig, then secretary of State, for an official photo in Ottawa in 1981. With them are Canadian Governor General Edward Schreyer, his wife, Lily, and President Reagan.
(Associated Press)
Secretary of State Alexander Haig, left, confers with White House Deputy Chief of Staff Michael Deaver, Chief of Staff James A. Baker III and national security advisor Richard Allen in 1981.
(Associated Press)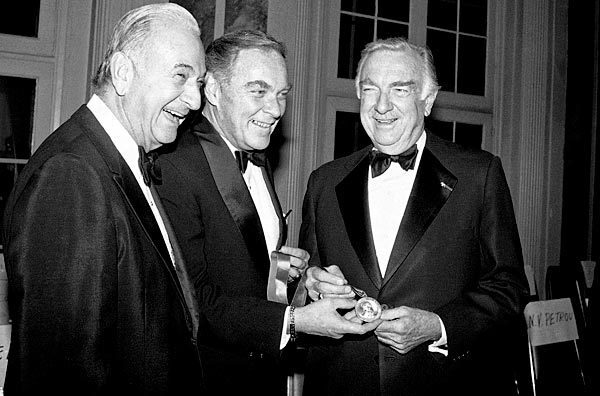 Secretary of State Alexander Haig, center, presents the Hughes Gold Medal to TV newscaster Walter Cronkite, right, in 1981.
(David Handschuh / Associated Press)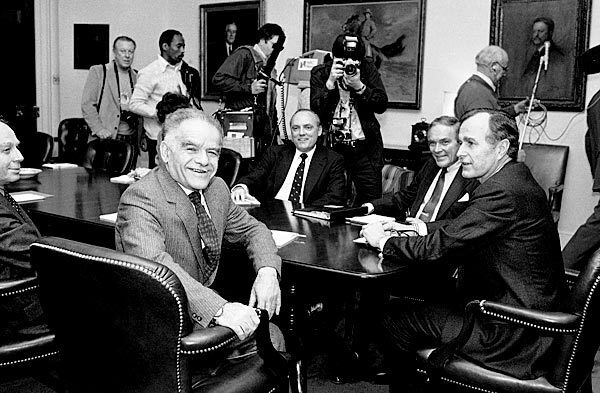 Israel Prime Minister Yitzhak Shamir, facing camera at left, with U.S. Ambassador to Israel Samuel Lewis, Secretary of State Alexander Haig and Vice President George Bush in 1981.
(Associated Press)
Secretary of State Alexander Haig, right, with West German Chancellor Helmut Schmidt and his wife, Hannelore, in Washington in 1981.
(Associated Press)
Defense Secretary Caspar Weinberger, left, President Reagan and Secretary of State Alexander Haig before a National Security Council meeting in 1981.
(Associated Press)
Secretary of State Alexander Haig, second from left; with Barbara Bush, wife of Vice President George Bush; Susan Mubarak, wife of Egyptian President Hosni Mubarak; Bush and First Lady Nancy Reagan at a state welcome for the Egyptian president in the East Room of the White House in 1982.
(Associated Press)
Alexander Haig announces his resignation as secretary of State in June 1982.
(Los Angeles Times)
Alexander Haig in March 1987 announces his candidacy for the 1988 Republican presidential nomination.
(Associated Press)
President-elect Bill Clinton meets with former secretaries of State, from left, Alexander Haig, George P. Shultz, William Rogers and Edmund Muskie in Little Rock, Ark.
(Stephan Savoia / Associated Press)
Alexander Haig delivers a speech at the Richard Nixon Library & Birthplace in Yorba Linda in 1995.
(Los Angeles Times)
Alexander Haig, left, receives an Architect of Peace award at the Richard Nixon Library & Birthplace in Yorba Linda in 1998. With him, from left, are his wife, Pat, California Atty. Gen. Dan Lungren, William E. Simon and wife Toni, and Judie and George L. Argyros.
(Kirk McKoy / Los Angeles Times)
Alexander Haig, with Chinese Premier Zhu Rongji, gestures toward former Rep. Barber B. Conable Jr., who had failed to mention him while introducing attendees at a gathering in 1999.
(Pablo Martinez Monsivais / Associated Press)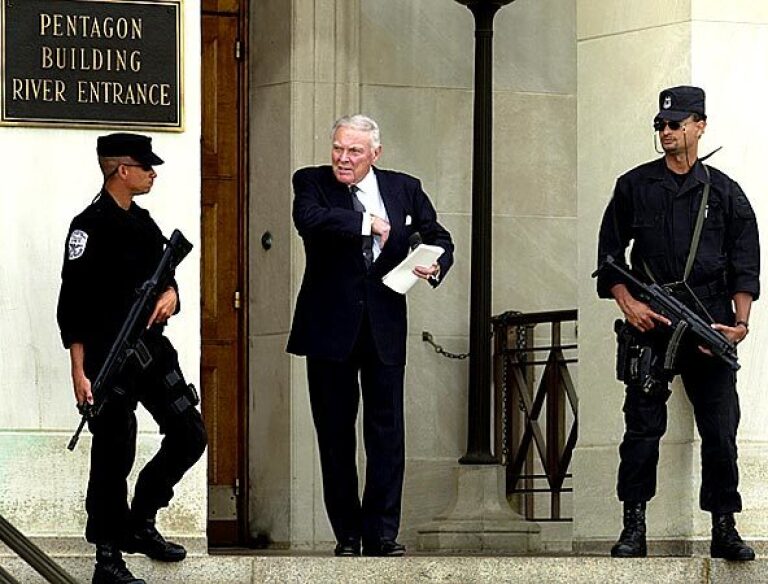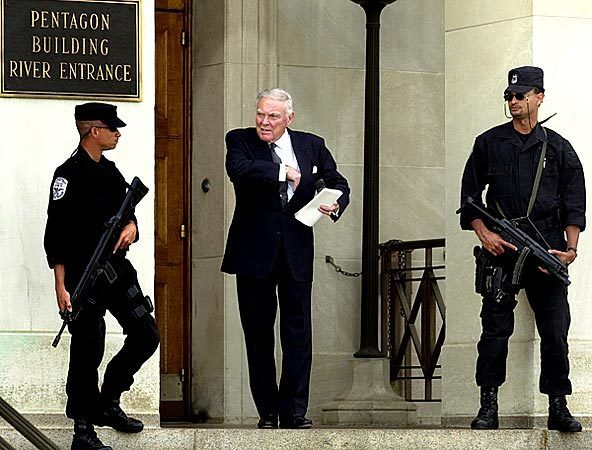 Alexander Haig leaves the Pentagon in 2001.
(Shawn Thew / AFP/Getty Images)
Former secretaries of State, from left, Madeleine Albright, Warren Christopher, Alexander Haig and Henry Kissinger at the dedication ceremony of the George P. Shultz National Foreign Affairs Training Center in Arlington, Va., in 2002.
(Joe Marquette / Associated Press)
Alexander Haig, fourth from right, joins President Bush, Vice President Dick Cheney, Secretary of State Condoleezza Rice and a host of former Cabinet secretaries in the Oval Office in 2006.
(Evan Vucci / Associated Press)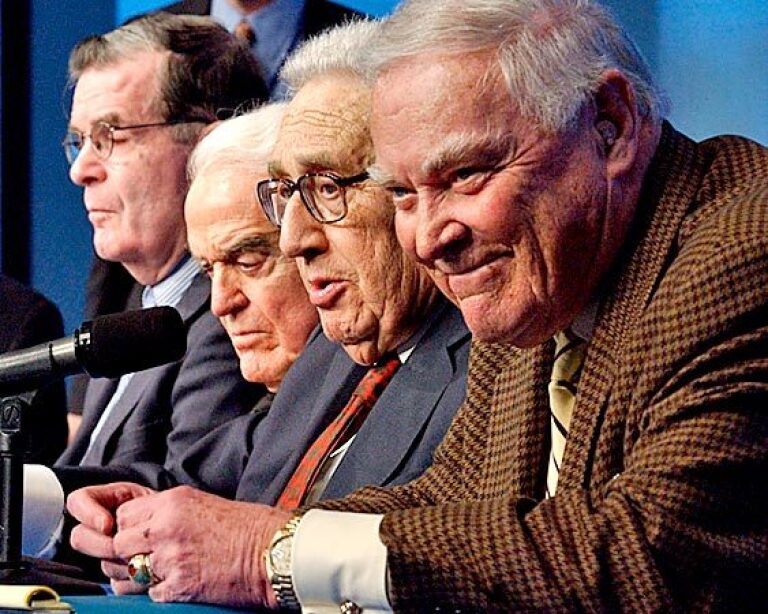 From right, Alexander Haig, Henry Kissinger, Jack Valenti and Theodore Sorensen during a conference titled "Vietnam and the Presidency" at the John F. Kennedy Presidential Library and Museum in Boston in 2006.
(Lisa Poole / Associated Press)
Reporting from Washington —
Alexander M. Haig's life threaded through some of the most tumultuous episodes of the second half of the 20th century. An Army officer in Vietnam, a presidential advisor during the Watergate scandal and a key Cabinet member during the attempted assassination of President Reagan, he was a combat warrior who found himself a diplomat, a career military man who became the consummate political insider.
He died Saturday at Johns Hopkins Hospital in Baltimore from a staph infection he had before being admitted to the hospital, a Johns Hopkins spokeswoman said. He was 85.
Haig is probably best remembered by many Americans as the man who asserted his authority in the White House after Reagan was shot outside a Washington hotel in 1981 -- despite the fact that, as secretary of State, he was well down the line of presidential succession.
The gaffe sparked a small-scale firestorm. But Haig had been a controversial figure in Washington circles for years, chiefly for his role as President Nixon's chief of staff as the administration buckled beneath the weight of the Watergate investigation. Haig was credited by many for holding the White House together as its walls closed in on the president.
Haig, who attained the rank of four-star general, was that rare Washington species: a product of the armed forces who adapted seamlessly to the byzantine workings of executive power. Brash, steely, opinionated, he fought on the battlefield and navigated the corridors of the Pentagon and White House with equal aplomb, and his progress became linked with that of other notable figures of the period such as Douglas MacArthur, Robert McNamara, Henry Kissinger and, later, Nixon and Reagan.
So enmeshed was he in Nixon's inner circle that for years he was widely suspected of being the celebrated "Deep Throat," the anonymous source who fed reporters Carl Bernstein and Bob Woodward information on Watergate -- ultimately revealed to be FBI official W. Mark Felt.
After Nixon resigned, Haig returned to the military as the supreme commander of allied forces in Europe before Reagan tapped him as his first secretary of State, a post he occupied for just 18 months. The self-proclaimed "vicar" of American foreign policy, he struggled among the shifting turf battles of that administration's early years and soon became their victim.
He would unsuccessfully run for the Republican presidential nomination in 1988. Later in his career he turned his eye toward business, becoming an advisor to several corporations, serving as a founding board member of America Online, and commanding a hefty fee on the lecture circuit.
President Obama said Saturday in a statement that Haig "exemplified our finest warrior-diplomat tradition of those who dedicate their lives to public service."
Alexander Meigs Haig Jr. was born Dec. 2, 1924, in Bala Cynwyd, Pa., a suburb of Philadelphia. His father was a Republican lawyer who died of cancer when Haig was 10.
Raised Roman Catholic, Haig attended the University of Notre Dame before receiving an appointment to the U.S. Military Academy at West Point. He graduated in 1947 as the United States was settling into its new role as the global bulwark against communism.
He became a junior aide to Gen. MacArthur in Japan, where he met his wife, Patricia, the daughter of an Army officer. He had a tour of duty in Korea, serving in seven campaigns, including the Battle of Inchon, and was awarded two Silver Stars and a Bronze Star.
Such began an inside-outside pattern of advancement within the Army. After the Korean War ended in 1953, he served in a variety of administrative posts in both the U.S. and Europe, while also setting the stage for his future career by securing a master's degree in international relations from Georgetown University, where he studied the intersection of the military and policy.
His career began to move forward when he was appointed a top aide to Defense Secretary McNamara at the Pentagon, just as the Vietnam War was heating up. But Haig again sought the theater of combat and, as a lieutenant colonel, took command of a battalion of the 1st Infantry Division in Vietnam.
In 1967, his battalion was pinned down by the Viet Cong near Ap Gu. Haig flew to the scene in a helicopter, which was subsequently shot down. For three days, his soldiers, outnumbered 3 to 1, fought off waves of enemy troops, inflicting severe casualties. Haig was awarded the Distinguished Service Cross, the country's second-highest honor for heroism, by Gen. William Westmoreland.
Back in the States, his career took a life-changing turn when Haig, then a colonel, was appointed to the staff of President Nixon's national security advisor, Henry Kissinger. For four years, Haig ran Kissinger's office with military efficiency, impressing Kissinger and Nixon alike. He was dispatched to Paris to oversee the first round of peace talks with the North Vietnamese and later was part of the team that paved the way for Nixon's historic outreach to China.
But there were less savory endeavors: Haig also helped Kissinger and Nixon wiretap the phones of 17 people, including reporters and members of Kissinger's staff, suspected of involvement in leaks of government information.
Nixon, who placed loyalty and trust above all, wanted to keep Haig close and promoted him ahead of 240 other generals to vice chief of staff of the Army, the branch's No. 2 position, despite the fact that Haig had never commanded a division. Shortly thereafter, in May 1973, Nixon made him his chief of staff to replace H.R. Haldeman.
The president later wrote that he put Haig in charge of the White House because "what he might have lacked in political experience and organizational finesse he made up in sheer force of personality."
Force of will alone, however, wasn't going to propel Haig through what was shaping up to be a torturous tenure. Watergate was exploding. Shortly after Haig took office, the existence of White House tapes that would ultimately link Nixon and some of his top aides to the burglary and subsequent coverup came to light.
Haig was an instrumental advisor to Nixon as the special prosecutor, Archibald Cox, and his successor, Leon Jaworski, closed in. He pressured the Justice Department to fire Cox, who would be dumped as part of the "Saturday Night Massacre." He also refused to testify before the congressional committees investigating the scandal. Jaworski would later describe Haig as trying "to placate me while helping Nixon frustrate me in the search for the truth."
Haig played a pivotal role in persuading Nixon to resign in the summer of 1974, serving as intermediary between Nixon and Vice President Gerald Ford. Haig and Ford consistently denied that Nixon left office with the assurance he would be pardoned.
After Ford took over, he named Haig commander of NATO forces in Europe. Haig held that job into the Carter administration, surviving a terrorist bombing in Belgium. Once Reagan succeeded President Carter, he too called upon Haig, making him secretary of State in 1981.
"He was a very efficient, very ruthless, low-profile functionary for Kissinger," said Ronald Spector, professor of history and international affairs at George Washington University, "who then begins to think of himself as a policymaker, who thinks of himself as a Kissinger."
Haig seemed uneasy in the job from the start, frequently clashing with other Cabinet members and criticized for his imperious nature. Incidentally, after having been viewed as a hawk in the Nixon White House, Haig found himself cast as a pragmatist more willing to engage the Soviet Union diplomatically than more conservative elements in Reagan's inner circle. Still, he fully embraced the notion of building America's military might and confronting the Soviets around the world, particularly in Central and South America.
His aggressive, take-charge but impetuous nature emerged in full display in March 1981 after Reagan was shot by John Hinckley Jr. outside a Washington hotel. While the president was in surgery and Vice President George H.W. Bush was returning from Texas, Haig convened a national security meeting at the White House and told reporters that he was in charge of the government when, under the Constitution, he was actually fourth in the line of succession.
Haig resigned in 1982, after a series of conflicts with the White House over foreign policy. "When you disagree, if you can't work with it, you leave. And that's what I chose to do," Haig said in a 2003 television interview. "So I didn't have any regrets. I would have done it . . . I'd do it again tomorrow."
He thought little of Bush, and in 1988 challenged him for the Republican presidential nomination. Haig withdrew, however, before the primaries, throwing his support to then-Kansas Sen. Robert Dole.
In his later years, he became an advocate of new technologies, involving himself with the launch of America Online in Virginia and hosting a television show. He ran a Washington consulting firm and served on the boards of several companies.
In addition to his wife of 60 years, Patricia, Haig is survived by his children, Alexander, Brian and Barbara; eight grandchildren; and his brother, the Rev. Francis R. Haig.
---
Must-read stories from the L.A. Times
Get all the day's most vital news with our Today's Headlines newsletter, sent every weekday morning.
You may occasionally receive promotional content from the Los Angeles Times.